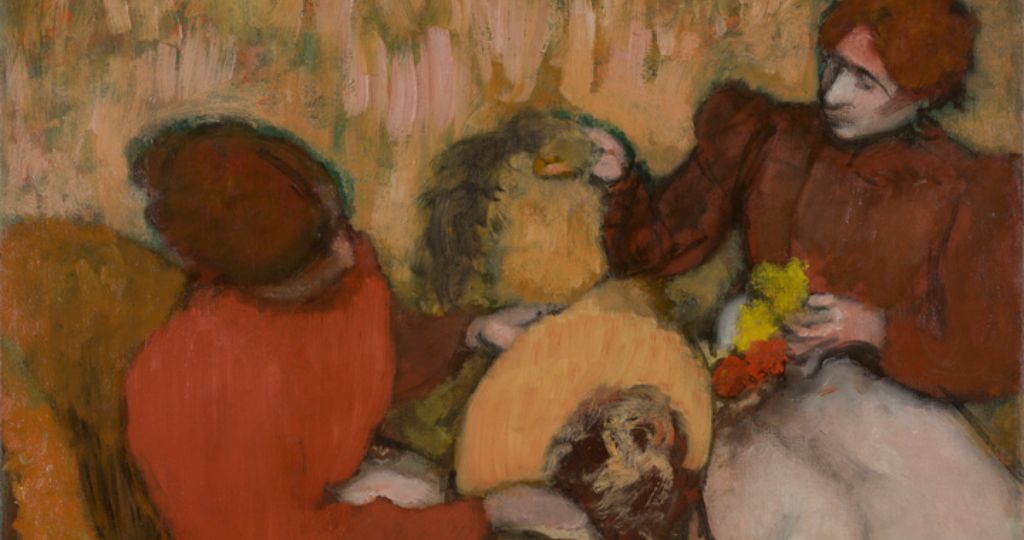 DEGAS, IMPRESSIONISM AND THE PARIS MILLINERY TRADE
Edgar Degas's fascination with high-fashion hats and the young women who made them is the inspiration for this groundbreaking exploration of the Paris millinery trade from about 1875 to 1914. Degas, Impressionism, and the Paris Millinery Trade will feature 60 paintings and pastels, including key works by Degas that have never been exhibited in the United States, as well as an array of period hats.
Organized by the Saint Louis Art Museum and the Fine Arts Museums of San Francisco, the exhibition is the first to examine a crucial and little-known area of Degas's decades-long study of Parisian modern life. The exhibition situates Degas's output within the context of the work of his fellow Impressionists who were also fascinated by hats, including Édouard Manet, Pierre-Auguste Renoir, Mary Cassatt, and Henri de Toulouse-Lautrec. The exhibition relates these artists to the enormous industry of hat production and consumption in Paris in the late-19th and early-20th century.
Degas, Impressionism, and the Paris Millinery Trade is curated by Simon Kelly, the Museum's curator of modern and contemporary art, and Esther Bell, curator-in-charge of European painting at the Fine Arts Museums of San Francisco.
Edgar Degas, French, 1834-1917; "The Milliners", c.1898; oil canvas; 29 5/8 x 32 ¼ inches; Saint Louis Art Museum, Director's Discretionary Fund; and a gift of Mr. and Mrs. Wilbur D. May, Dr. Ernest G. Stillman, Mr. and Mrs. Sydney M. Shoenberg Sr. and Mr. and Mrs. Sydney M. Shoenberg Jr., Mr. and Mrs. Irving Edison, and Harry Tenenbaum, bequest of Edward Mallinckrodt Sr., and gift of Mr. and Mrs. S. J. Levin, by exchange 25:2007
Read More
Date Information

Additional Links

Pricing Info

Adult = $15
Student/Senior = $13
Child 6-12 = $6
Child under 6 = $0

Friday, all tickets = $0

There is a $3 per ticket service charge.

Other Info

Service charge: $3.00/ticket
Admission is available every 15 minutes during entry hours. For online sales, buyers will be able to select the hour of entry (10am hour, 11am hour) and will be assigned the next available 15-minute entry time that meets the request requirements, starting with the first 15-minute entry time. If you wish to specifically purchase a time on the quarter or half hour (10:15am, 10:30am), and it is not offered by the online seller, you should cancel the shopping cart and purchase that specific time slot by phone.
The specific tour time will be listed on-screen prior to your purchase and in on-screen and email confirmations.
MetroTix sales end at 12:01am day of event. "Day of" sales are only available in person at the Art Museum on a first-come, first-served basis.
Entry on Friday is free, but a ticket is required. Advance ticket purchase is recommended. There is a 6 ticket purchase limit for Fridays.

Special Info for February 24 - 26

Art in Bloom is scheduled Friday, February 24 through Sunday, February 26. Art in Bloom is one of the Museum's largest events of the year. The Museum will be crowded and parking will be limited. Please arrive early and plan accordingly. For information about parking and shuttle service from the Forest Park Visitor Center during the event, please visit http://www.slam.org/bloom/. Exhibition tickets are nonrefundable. You must be present at the time indicated on your ticket to be guaranteed entry into the Exhibition. Late arrivals will only be accommodated if space allows.
Venue Information
Saint Louis Art Museum
1 Fine Arts Drive , Saint Louis, Missouri 63110