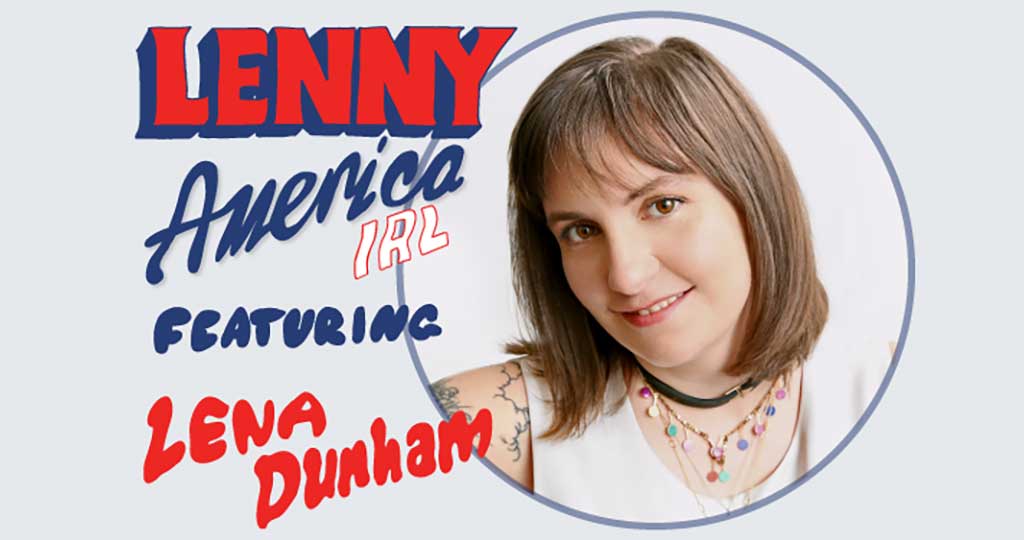 Lenny: America IRL – A Night of Live Readings, Poetry and Music
Lena Dunham has cancelled the tour due to personal medical reasons. "I'm truly heartbroken not to be joining you and I can't wait to return to your city when my health allows it. Thank you for your faith and support! All my love, Lena". Click here to read the note Lena sent out regarding the cancellation in today's Lenny.

Credit Card orders will be refunded automatically and will appear on your statement within about 3-7 business days.
On the heels of the series finale of their critically acclaimed HBO show GIRLS, Lena Dunham and Jenni Konner just announced a six city tour in their award winning weekly feminist newsletter LennyLetter.com.
Lena Dunham will be joined on the road with nine other Lenny contributors including: Sasheer Zamata, Chloe Caldwell, Kaitlyn Greenidge, Morgan Murphy, Katie Crutchfield, Rachel McKibbens and Jacqueline Novak.
"Lenny is taking its singular mix of politics, entertainment and conversation on the road. Imagine if the beat poets weren't a bunch of ego-driven guys and there were no methamphetamines? Well, there you go!" said LENNY co-founders Lena Dunham and Jenni Konner, "Instead of publishing our newsletter from the comfort of our office we want to engage in a larger conversation across America, with women whose experiences may differ from ours but who share the same essential goals: freedom, self-actualization and the perfect night out. We will be talking, reading, playing music, showing films, asking and answering questions for, by, and of the women we meet. Our plan is to create a sense of community in every city we stop in, and to take what we learn from that community with us as we continue our work as a resource for women who love humor without snark, politics without a filter and- above all- learning about each other's truth."
For more information about the Lenny: America IRL Tour please visit LennyLetter.com.
More information on the tour's lineup:
Lena Dunham
Lena Dunham is the creator and star of the acclaimed HBO series "Girls," for which she also serves as executive producer, writer, and director. She has been nominated for eight Emmy Awards and has won two Golden Globes, including Best Actress for her work on "Girls." In 2010, she won an Independent Spirit Award for Best First Screenplay for her feature "Tiny Furniture," which she also starred in and directed. Lena is also the co-founder of the media brand Lenny, home of the weekly online feminist newsletter LennyLetter.com.
Morgan Murphy
Morgan has recently written for the CBS comedy, "2 Broke Girls," and appeared in the films "Sleeping Dogs Lie" and "World's Greatest Dad." Previously, she performed standup and wrote for "Jimmy Kimmel Live!" and on "Late Night with Jimmy Fallon," where she was part of the original writing staff and received an Emmy Award nomination for Outstanding Writing. Morgan released her critically acclaimed stand up special "Irish Goodbye" in 2014.
Chloe Caldwell
Chloe Caldwell is the author of the novella Women (SF/LD 2014) and the essay collections I'll Tell You in Person (Coffee House/Emily Books) and Legs Get Led Astray (SF/LD 2017). She teaches creative nonfiction at Catapult in NYC and lives in Hudson, NY.
Kaitlyn Greenidge
Kaitlyn Greenidge's debut novel is We Love You, Charlie Freeman (Algonquin Books), one of the New York Times Critics' Top 10 Books of 2016. Her writing has appeared in The New York Times, The Wall Street Journal, Elle.com, Buzzfeed, the Believer, American Short Fiction and other places. She is a contributing writer for LENNY Letter. She is also a connoisseur of the more embarrassing British reality shows on YouTube.
Rachel McKibbens
Rachel McKibbens is a Chicana writer, activist and two-time New York Foundation for the Arts poetry fellow. She is the author of three full-length books of poetry, blud (2017), Into The Dark & Emptying Field (2012) and Pink Elephant (2009). In 2012, McKibbens founded The Pink Door Women's Writing Retreat, an annual writing retreat open exclusively to women of color. She is currently touring with her one-woman show, The Outlast Project, an interactive poetry & healing art project designed to empower survivors of sexual assault.
Sasheer Zamata
Sasheer Zamata is a comedian, actress, writer and current cast member on NBC's "Saturday Night Live." She has appeared on TBS's "People of Earth," Amazon's "Transparent," Comedy Central's "Inside Amy Schumer," Netflix's "Bojack Horseman," SeeSo's "Night Train with Wyatt Cenac," voiced the role of Maisie in Nickelodeon's "Albert" and Sally in "Call of Duty: Infinite Warfare," and appears in the features "Yoga Hosers," "Sleight" and "Deidra & Laney Rob a Train" on Netflix. She also serves as ACLU's Celebrity Ambassador for Women's Rights. Her one-hour standup comedy special, "Pizza Mind," is available to watch on Seeso.
Katie Crutchfield
Katie Crutchfield is a singer-songwriter who has been performing as "Waxahatchee" since 2010. Waxahatchee's 4th album "Out in the Storm" is out on July 14 on Merge Records.
Jacqueline Novak
Jacqueline Novak is a NY based comedian and author who made her TV debut on the "Late Late show with James Corden" in 2015. This past June she shot a half hour comedy special for Comedy Central which is currently available to stream. Her first book "How to Weep in Public: Feeble Offerings on Depression from One Who Knows" was released in 2016 by Crown Publishing. Her second book "Weddiculous" which she co-wrote with Jamie Lee was released earlier this year by HarperCollins.
Read More
Date Information

Pricing Info

| | | |
| --- | --- | --- |
| TICKET PRICE | SERVICE CHARGE | TOTAL PER TICKET |
| $35.00 - Reserved Seating | $6.25 | $41.25 |

Other Information

Important Information about this event:

There is a four ticket per person purchase limit, which will be strictly enforced.
There will be a delivery delay. Tickets will be mailed on or around May 1 and will arrive within 7-10 days after that. If you choose Will Call, your tickets will be available for pick up at the Sheldon Box Office after 6:30pm on the day of the event. Photo ID will be required to pick up tickets.
Seats in rows A - H of the Center Orchestra section will be designated as Will Call Pick Up only. These tickets will be available for pick up after 6:30pm on the day of the event at the Sheldon Box Office.
No audio or video recording.

Please adhere to published ticket limits. Persons who exceed the ticket limit may have any or all of their orders and tickets cancelled without notice by MetroTix in its discretion. This includes orders associated with the same name, e-mail address, billing address, credit card number or other information.


METROTIX OFF SALE:
Phone/Internet: 4:00pm day of event
Fox Box Office: 6:00pm day of event


The Sheldon balcony is NOT wheelchair accessible.

Online purchases for wheelchair accessible seating at The Sheldon are limited to two tickets (wheelchair + companion). Patrons with more specific needs or who need more than two tickets in an accessible area should contact The Sheldon at 314-533-9900. Contact The Sheldon in advance to reserve an accessible parking spot on The Sheldon's west parking lot.
Venue Information
Sheldon
3648 Washington Boulevard , Saint Louis, Missouri 63108
Concert Hall Seating Chart

Website

Accessibility

A street level entrance is available, with an elevator to the 2nd, 3rd and 4th floors of the building.

Contact The Sheldon in advance to reserve an accessible parking spot on The Sheldon's west parking lot. 314.533.9900

CONCERT HALL: The Sheldon balcony is NOT wheelchair accessible. Accessible seating is located at the rear of the Orchestra level.

For events with General Admission (open) seating, please see an usher or the box office when you arrive at The Sheldon to arrange for a seating location, or call The Sheldon at 314-533-9900 to reserve an accessible location in advance.

Online purchases for wheelchair accessible seating in the Concert Hall are limited to two tickets (wheelchair + companion). Patrons with more specific needs or who need more than two tickets in an accessible area should contact The Sheldon at 314-533-9900.

BALLROOM & LOUIS SPIERING ROOM: These spaces are accessible via elevator and do not generally require special ticketing, unless specifically noted.

Other Venue Info

Unless otherwise noted:

Senior pricing, if available, is for ages 62+
Doors to the building generally open 1 hour prior to performance time. Will Call is generally available at that time.