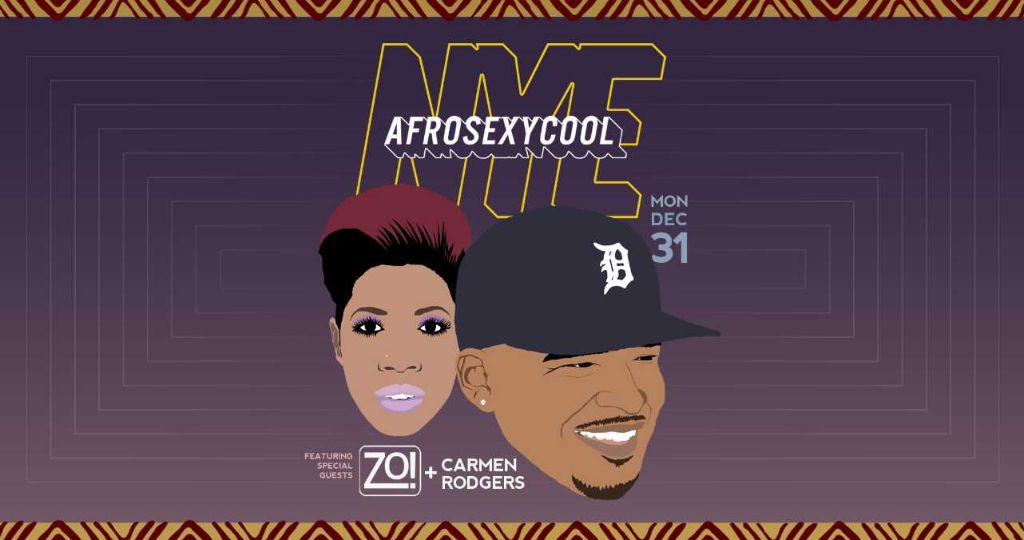 AFROSEXYCOOL NEW YEAR'S EVE
A F R O . S E X Y . C O O L . N Y E . 2 0 1 9

Monday December 31st, ring in the new year with the music, fashion, style, and vibe of STL's afro-cultural renaissance at .ZACK with special guests ZO! + Carmen Rodgers plus ASC residents Blvck Spvde, Makeda Kravitz, DJ Nico, and ASC creator James Biko
-
Afro Sexy Cool is an afro-cultural dance event that exudes the spirit of an underground dance party in Ghana and the sweaty dancehall basements of Cuba while musically connecting the dots of the African diaspora. Be prepared for rhythmic gyrations, high-stepping, clapping and singing to the sounds of Afro-Beat, Afro-Latin, Soca, Soul, R&B, House, Hip-Hop, Trap, Afro-Pop and more
-
Come cap the year off with an epic celebration of Black art, music, fashion and culture

Doors open at 7pm. Show starts at 7:30pm.
Read More
Date Information

December 31, 2018

- 7:00 PM

Pricing Info

TICKET PRICE
SERVICE CHARGE
TOTAL PER TICKET
$15.00 - NYE Party Only, Advance
$20.00 - Party Only, Door
$3.00 + $1 facility fee
$1 facility fee
$19.00
$21.00
$25.00 - ZO! Concert Only
$3.75 + $1 facility fee
$29.75
$40.00 - Concert + Party
$6.00 + $1 facility fee
$47.00
$80.00 - All Inclusive
(Concert + Party + Open Bar All Night)
$12.00 + $1 facility fee
$93.00

Other Info

AGES 21+ ONLY

METROTIX SALES END:
Phone/Internet: 3 hours prior to show
Fox Box Office: 1 hour prior to show

The .ZACK box office opens 1 hour prior to show.
Venue Information
.ZACK
3224 Locust Street , St. Louis, Missouri 63103
The .ZACK is the Kranzberg Arts Foundation's new four-story, 40,000-square foot property, developed in the historic Cadillac building at 3224 Locust St. housing:

- The .ZACK Theatre, a 202-seat proscenium-style theatre to be shared by .ZACK's resident arts organizations as part of the .ZACK Performing Arts Incubator Program which also includes co-op office space, a community scene shop with separate build and paint rooms, and prop/set storage all located in the .ZACK building.

- A full-service catering company and restaurant, Turn by David Kirkland, owned/operated by award-winning local chef David Kirkland (formerly of Café Osage).

- The Urban Ballroom, a fourth-floor, private event space with full-service catering options by David Kirkland Catering. The Urban Ballroom features panoramic views of downtown St. Louis, a customizable layout, and in-house spa, perfect for any event up to 300 people.

- Second floor retail space, the future home of Sophie's Lounge and Music Record Shop.

- Third floor commercial office space available for rent to a wide range of tenants

.ZACK brings synergy, access, and essential infrastructure for the performing arts community in St. Louis, and will be a venue in which patrons can have a dynamic, 360-degree experience. From theater fans to food and beverage lovers, and those looking to host special events, .ZACK will provide a world class experience for audiences from across the region.
Read More
Website

Accessibility

The .ZACK is wheelchair accessible.