AGE OF ARMOR: TREASURES FROM THE HIGGINS ARMOR COLLECTION AT THE WORCESTER ART MUSEUM
EXHIBITION
AGE OF ARMOR: TREASURES FROM THE HIGGINS ARMOR COLLECTION AT THE WORCESTER ART MUSEUM
EXHIBITION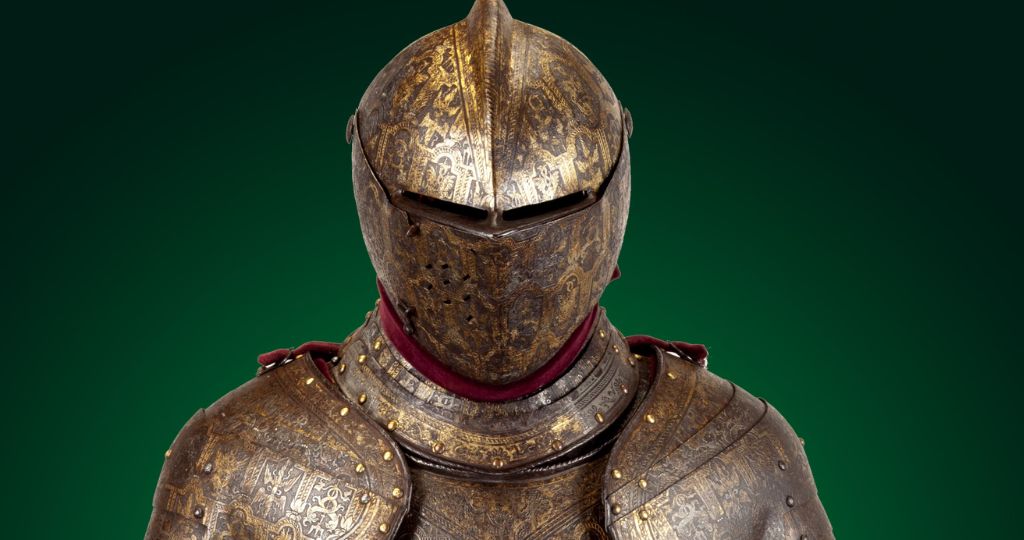 February
17
-
May
14
, 2023
AGE OF ARMOR: TREASURES FROM THE HIGGINS ARMOR COLLECTION AT THE WORCESTER ART MUSEUM
EXHIBITION
Date

February

17

-

May

14

, 2023

Venue

Saint Louis Art Museum

On Sale

Buy Tickets Now

Tickets

$0 - $12
AGE OF ARMOR: TREASURES FROM THE HIGGINS ARMOR COLLECTION AT THE WORCESTER ART MUSEUM
EXHIBITION
Entrance in Gallery 212

Age of Armor is a major survey of defensive armor in Europe from its origins in the 1300s to today. The exhibition is organized by the Worcester Art Museum, home to the nation's second largest collection of arms and armor.
The exhibition begins with an ancient Greek helmet to demonstrate armor's long history in Europe and includes superb helmets from Japan, India, and Sudan to suggest the universality of armor. The heart of the exhibition is in the glorious decorated armors—including several full suits—produced by Renaissance craftsmen in the 1500s. They will be installed so that visitors can appreciate these stunning suits from multiple vantages.
The St. Louis presentation of this exhibition will add examples of modern defensive gear developed by the U.S. Army as well as representations of armor from Hollywood films. The exhibition also will include depictions of armor in artworks from SLAM's collection, including paintings by Lucas Cranach the Elder and the Rubens studio, prints by Albrecht Dürer, and rarely exhibited Flemish tapestries.


Pompeo della Cesa; Field Armor from a Garniture, about 1595; steel, iron, brass, gold, silver, leather, fabric; weight: 47 pounds 15 ounces; Worcester Art Museum, The John Woodman Higgins Armory Collection 2014.112; Image © 2021 Worcester Art Museum, all rights reserved
Buy Tickets
Fri.
February
17
, 2023
TBA
Public entry begins at 4:00pm. Tickets available on site only.
Sat.
February
18
, 2023
TBA
Sun.
February
19
, 2023
TBA
Tue.
February
21
, 2023
TBA
Wed.
February
22
, 2023
TBA
Thu.
February
23
, 2023
TBA
Fri.
February
24
, 2023
TBA
Sat.
February
25
, 2023
TBA
Sun.
February
26
, 2023
TBA
Tue.
February
28
, 2023
TBA
Adult = $12
Student/Senior 65+ = $10
Child 6-12 = $6
Child under 6 = $0
Friday, all tickets = $0


There is a $3 per ticket service charge on all tickets.
Service charge: $3.00/ticket
Admission is available every 15 minutes during entry hours.
The specific tour time will be listed as the "Section" on-screen prior to your purchase and in on-screen and email confirmations.
MetroTix.com sales end 1 hour prior to each tour hour. (All 10am times - 10:00am, 10:15am, 10:30am, 10:45am - will end sales at 9am on the day of event, etc.) Day of event sales will be delivered electronically, either via print-at-home or mobile ticketing.
Entry on Friday is free, but a ticket is required. Advance ticket purchase is recommended. There is a SIX ticket purchase limit for Fridays.
Saint Louis Art Museum Members: Click Here to Enter Your Promo Code
Saint Louis Art Museum
1 Fine Arts Drive, Saint Louis, Missouri 63110
Farrell Auditorium Seating Chart