ALL-STAR JAZZ FUNDRAISER FESTIVAL
ALL-STAR JAZZ FUNDRAISER FESTIVAL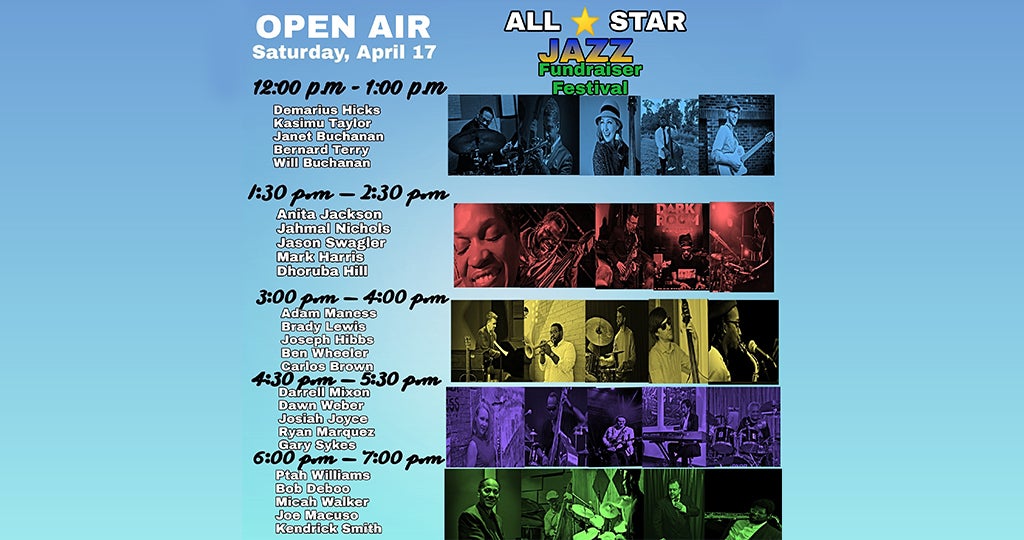 April
17
, 2021
ALL-STAR JAZZ FUNDRAISER FESTIVAL
ALL-STAR JAZZ FUNDRAISER FESTIVAL
In the Open Air Tent at The Grandel
The All Star Jazz Fundraiser Festival is a festival led and organized by Kendrick Smith with the support of the Kranzberg Arts Foundation, Jazz St.Louis and W.S.I.E. The Festival will feature five groups consisting of twenty five top notch musicians in St Louis. The money raised will go towards helping Thurman's in Shaw, The Cigar Inn, WSIE and some musicians heavily affected by the pandemic.
12:00pm-1:00pm: Demarius Hicks, Kasimu Taylor, Janet Buchanan, Bernard Terry, Will Buchanan
1:30pm-2:30pm: Anita Jackson, Jahmal Nichols, Jason Swagler, Mark Harris II, Dhrouba Hill
3:00pm-4:00pm: Adam Maness, Brady Lewis, Joseph Hibbs, Ben Wheeler, Carlos Brown Jr.
4:30pm-5:30pm: Darrell Mixon, Dawn Weber, Josiah Joyce, Ryan Marquez, Gary Sykes
6:00pm-7:00pm: Ptah Williams, Bob Deboo, Micah Walker, Joe Mancuso, Kendrick Smith
TICKET PRICE
SERVICE CHARGE
TOTAL PER TICKET
$20.00 - General Admission
per show
$3.00
$23.00
IMPORTANT INFORMATION
Masks/face coverings are required at all times, except when eating or drinking.
Ticket sales will end 1 hour prior to each show time.
There will be no on-site ticket sales.
Ticket delivery will be by mobile, print-at-home, or mail (if time allows). Will call pickup on site is not available.
To ensure guest and staff safety, limited, physically-distant seating is available by reservation only. To maintain appropriate physical distance, parties are limited to 6 guests per table. All guests are required to follow our COVID-19 mitigation policies, including wearing face masks at all times except when seated at their reserved tables.
Grandel
3610 Grandel Square, St. Louis, Missouri 63108
The Grandel Theatre is a 600-capacity, world-class performing arts venue operated by the Kranzberg Arts Foundation. Concerts, plays, musicals, dance performances, comedy shows, and much more find a home on The Grandel's stage, activated by KAF resident organizations, independent producers, and local, national & internationally touring artists. Please visit www.thegrandel.com for a full event listing and more information.
The Grandel is a fully handicap accessible and ADA compliant venue. Handicap reserved parking and entrance (via ramp) are located on the direct west side of the building. Entrance to the parking lot is accessible from the alleyway on the south side of the building, off of N. Grand Blvd. or N. Spring Ave. Handicap preferred seating is available in the theatre and at The Dark Room upon reservation / request. All three public floors of The Grandel are handicap accessible via elevator.