A Night to Remember With Melba Moore and Howard Hewett
A Night to Remember With Melba Moore and Howard Hewett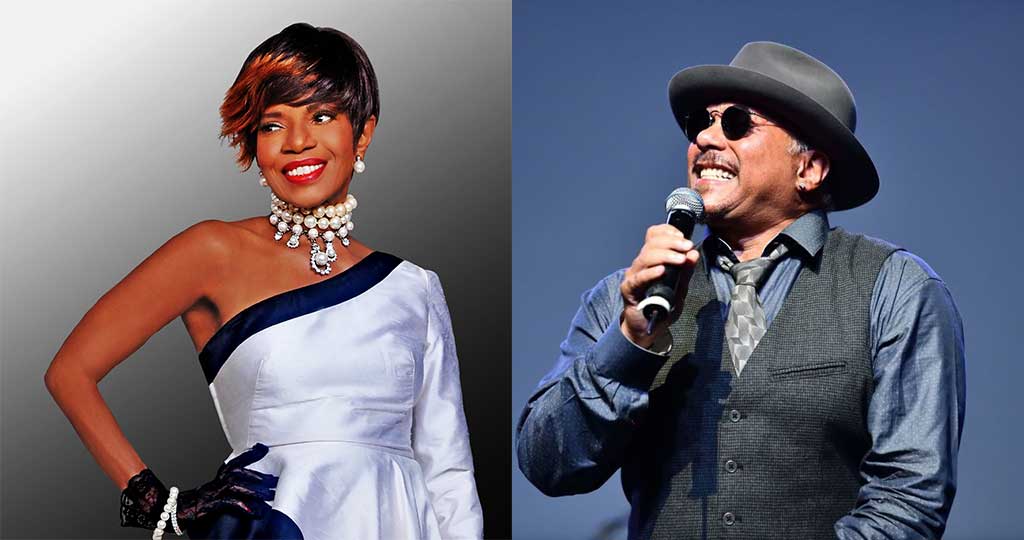 February
22
, 2020
A Night to Remember With Melba Moore and Howard Hewett
Date

February

22

, 2020

Event Starts

8:00PM

Doors

7pm

Venue

Sheldon

On Sale

Buy Tickets Now

Tickets

$60 - $75
A Night to Remember With Melba Moore and Howard Hewett
This event has been rescheduled from June 29, 2019 to February 22, 2020. Tickets for the original date will be valid for the new date.
Melba Moore Is an American prolific five-octave singer and award winning actress. Broadway, contemporary soul/R&B, pop, rock, jazz, gospel and classical Melba Moore was destined to be a star! It could have been her Grammy-nominated cover of the Aretha Franklin classic "Lean On Me" or her Tony Award-winning performance as LuttieBelle GussieMae Jenkins in Purlie that solidified her place in America's hearts, or when she became the first African-American woman to perform the role of Fantine in Les Misérables. "Music is what God allows me to do," declares Melba Moore.
Born into a musical family, music chose Melba. "Music was a centerpiece in my family. My parents were musicians and so were many of my aunts and uncles." Melba's father is the legendary big band leader Teddy Hill and her mother, Bonnie Davis, had a #1 hit on the R&B charts with the song "Don't Stop Now." A graduate of the famed Arts High in Newark, NJ, Melba, at the encouragement of her parents went on to pursue music education at Montclair State, but her inner voice told her she had to see if she had the chops to make it as a performer. Melba's stepfather (pianist Clement Moorman) introduced her to several agents which led to some studio work and eventually an audition that landed her a role in the cult classic Hair on Broadway in 1969. It was in Hair that Melba became the first African American woman to replace a white actress, who happened to be the acclaimed Diane Keaton, in a lead role on Broadway. One year later, she starred in Purlie, which earned her a Tony Award for Best Supporting Actress in a Musical for her portrayal as Lutiebelle. At that time, Melba was one of the first Black women to win a Tony Award. Ms. Moore was the first female pop/R&B artist to do a non-operatic solo concert at New York City's Metropolitan Opera House and at the Olympia in Paris. Melba was born to shine.
Melba is better than ever, an elegant living legend, humanitarian, a star of stage, screen, and recordings, she's done it all and has done it beautifully. An American trend setter, she sets the bar high. She is currently in the planning stages of her return to Broadway and television. She is a Grammy nominated vocalist; a film star (she was in films All Dogs Go To Heaven and The Fighting Temptations (Cuba Gooding, Jr. and Beyonce Knowles). Moore has a successful track record in television with the Melba Moore Show, Melba Moore Clifton Davis Show, Falcon Crest, Ellis Island, she produced the "Melba Moore Live" concert for TV, and she is also profiled in the docu-series on TV-One's acclaimed Unsung. She scored a string of Billboard charted hits … eight Top 10 R&B hits including two #1 smash hits and three Grammy nominations, AMA Nominations, and rewards received including a Tony Award, Ellis Island Award, Artist Guild Award, Trumpet Award of Excellence, NAACP Spingarn Award and History Makers Tribute.
In the '80s and '90s, Melba Moore gifted us with classic jams like "Lean On Me," "This Is It," "You Stepped Into My Life," "Love's Comin' At Ya," "Livin' For Your Love," "Falling" and "A Little Bit More" a #1 duet with Freddie Jackson. "With over 40 years in the industry, the singer and Broadway actress continues to create new music for fans to enjoy. In recent years, the resilient renaissance woman's recording projects have primarily been gospel albums, including the CD Nobody But Jesus. In 2002, she released I'm Still Here and in 2010 she released The Gift of Love, a duet album of classic songs and unforgettable originals. This multifaceted artist/philanthropist is always reaching deeper, pressing harder, ever challenging herself; keeping her audience on the edge of their seats, knowing that whatever happens next will be at least as exciting as what happened before. Melba Moore's produced version of "Lift Every Voice and Sing" which was entered into the United States Congressional Record as the official Negro National Anthem in 1990, was just named an "American Aural Treasure," by the National Recording Registry of the Library of Congress for Ms. Moore's co-produced recorded rendition of the anthem.
Howard Hewett is one of the most gifted vocalists in the Post-Marvin Gaye era of pop R&B.

He started singing as a child, fronting his older sisters in The Hewett Singers. The group toured the gospel circuit. As a teen, Hewett sharpened his crooner skills in a funk band called Lyfe. In 1976, Hewett moved to Los Angeles and formed a group put together by the owners of the historic Maverick's Flat, called Beverly Hills.

Hewett got his mainstream break as the male vocal lead in Shalamar, a centerpiece of Dick Griffey's SOLAR (Sound of Los Angeles Records) label. His tenor voice mixed beautifully with the bright vocals of Jody Watley, the dancing skills of Jeffery Daniels and the writing and production of Leon Sylvers III. The group gave the world feel-good dance favorites "The Second Time Around" and "A Night to Remember," the baby-making classic "For the Lover in You," as well as a number of beautiful B-side ballads like "You Can Count On Me" and "Somewhere There's a Love." When Watley and Daniels left the group in 1983, Hewett continued to lead Mickey Free and Delisa Davis in the reconstituted Shalamar. This version of the group was best known for soundtrack contributions on Footloose and Beverly Hills Cop with "Dancing in the Sheets" and the Grammy-winning "Don't Get Stopped in Beverly Hills," respectively.

In the mid-eighties, Howard sets out on his solo career, releasing I Commit to Love in 1986 on Elektra and from the first single Hewett made magic, giving his amorous voice and whimsical lyrics to "Stay," "I'm For Real" and the title track. Most beloved track on this freshman release would be his spiritually grounded "Say Amen." This single soared on the Inspirational charts and has enjoyed the status of a modern gospel classic.

Subsequent projects have solidified Hewett's place in the high ranks of R&B balladeers by writing and collaborating and lending his voice within an intimate group of crooners, including George Duke, Quincy Jones, James Ingram, Anita Baker, Prince and Stanley Clarke. With Elektra, he released Forever and Ever (1988- "Once, Twice, Three Times"), Howard Hewett (1990- "Show Me") and Allegiance (1992- "Can We Try Again").

Later work shows increasing authenticity as Hewett rips song lyrics straight from his soul. It's Time (1994- "This Love is Forever"), written and produced almost exclusively with longtime friend and collaborator Monte Seward, displays all the vulnerability involved in falling and staying in love. In 2001, Hewett released the all inspirational album The Journey, where he shows us that his faith can't be separated from his heart and soul.
Hewett continues to seduce audiences and eardrums as he is constantly touring and intermittently releasing new music.

"Of all the fine vocalists working today, Howard Hewett is one of the finest." – Babyface
Buy Tickets
Sat.
February
22
, 2020
/ 8:00 PM
TICKET PRICE
SERVICE CHARGE
TOTAL PER TICKET
$75.00 - VIP
Includes seating in the first four rows of Center Orchestra and a post-show Meet & Greet with Melba Moore and Howard Hewett
$12.75
$87.75
$65.00 - Remaining Orchestra
$11.25
$76.25
$60.00 - Balcony
$10.00
$70.00
METROTIX OFF SALE:
Phone/Internet: 4:00pm day of event
Fox Box Office: 6:00pm day of event

The Sheldon balcony is NOT wheelchair accessible.

Online purchases for wheelchair accessible seating at The Sheldon are limited to two tickets (wheelchair + companion). Patrons with more specific needs or who need more than two tickets in an accessible area should contact The Sheldon at 314-533-9900. Contact The Sheldon in advance to reserve an accessible parking spot on The Sheldon's west parking lot.
Sheldon
3648 Washington Boulevard, Saint Louis, Missouri 63108
Concert Hall Seating Chart
A street level entrance is available, with an elevator to the 2nd, 3rd and 4th floors of the building.
Contact The Sheldon in advance to reserve an accessible parking spot on The Sheldon's west parking lot. 314.533.9900
CONCERT HALL: The Sheldon balcony is NOT wheelchair accessible. Accessible seating is located at the rear of the Orchestra level.
For events with General Admission (open) seating, please see an usher or the box office when you arrive at The Sheldon to arrange for a seating location, or call The Sheldon at 314-533-9900 to reserve an accessible location in advance.
Online purchases for wheelchair accessible seating in the Concert Hall are limited to two tickets (wheelchair + companion). Patrons with more specific needs or who need more than two tickets in an accessible area should contact The Sheldon at 314-533-9900.
BALLROOM & LOUIS SPIERING ROOM: These spaces are accessible via elevator and do not generally require special ticketing, unless specifically noted.
Unless otherwise noted:
Senior pricing, if available, is for ages 62+
Doors to the building generally open 1 hour prior to performance time. Will Call is generally available at that time.