UNSEEN
ASHLEYLIANE DANCE COMPANY
UNSEEN
ASHLEYLIANE DANCE COMPANY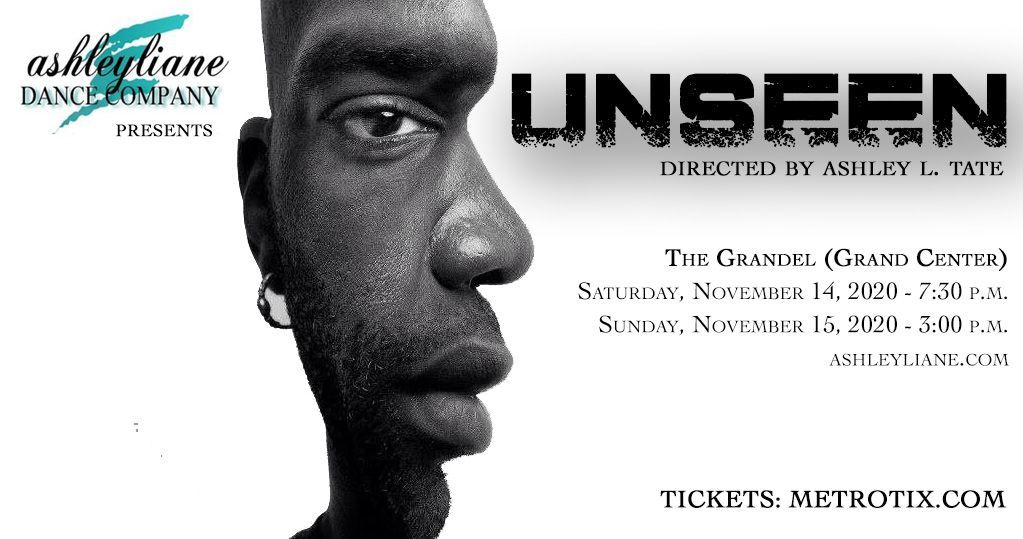 November
14
-
15
, 2020
UNSEEN
ASHLEYLIANE DANCE COMPANY
Date

November

14

-

15

, 2020

Venue

Grandel

On Sale

Buy Tickets Now

Tickets

$15 - $25
UNSEEN
ASHLEYLIANE DANCE COMPANY
These events have been rescheduled from May 30 - 31 to November 14 - 15. Tickets will be valid for the new dates on the same day/time. (Saturday, May 30 = Saturday, November 14; Sunday, May 31 = Sunday, November 15). Those who are unable to attend may request a refund by May 29. Please contact MetroTix at 314-534-1111 or [email protected].
---

This concert uses the vehicle of dance to shed light on the ongoing struggle of people whose lives have been negatively affected by discrimination, conflict, neglect, and/or corruption. The pieces presented in "Unseen" are designed to foster conversations around often marginalized and underserved populations including women, immigrants, people with disabilities, among others.
This concert's mission is to make the invisible visible and promote collective liberation of these communities. Founder and Artistic Director Ashley L. Tate brings her company of trained classical, contemporary and commercial dancers to The Grandel for a weekend of socially conscious performance art. Do not miss this diverse concert featuring the choreography of Ashley L. Tate, as well as guest choreography of Dustin Crumbaugh and spoken word artist and poet, Cheeraz Gormon.



Buy Tickets
Sat.
November
14
, 2020
/ 7:30 PM
Best availability
Sun.
November
15
, 2020
/ 3:00 PM
TICKET PRICE
SERVICE CHARGE
TOTAL
$25.00 - General Admission: Adult
$15.00 - General Admission: Student/Senior
$3.75 + $1 facility fee
$3.00 + $1 facility fee
$29.75 per ticket
$19.00 per ticket
$25.00 - Reserved Orchestra Box, per seat
(Must purchase all four seats)
$3.75 + $1 facility fee
$29.75 per ticket
METROTIX SALES END:
Phone/Internet: 3 hours prior to show
Fox Box Office: 1 hour prior to show
The Grandel box office opens 1 hour prior to show.
Grandel
3610 Grandel Square, St. Louis, Missouri 63108
The Grandel Theatre is a 600-capacity, world-class performing arts venue operated by the Kranzberg Arts Foundation. Concerts, plays, musicals, dance performances, comedy shows, and much more find a home on The Grandel's stage, activated by KAF resident organizations, independent producers, and local, national & internationally touring artists. Please visit www.thegrandel.com for a full event listing and more information.
The Grandel is a fully handicap accessible and ADA compliant venue. Handicap reserved parking and entrance (via ramp) are located on the direct west side of the building. Entrance to the parking lot is accessible from the alleyway on the south side of the building, off of N. Grand Blvd. or N. Spring Ave. Handicap preferred seating is available in the theatre and at The Dark Room upon reservation / request. All three public floors of The Grandel are handicap accessible via elevator.