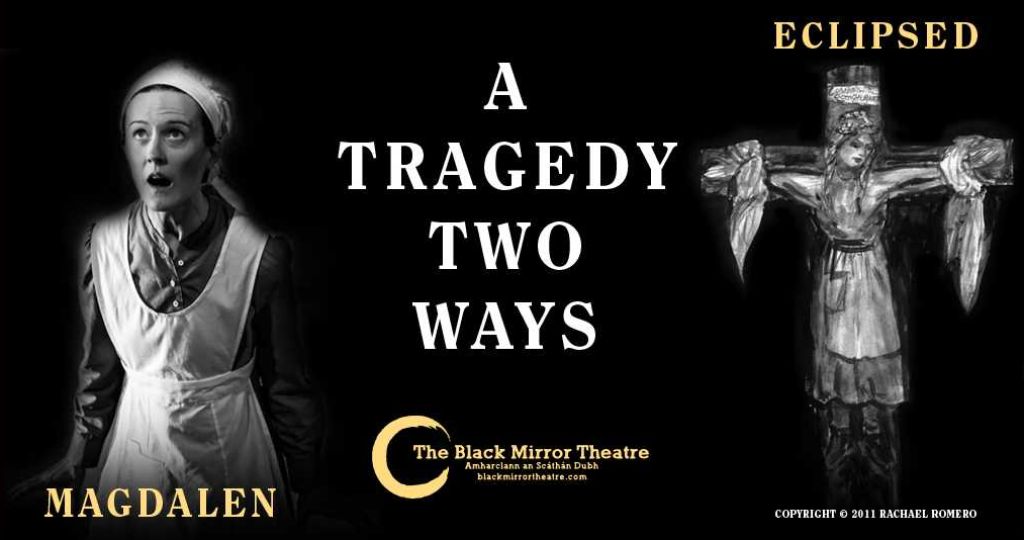 A TRAGEDY TWO WAYS - "MAGDALEN" & "ECLIPSED"
A Tragedy Two Ways is the story of Ireland's Magdalen Laundries told from two different perspectives played in two very different dramatic styles. Magdalen Laundries were homes for 'penitent' or 'fallen' girls, often run by Catholic nuns, in which, over the years, as many as 30,000 Irish women and girls were held in forced labor for indefinite terms. The last such home closed in Ireland in 1996, but the impact on the inmates' lives is still being revealed.
The Black Mirror Theatre is proud to present ... Magdalen, a powerful 1-woman show written and performed by New York-based St. Louis native, Erin Layton. Magdalen won numerous awards since its premiere at the New York International Fringe Festival in 2012. Layton and her play were hailed by the Huffington Post as ''the performance of the festival.''
and ...
Eclipsed, an internationally acclaimed play by Patricia Burke Brogan, whose life as a novice, a nun, in a Magdalen Laundry caused her to leave the convent and eventually record what she had seen, heard, and felt. Eclipsed, while fictional, was pivotal in bringing the tragedy of Ireland's Laundries to light. Eclipsed has been performed on three continents, was named Festival First at the Edinburgh Theatre Festival and won the U.S. Moss Hart award in 1994.
Note: The drawing, Washed Up and Crucified, by artist Rachael Romero, who, as a fourteen-year-old runaway, was extrajudicially incarcerated in a Magdalen laundry in Australia.
Read More
Date Information

Additional Links

Pricing Info

TICKET PRICE
SERVICE CHARGE
TOTAL PER TICKET
$20.00 - Adult, single performance
$3.00 + $1 facility fee
$24.00
$15.00 - Student/Senior, single performance
$3.00 + $1 facility fee
$19.00
$25.00 - Two performance combo ticket
Click HERE to purchase.
$3.75 + $1 facility fee
$29.75

Two-Show Special Offer

Other Info

METROTIX SALES END:
Phone/Internet: 3 hours prior to show
Fox Box Office: 1 hour prior to show

The Kranzberg Arts Center box office opens 1 hour prior to show.
Venue Information
Kranzberg Arts Center
501 North Grand Boulevard , Saint Louis, Missouri 63103