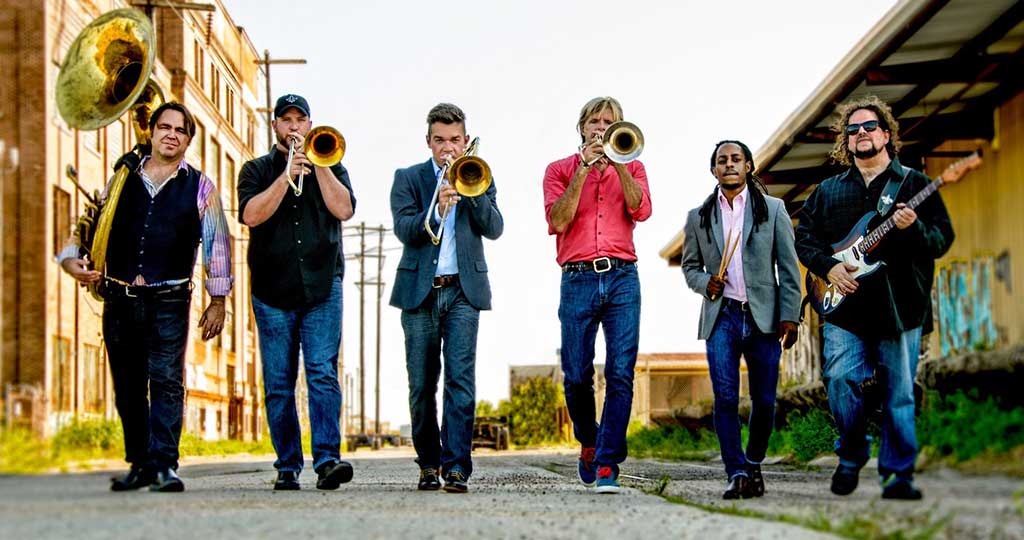 Four years since their last recording, New Orleans Brass & Rollers, Bonerama returns with their seventh album Hot Like Fire, their first released by Basin Street Records.
Formed in New Orleans in 1998, by trombone players Mark Mullins and Craig Klein (who from 1990-2006, were also members of Harry Connick Jr.'s big band), Bonerama bills itself as a brass/funk/rock band, but Bonerama is much more than that. They are a New Orleans musical institution—one of the most genuine, unique, and interesting bands to have ever come out of the Crescent City. Bonerama incorporates jazz, brass, funk, fusion, soul, pop, rock, blues, a touch of alternative, and even a bit of reggae into its one-of-a-kind sound. Three trombones front the band, plus a sousaphone, guitar, and drums, all delivering a powerful sound that you have to hear to believe.
Known the world over for their incendiary live performances, Bonerama has been bringing its specialized brand of New Orleans music to the masses for over twenty years. The group is currently comprised of Mullins (trombone, electric trombone, and lead vocals), Klein (trombone and lead vocals), Greg Hicks (trombone and vocals), Bert Cotton (guitar), Matt Perrine (sousaphone and electric bass), and Walt Lundy (drums).
Hot Like Fire finds Bonerama developing its dynamic, high-energy, fun, happy, and bold moods further than ever before. The New Orleans stalwarts deliver nine wonderfully brassy musical landscapes—seven of which are original compositions (including the concert staple "Mr. Okra"), along with powerful covers of Radiohead's "Paranoid Android" and the late Allen Toussaint's "Basic Lady." The album was produced by Mark Mullins, Craig Klein, and Tracey Freeman, and it was recorded at Music Shed Recording Studios in New Orleans.
Read More
Date Information

Pricing Info

$36 = Premium Reserved Table
$34 = Reserved Table
$25 = General Admission

| | | |
| --- | --- | --- |
| TICKET PRICE | SERVICE CHARGE | TOTAL PER TICKET |
| $36.00 | $5.25 | $41.25 |
| $34.00 | $5.00 | $39.00 |
| $25.00 | $3.75 | $28.75 |

Other Info

Becoming a subscriber guarantees the same table for every performance in the series.
Doors open 2 hours prior to each show.
Tickets are available for pickup only on the night of the show when doors open.
The venue does not have an on-site box office. Tickets are only sold via Metrotix, or, on the night of the show when the doors open (if tickets remain.)
Buying a reserved or premium reserved ticket guarantees you that specific seat. Seating at tables and countertops is "family style." If you do not purchase all the seats at your table, you will be seated with other patrons.
General Admission Ticketholders - You may sit at stools at the bar, perimeter chairs not at tables, or you may stand. You are not guaranteed a seat, as seating is limited and only available first-come-first-seated when the doors open. Once all General Admission chairs are taken, there will only be standing room for all other General Admission ticketholders.
South on Main does not take reservations for ticketed concerts.
Food is served before and throughout the concert.
Shows are all ages. Everyone must have a ticket to attend.
Free surface lot parking is available.
Additional Info: http://southonmain.com/pages/faq-ticketing-seating/

METROTIX SALES END: Noon day of show
Venue Information
South on Main
1304 Main Street , Little Rock, Arkansas 72202