TOMÁSEEN FOLEY'S A CELTIC CHRISTMAS
TOMÁSEEN FOLEY'S A CELTIC CHRISTMAS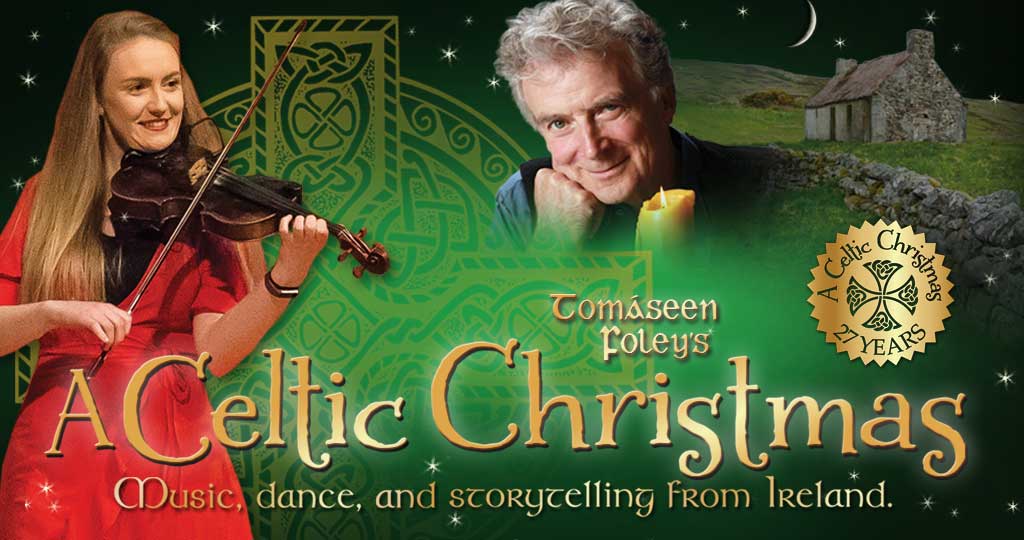 December
4
, 2022
TOMÁSEEN FOLEY'S A CELTIC CHRISTMAS
Date

December

4

, 2022

Event Starts

2:30 PM

Venue

Grandel

On Sale

Buy Tickets Now

Tickets

$20 - $40
TOMÁSEEN FOLEY'S A CELTIC CHRISTMAS
For the 27th season, Tomáseen Foley's A Celtic Christmas takes to the road with some of the finest and most authentic exponents of the Celtic arts performing anywhere today, on either side of the Atlantic. At its center is native Irish storyteller, Tomáseen Foley, and joining him this year are three St Louis-based performers, Eimear Arkins (fiddle and vocals), Kevin Buckley (fiddle) and Natalie Wagner (dance).

A Celtic Christmas springs from the infinitely rich treasury of Ireland's cultural heritage. It is a re-creation of a night before Christmas in the West of Ireland in the 1940s, before the advent of motorcar, the television, and the telephone. The show takes us back to rural Ireland where neighbors gathered at each other houses and brought with them -- not gold frankincense or myrrh, but gifts equally precious -- their gifts of music, song, dance and storytelling.

On stage, the spirit of Christmas dances to life and glows brightly when the artists - 'the neighbors' - gather to create a wholesome, cultural, family feast directly from the rich table of communal life in the west of Ireland. By recreating just such a night on stage, Tomáseen Foley's A Celtic Christmas brings the timeless tradition to audiences across the country.
Buy Tickets
Sun.
December
4
, 2022
/ 2:30 PM
Child = under 18
All seating is reserved.
TICKET LOCATION
TICKET TYPE
TICKET PRICE
SERVICE CHARGE
FACILITY FEE
TOTAL PER TICKET
Center Orchestra / Center Balcony
Adult
$35.00
$6.50
$1.00
$42.25
Child
$25.00
$4.50
$1.00
$30.50
Side Orchestra
Adult
$30.00
$5.50
$1.00
$36.50
Child
$20.00
$3.75
$1.00
$24.75
Side Balcony
Adult
$25.00
$4.50
$1.00
$30.50
Child
$20.00
$3.75
$1.00
$24.75
Orchestra Booth
(must purchase full box of 4)
Adult
$40.00
$7.25
$1.00
$48.25
Balcony Booth
(must purchase full box of 6)
Adult
$40.00
$7.25
$1.00
$48.25
METROTIX SALES END: performance time
Tickets will be delivered via email, to either print at home or display on your mobile device.
Grandel
3610 Grandel Square, St. Louis, Missouri 63108
The Grandel Theatre is a 600-capacity, world-class performing arts venue operated by the Kranzberg Arts Foundation. Concerts, plays, musicals, dance performances, comedy shows, and much more find a home on The Grandel's stage, activated by KAF resident organizations, independent producers, and local, national & internationally touring artists. Please visit www.thegrandel.com for a full event listing and more information.
The Grandel is a fully handicap accessible and ADA compliant venue. Handicap reserved parking and entrance (via ramp) are located on the direct west side of the building. Entrance to the parking lot is accessible from the alleyway on the south side of the building, off of N. Grand Blvd. or N. Spring Ave. Handicap preferred seating is available in the theatre and at The Dark Room upon reservation / request. All three public floors of The Grandel are handicap accessible via elevator.