COLSON WHITEHEAD
In Conversation with G'Ra Asim
COLSON WHITEHEAD
In Conversation with G'Ra Asim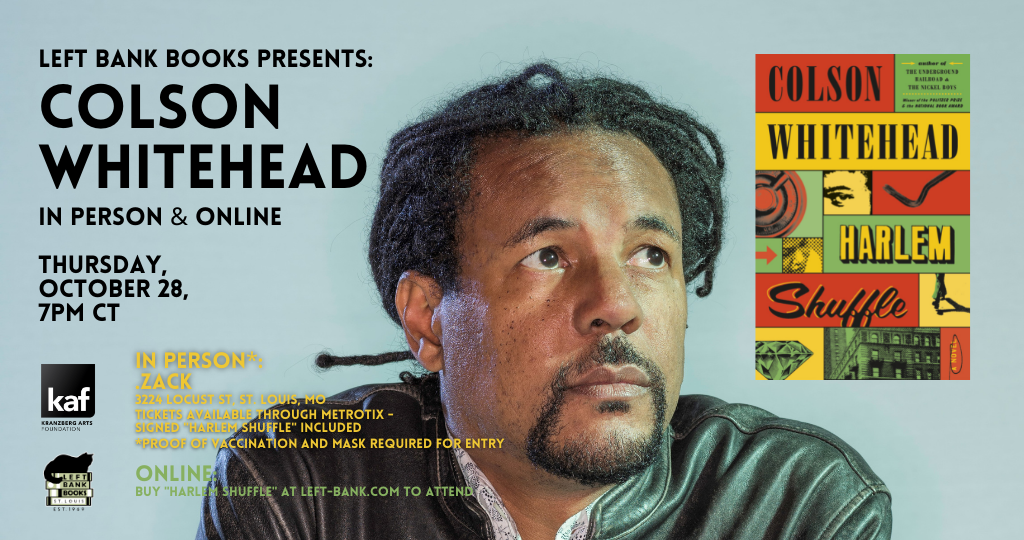 October
28
, 2021
COLSON WHITEHEAD
In Conversation with G'Ra Asim
Date

October

28

, 2021

Event Starts

7:00 PM

Venue

.ZACK

On Sale

Buy Tickets Now

Tickets

$33
COLSON WHITEHEAD
In Conversation with G'Ra Asim
ABOUT THE EVENT
IN PERSON: The in-person event will be held at .ZACK, 3224 Locust St., St. Louis, MO. Tickets for in-person attendance are available through MetroTix and include one signed copy of Harlem Shuffle. Books will be available to pick up at the event. Tickets for the in-person event are not available to purchase at Left Bank Books' physical location.
**Proof of vaccination and mask will be required for entry to the in person event.** Guests will need to bring a photo ID AND either their physical vaccination card or a photo of their vaccination card.
ONLINE: To join us for the virtual presentation, purchase a copy of Harlem Shuffle from Left Bank Books either online, over the phone, or in the store. Please provide us with a valid email address for sending you the event link. We will email the link to join virtually the day of the event.
ABOUT THE BOOK
From the two-time Pulitzer Prize-winning author of The Underground Railroad and The Nickel Boys, a gloriously entertaining novel of heists, shakedowns, and rip-offs set in Harlem in the 1960s.
Ray Carney was only slightly bent when it came to being crooked... To his customers and neighbors on 125th street, Carney is an upstanding salesman of reasonably priced furniture, making a decent life for himself and his family. He and his wife Elizabeth are expecting their second child, and if her parents on Striver's Row don't approve of him or their cramped apartment across from the subway tracks, it's still home.
Few people know he descends from a line of uptown hoods and crooks, and that his fa ade of normalcy has more than a few cracks in it. Cracks that are getting bigger all the time.
Cash is tight, especially with all those installment-plan sofas, so if his cousin Freddie occasionally drops off the odd ring or necklace, Ray doesn't ask where it comes from. He knows a discreet jeweler downtown who doesn't ask questions, either.
Then Freddie falls in with a crew who plan to rob the Hotel Theresa--the Waldorf of Harlem--and volunteers Ray's services as the fence. The heist doesn't go as planned; they rarely do. Now Ray has a new clientele, one made up of shady cops, vicious local gangsters, two-bit pornographers, and other assorted Harlem lowlifes.
Thus begins the internal tussle between Ray the striver and Ray the crook. As Ray navigates this double life, he begins to see who actually pulls the strings in Harlem. Can Ray avoid getting killed, save his cousin, and grab his share of the big score, all while maintaining his reputation as the go-to source for all your quality home furniture needs?
Harlem Shuffle's ingenious story plays out in a beautifully recreated New York City of the early 1960s. It's a family saga masquerading as a crime novel, a hilarious morality play, a social novel about race and power, and ultimately a love letter to Harlem.
But mostly, it's a joy to read, another dazzling novel from the Pulitzer Prize and National Book Award-winning Colson Whitehead.
ABOUT THE SPEAKERS
Colson Whitehead is the #1 New York Times bestselling author of ten works of fiction and nonfiction, and is a two-time winner of the Pulitzer Prize for Fiction, for The Nickel Boys and The Underground Railroad, which also won the National Book Award. A recipient of MacArthur and Guggenheim fellowships, he lives in New York City.
G'Ra Asim, a writer and musician, is an assistant professor of nonfiction writing at Ithaca College. He has served as writing director at the African American Policy Forum and as graduate teaching fellow in Columbia's Undergraduate Writing Program. His work has appeared in Slate, Salon, Guernica, The Baffler, and The New Republic. When not writing prose or teaching, he sings, plays bass and writes lyrics for NYC DIY pop punk band babygotbacktalk, who were named one of AfroPunk's "Top 8 Punkest Bands on the Planet Right Now."
Buy Tickets
Thu.
October
28
, 2021
/ 7:00 PM
TICKET PRICE
SERVICE CHARGE
TOTAL PER TICKET
$33.00 - General Admission
Includes a copy of the book
$6.00 + $1 facility fee
$40.00
METROTIX SALES END: performance time
Tickets will be delivered via email, to either print at home or display on your mobile device.
COVID-19 Vaccine / Negative Test Requirement
Effective Sept. 10, all patrons 12 Years or older are required to show proof of their full COVID-19 vaccination or negative COVID-19 test upon entry for all ticketed events at KAF indoor performance venues, including The Grandel, .ZACK Theatre, The Marcelle, Black Box and Studio at The Kranzberg, High Low Listening Room and The Dark Room. Please bring a valid ID and proof of vaccine (card, picture of card, or photocopy) or proof of negative test (PCR test within 72 hours / antigen test within 24 hours of performance start time).
The above policies are in addition to an existing mask policy, which went into effect at the organization's indoor venues in late July (coinciding with the guidance and mandates set forth by public health and local government). Masks are currently required in all Kranzberg Arts Foundation indoor facilities.

Proof of vaccination or negative test is not required in KAF outdoor venues (The Big Top and Open Air Tent).

CUSTOMER REQUEST due to COVID-19 Vaccination / Negative COVID-19 Test Requirement Policy
For shows which have been on sale prior to 08/26/2021, refunds are available by individual request only, until the last business day 24 hours prior to the show date OR September 29, 2021, whichever comes first. Refunds must be requested in advance. No refunds will be given after the show date.

CANCELED EVENTS
If an event is canceled, no action is required to obtain a refund; MetroTix will issue a refund to the original method of payment used at time of purchase.

RESCHEDULED / POSTPONED EVENTS
If an event is postponed, rescheduled, or moved, your tickets are still valid for the new date and no further action is required. Emails will be sent to ticket holders notifying them of any available refund options for the event.
More details are here: https://www.kranzbergartsfoundation.org/covid-19-mitigation-policies/.
.ZACK
3224 Locust Street, St. Louis, Missouri 63103
The .ZACK is wheelchair accessible.