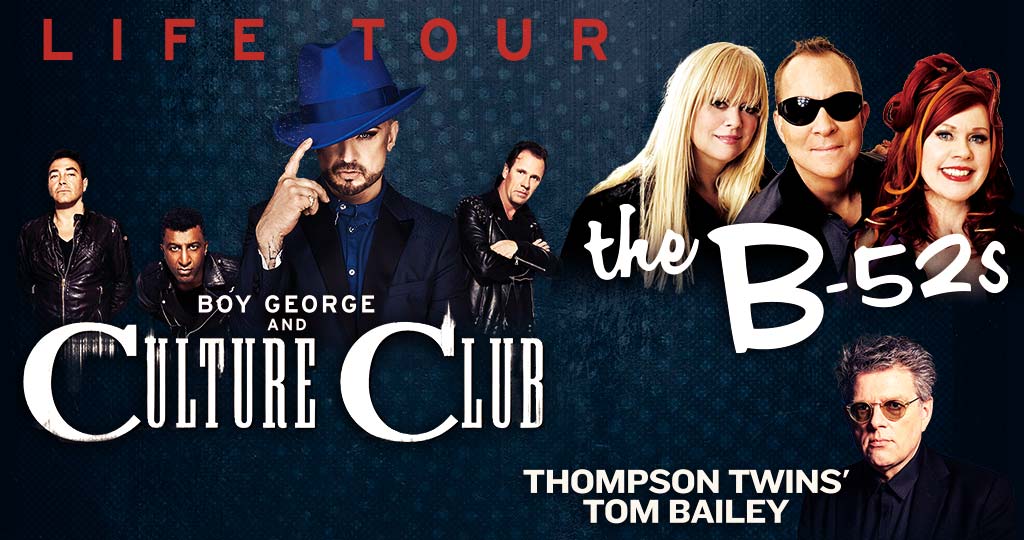 Boy George & Culture Club, The B-52s and Thompson Twins' Tom Bailey
After more than two decades and 150 million singles & records sold globally, 2018 marks a new era for Boy George and Culture Club, as they are currently working on their first new music in 20 years. The tour setlist will celebrate some of their biggest hits plus gives fans an advance listen to new songs.
It is well known that the B-52s are The World's Greatest Party Band. As they take their party-music revolution into the 21st century the B-52s show no signs of slowing down, serving up their own unique blend of music and showmanship to millions of fans around the world.
For nearly three decades fans of the Thompson Twins have been waiting for more live performances from one of the most iconic bands of the eighties. Now The Thompson Twins' Tom Bailey, with a new band, will be touring and performing the Thompson Twins hits. His all-female band features Charlotte Raven on vocals and keyboards, Amanda Kramer (The Psychedelic Furs/Information Society) on vocals and keyboards and Paulina Szczepaniak on electronic drums.
Read More
Date Information

September 6, 2018

- 7:00 PM

Boy George VIP Meet & Greet Package

BOY GEORGE VIP MEET & GREET PACKAGE - $450 each
On sale Friday, May 4 at 10am.
Off sale August 27 at 11:59pm, unless sold out sooner.
Limit 4. Will Call delivery only, with pickup on the night of the show only.

Each package includes:

One premium reserved ticket (Pit and 1st 5 rows of Orchestra Floor)
Exclusive meet & greet with Boy George
Personal photograph with Boy George
Collectible tour poster autographed by Boy George (limited print, numbered)
Boy George Tote Bag
Boy George Merchandise Item – designed exclusively for VIP packages
Official Boy George meet & greet laminate
Boy George branded lanyard
VIP Host

Questions about your VIP package should be directed to [email protected].

Thank you for purchasing a Boy George VIP Package. Package details subject to change without notice. All VIP packages are NON-TRANSFERABLE; NO NAME CHANGES will be permitted under any circumstances; NO REFUNDS or EXCHANGES; all sales are final. This package is for Boy George ONLY. No other artist interaction will occur with this package. You will receive an email from [email protected] 2-3 days prior to the performance date with Meet and Greet instructions. Exclusive VIP merchandise items will distributed at the venue on the day of show ONLY. You must proceed to the designated VIP check-in at the scheduled time to receive your VIP merchandise. Please note that all VIP tickets are to be picked up at the VIP check-in location, on the day of show ONLY. To redeem all elements of your VIP order you must present your receipt and picture ID at the VIP check-in location. If you have questions regarding the VIP packages, or have not received your instructions in the time frame indicated, please email [email protected] By participating in any event with Boy George, you hereby agree that your name, photographic and/or video image, and voice may be used in any media, whether now known or hereafter invented, throughout the world for any purpose whatsoever. RELEASE: You release, and agree to indemnify and hold harmless, Boy George, and its respective members, officers, directors, employees and agents (the "Released Parties") from and against all claims (known and unknown), liabilities, injuries, death, loss and/or damages of any kind arising from your participation in the VIP Package and/or meet & greet, or the acceptance, possession or use or misuse of the package or any related prizes. You assume all risks associated with the VIP Package or use or misuse of any related prizes, and you agree that the Released Parties will not be responsible or liable for any injury, harm, death, damages, costs or expenses.

B-52s VIP Meet & Greet Package

B-52s VIP Meet & Greet Package - $350 each

Each package includes:

Private champagne toast with the band
Photo opportunity with the band
Exclusive B-52s Tote bag
Exclusive B-52s champagne flute and champagne for the toast! (Non-alcoholic option available)
Exclusive B-52s VIP commemorative laminate pass
Exclusive 40th Anniversary Tour poster (individualized with your party city show)
An autographed 8 X 10 glossy photo of Fred, Kate and Cindy
Plus special and exclusive B-52s gifts

Please note: The B-52 VIP Package is an add-on item available through the band's website; a concert ticket must also be purchased through MetroTix to access the VIP Meet & Greet.

To purchase a B-52s VIP Package, click here.

Pricing Info

Everyone must have a ticket, regardless of age.
Prices are subject to change.

Print-Your-Own tickets will not be delivered until 3 days after the general on-sale date.

Ticket limit: 8

PLEASE NOTE: Persons who exceed the ticket limit may have any or all of their orders and tickets cancelled without notice by MetroTix in its discretion.

This includes orders associated with the same name, email address, billing address, physical address, credit card number, or other information. The Fox Theatre and MetroTix reserve the right to revoke tickets that end up on the secondary market.

| TICKET TYPE | TICKET PRICE | SERVICE CHARGE | TOTAL PER TICKET |
| --- | --- | --- | --- |
| Orchestra Pit | $129.50 | $20.75 | $150.25 |
| Premium Orchestra | $129.50 | $20.75 | $150.25 |
| Front Orchestra | $129.50 | $20.75 | $150.25 |
| Center Mezzanine | $129.50 | $20.75 | $150.25 |
| Mid Orchestra I | $79.50 | $12.75 | $92.25 |
| Side Mezzanine | $79.50 | $12.75 | $92.25 |
| Mid Orchestra II | $79.50 | $12.75 | $92.25 |
| Lower Balcony | $79.50 | $12.75 | $92.25 |
| Rear/Side Orchestra | $79.50 | $12.75 | $92.25 |
| Middle Balcony | $79.50 | $12.75 | $92.25 |
| Orchestra Corners | $49.50 | $8.00 | $57.50 |
| Upper Balcony | $49.50 | $8.00 | $57.50 |

Other Info

TICKET LIMIT: 8
METROTIX SALES END: 1 hour prior to performance
Venue Information
Fabulous Fox Theatre
527 North Grand Boulevard , Saint Louis, Missouri 63103
Website

Accessibility

The Fox Theatre is pleased to offer seating and other accommodations for our patrons with special needs. All special accommodations can be requested through MetroTix at 314-534-1111 or 800-293-5949, 9am to 9pm. Deaf or hard of hearing guests may also use the Relay Missouri service by calling 800-735-2966 (TTY) or 800-735-2466.

Wheelchair seating and companion seats are available for all performances at the Fox for purchase at the Fox Box Office, by phone and at metrotix.com.

The Fox Theatre offers performances interpreted for the deaf and hard of hearing by Communicate Plus as well as audio-description services for the visually-impaired. For a schedule of these performances, click here.

A limited number of infrared assistive hearing head sets for the hearing impaired are available at no charge for all performances at Guest Services & Gifts in the main lobby.

A number of accessible parking spaces are located on the north side the Fox Theatre, near the accessible entrance, on the south side of Washington, between Grand Blvd. and Spring Ave. Patrons with special needs may also be dropped off at the accessible entrance.

The front entrance and lobby are accessible and the elevator to other floors is located on the north side of the lobby. The accessible entrance is located on the north side of the building.