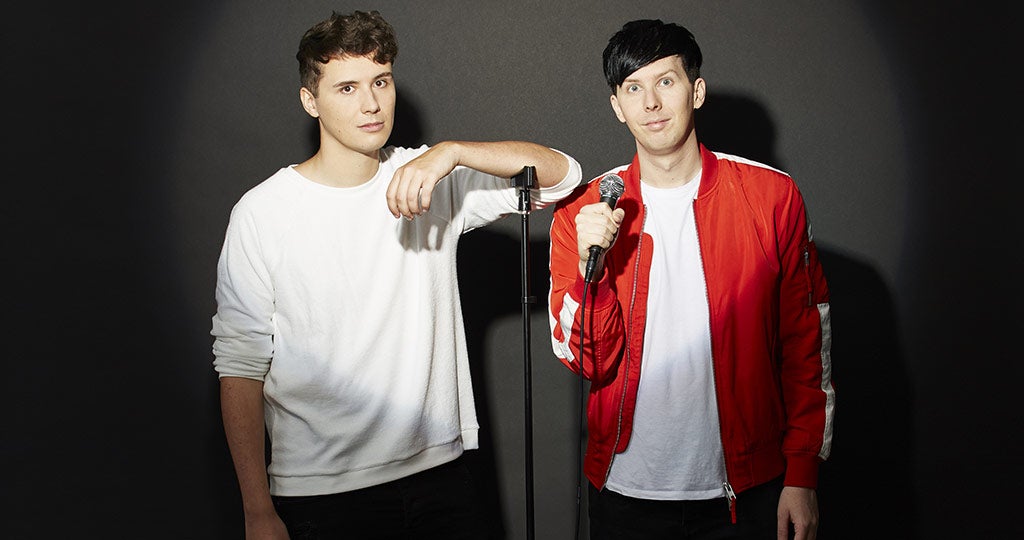 Dan & Phil World Tour 2018
Dan and Phil present their new stage show - Interactive Introverts. Two internet dwelling, insecure nerds standing under the spotlight to give the people what they want: an epic interactive experience of rants, roasts, battles, stories ..and surprises that will make you laugh, cry, cringe and puts the audience in control unlike anything before!
---
Daniel Howell and Phil Lester are two of the world's biggest YouTube stars. From producing their own comedy videos, they have gone on to present a Radio Academy Award winning show for BBC Radio 1, host international coverage of the BRIT Awards, release an app game 'The 7 Second Challenge' which reached #1 on the iTunes store, and in 2017 the hit board game 'Truth Bombs.' They also proudly support charitable organizations such as Young Minds, Stand Up To Cancer and the British Red Cross.
In March 2015, Dan and Phil launched their debut book The Amazing Book Is Not On Fire and accompanying 75-date International tour "The Amazing Tour Is Not On Fire". The book went to #1 on The Sunday Times and New York Times Bestseller lists and the tour became the biggest world tour ever undertaken by YouTube creators ..until now.
Read More
Date Information

Additional Links

VIP Tickets

Each show has a limited allocation of VIP tickets. A VIP ticket gives you one the best seats for the show, access to a meet-up with Dan and Phil and exclusive gifts.

VIPs should please arrive 3.5 hours before the listed start of the show.

You will be wristbanded by a member of the production team and shown to the meet-up area. All VIPs will meet Dan and Phil and have the opportunity to have one item signed and to take a selfie.

Please be aware that there will not be a professional photographer on site, so if you would like a photo, please bring your own camera or phone - also make sure it's charged and with enough storage!

After you have met Dan and Phil you will be given a gift bag including exclusive VIP tour merchandise, then your wristband will be removed and kept by the production team. VIP meet-up areas will vary from venue to venue, but where possible a large enough room will be provided in which after meeting Dan and Phil, VIPs can hang out with each other, sign the guest book and listen to a special playlist curated by Dan and Phil. VIPs also get the best seats in the venue to watch the show – usually the front few rows closest to the stage.

Please note: You can only gain access to the meet-up with a VIP ticket.

*Please do not bring any gifts for Dan or Phil because unfortunately they will not be able to transport them home while on tour. Small letters and art are fine. There will be many ways to participate in the show however

Pricing Info

Everyone must have a ticket, regardless of age.
Children under 14 must be accompanied by a person aged 18 or over.
Prices are subject to change.

| TICKET TYPE | TICKET PRICE | SERVICE CHARGE | TOTAL PER TICKET |
| --- | --- | --- | --- |
| Orchestra Pit - VIP | $152.50 | $25.00 | $177.50 |
| Premium Orchestra - VIP | $152.50 | $25.00 | $177.50 |
| Premium Orchestra | $78.50 | $13.25 | $91.75 |
| Front Orchestra | $78.50 | $13.25 | $91.75 |
| Center Mezzanine | $78.50 | $13.25 | $91.75 |
| Side Mezzanine | $78.50 | $13.25 | $91.75 |
| Mid Orchestra I | $78.50 | $13.25 | $91.75 |
| Lower Balcony | $78.50 | $13.25 | $91.75 |
| Mid Orchestra II | $58.50 | $9.75 | $68.25 |
| Middle Balcony | $58.50 | $9.75 | $68.25 |
| Rear/Side Orchestra | $58.50 | $9.75 | $68.25 |
| Orchestra Corners | $30.00 | $5.00 | $35.00 |
| Upper Balcony | $30.00 | $5.00 | $35.00 |

Other Info

TICKET LIMIT: 8

DELIVERY DELAY: There will be a 2 week delay on delivery of tickets purchased online or by phone.

CHILDREN UNDER 14 must be accompanied by a person aged 18 or over.

BAG CHECKS will be in operation at all venues; to save time avoid bringing unnecessary baggage or items. Please arrive promptly to help us start the show on time!

INTERMISSION: There will be a 20 minute intermission during the show.

PHOTOGRAPHY AND VIDEO RECORDING are prohibited, and all electronic devices must be turned off during the show.

MERCHANDISE: For every venue there will be a store offering exciting, exclusive tour merchandise available with a variety of products to celebrate and remember the show! Merch store location and opening and closing times will vary for each venue.

METROTIX SALES END: 1 hour prior to showtime
Venue Information
Fabulous Fox Theatre
527 North Grand Boulevard , Saint Louis, Missouri 63103
Website

Accessibility

The Fox Theatre is pleased to offer seating and other accommodations for our patrons with special needs. All special accommodations can be requested through MetroTix at 314-534-1111 or 800-293-5949, 9am to 9pm. Deaf or hard of hearing guests may also use the Relay Missouri service by calling 800-735-2966 (TTY) or 800-735-2466.

Wheelchair seating and companion seats are available for all performances at the Fox for purchase at the Fox Box Office, by phone and at metrotix.com.

The Fox Theatre offers performances interpreted for the deaf and hard of hearing by Communicate Plus as well as audio-description services for the visually-impaired. For a schedule of these performances, click here.

A limited number of infrared assistive hearing head sets for the hearing impaired are available at no charge for all performances at Guest Services & Gifts in the main lobby.

A number of accessible parking spaces are located on the north side the Fox Theatre, near the accessible entrance, on the south side of Washington, between Grand Blvd. and Spring Ave. Patrons with special needs may also be dropped off at the accessible entrance.

The front entrance and lobby are accessible and the elevator to other floors is located on the north side of the lobby. The accessible entrance is located on the north side of the building.