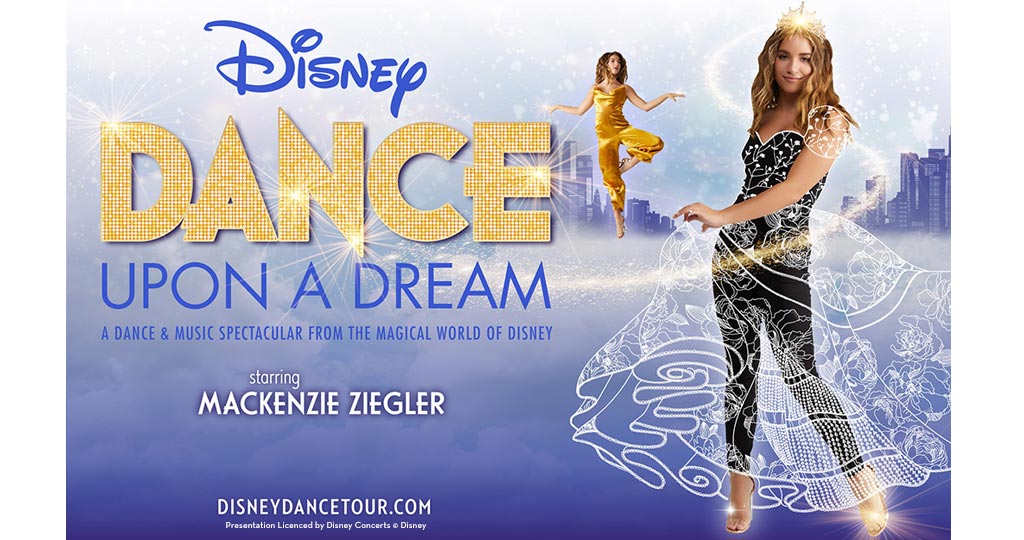 Disney Dance Upon a Dream
Welcome to Disney Dance Upon a Dream!
Come and celebrate the dazzling world of Disney with dancer, social media, and television sensation Mackenzie Ziegler as she goes on an electrifying adventure to find her own beat in our fast-moving world.
Disney and dance fans of all ages will delight in the breathtaking performances of our present-day Disney heroine Mackenzie and an incredible group of dancers as they journey through a soundtrack of Disney's greatest hits remixed and reimagined. Mackenzie steps into a magical world as she shares a story on stage that audiences have never experienced before. Featuring video and music with a twist from our most beloved Disney films, including Beauty and the Beast, Moana, and Cinderella, this show is not to be missed!
---
About Mackenzie Ziegler
At just 15 years old, Mackenzie Ziegler has become one of the most influential rising stars of Generation Z. She has made a splash in the entertainment industry garnering a massive social media presence of over 30 million followers across several platforms, and her music videos have collectively received over 200 million views. In August 2019, she was nominated for a Teen Choice Award in the category of "Choice Fashion/Beauty Web Star," and the previous year she won a Teen Choice Award for "Choice Muser."
As a singer, songwriter and recording artist, Mackenzie released her latest single "HOT" in July 2019. The single was her first release with Arista Records and showcased her growth as a rising artist. The new single came shortly after the launch of PRETTYMUCH'S Summer North American FOMO Tour, where she opened for the boy band throughout shows across the country.
In November 2018, Mackenzie released her album Phases, which featured the singles "Nothing on Us" and "Wonderful," written by Grammy-nominated songwriters Sia and Jesse Shatkin. Prior to Phases, she released the single "Monsters (aka Haters)" and followed this success with her singles: "Teamwork," "Breathe" and "What If."
Mackenzie can currently be seen starring in the YouTube series "Total Eclipse" for the digital network Brat, on which she also serves as Executive Producer, and in the upcoming animated film Ice Princess Lily for DIRECTV. Last fall, Mackenzie competed on ABC's "Dancing with the Stars: Juniors," and will next be seen in the sci-fi film Let Us In.
---
DisneyDanceTour.com
Presentation Licensed by Disney Concerts © Disney
Read More
Date Information

Additional Links

Premium VIP Meet & Greet Package

Premium VIP Meet & Greet Package - $150 each (plus $25 per ticket service charge)

Step into the behind-the-scenes world of Disney Dance Upon a Dream with an exclusive post-show Meet & Greet experience with Mackenzie Ziegler. Premium VIP ticket holders will meet the Disney dance star, as well as have the opportunity to tak a one-on-one photo with her. With your premium VIP ticket you will also receive an exclusive VIP tour lanyard hand-signed by Mackenzie and a Disney Dance Upon a Dream tote bag. VIP items can be picked up at the VIP table prior to the show.

Meet & Greet experience with Mackenzie Ziegler
One-on-one photo with Mackenzie Ziegler
Guaranteed front of the audience seating
Official VIP Dance Upon a Dream lanyard signed by Mackenzie Ziegler
Disney Dance Upon a Dream tote bag

Premium VIP tickets will be held at the box office for pickup on the day of the show only.

Pricing Info

Everyone must have a ticket, regardless of age. Prices are subject to change.

Print-Your-Own tickets will not be delivered until 3 days after the general on-sale date.

| TICKET TYPE | TICKET PRICE | SERVICE CHARGE | TOTAL PER TICKET |
| --- | --- | --- | --- |
| VIP Orchestra Pit | $150.00 | $25.00 | $175.00 |
| Premium Orchestra | $65.00 | $11.00 | $76.00 |
| Front Orchestra | $65.00 | $11.00 | $76.00 |
| Center Mezzanine | $65.00 | $11.00 | $76.00 |
| Mid Orchestra I | $55.00 | $9.25 | $64.25 |
| Side Mezzanine | $55.00 | $9.25 | $64.25 |
| Lower Balcony | $55.00 | $9.25 | $64.25 |
| Mid Orchestra II | $45.00 | $7.50 | $52.50 |
| Middle Balcony | $45.00 | $7.50 | $52.50 |
| Rear & Side Orchestra | $35.00 | $6.00 | $41.00 |
| Upper Balcony | $35.00 | $6.00 | $41.00 |
| Orchestra Corners | $25.00 | $5.00 | $30.00 |

Prepaid Parking

You can now purchase prepaid parking in our brand new 5-story garage!

Larger parking spaces
Wider lanes for easy in & out
Conveniently located on Washington Blvd directly across from the Fabulous Fox
Just $15 for a guaranteed space
Easy print-your-own voucher

Other Info

METROTIX SALES END: 1 hour prior to performance
Venue Information
Fabulous Fox Theatre
527 North Grand Boulevard , Saint Louis, Missouri 63103
Website

Accessibility

The Fox Theatre is pleased to offer seating and other accommodations for our patrons with special needs. All special accommodations can be requested through MetroTix at 314-534-1111 or 800-293-5949, 9am to 9pm. Deaf or hard of hearing guests may also use the Relay Missouri service by calling 800-735-2966 (TTY) or 800-735-2466.

Wheelchair seating and companion seats are available for all performances at the Fox for purchase at the Fox Box Office, by phone and at metrotix.com.

The Fox Theatre offers performances interpreted for the deaf and hard of hearing by Communicate Plus as well as audio-description services for the visually-impaired. For a schedule of these performances, click here.

A limited number of infrared assistive hearing head sets for the hearing impaired are available at no charge for all performances at Guest Services & Gifts in the main lobby.

A number of accessible parking spaces are located on the north side the Fox Theatre, near the accessible entrance, on the south side of Washington, between Grand Blvd. and Spring Ave. Patrons with special needs may also be dropped off at the accessible entrance.

The front entrance and lobby are accessible and the elevator to other floors is located on the north side of the lobby. The accessible entrance is located on the north side of the building.