Dave Weckl Big Band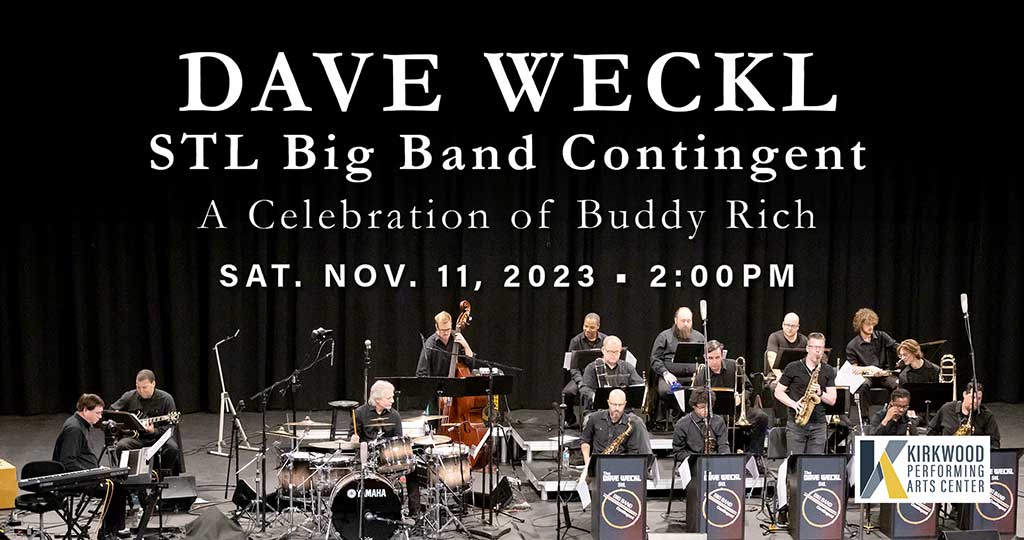 Date

November

11

, 2023

Event Starts

2:00 PM

Doors

1pm

Venue

Kirkwood Performing Arts Center

On Sale

Buy Tickets Now

Tickets

$35-$40
In the Ross Family Theatre at the Kirkwood Performing Arts Center
---
Dave Weckl: Groove Master and Drumming Legend
Dave Weckl, the rhythmic virtuoso who has set the world of drumming ablaze, is not just a name; he's a musical force to be reckoned with. Born in St. Louis, Missouri, Dave's journey from a budding musician to an iconic drumming legend is nothing short of extraordinary.
Early Beginnings
Dave's passion for percussion ignited at a young age, and by the time he reached his teenage years, it was clear that he had an extraordinary talent for drumming. His dedication to the craft led him to the prestigious Berklee College of Music in Boston, where he honed his skills under the guidance of legendary drum instructor, Gary Chaffee. This was just the beginning of a remarkable career that would change the landscape of drumming forever.
Rising to Stardom
Dave Weckl's meteoric rise to stardom was propelled by his impeccable technique, extraordinary creativity, and unparalleled work ethic. In the 1980s, he caught the attention of jazz fusion icon Chick Corea and became an integral part of the Chick Corea Elektric Band. This marked the beginning of a series of collaborations with some of the biggest names in the music industry, including Paul Simon, Madonna, and George Benson. Dave's drumming elevated every project he touched, and his performances became legendary for their energy, precision, and innovation.
Innovator and Educator
Beyond his incredible stage presence, Dave Weckl is also a respected educator who has influenced countless drummers worldwide. His instructional videos, clinics, and masterclasses have become essential resources for aspiring percussionists. Dave's teaching style not only emphasizes technique but also encourages musicians to develop their own unique voice on the drums.
The Groove Master
What sets Dave Weckl apart is his unrivaled ability to infuse every beat with infectious groove. His dynamic use of dynamics, intricate polyrhythms, and a profound sense of timing create a hypnotic blend of rhythm that transcends genres. Dave's drumming is not just about precision; it's about making you feel the music deep within your soul.

Buy Tickets
Sat.
November
11
, 2023
/ 2:00 PM
All seating is reserved.
VIP ticket includes seating in the first 2 rows, a drink voucher, and parking.
| | | | |
| --- | --- | --- | --- |
| TICKET TYPE | TICKET PRICE | SERVICE CHARGE | TOTAL PER TICKET |
| VIP Orchestra | $60.00 | $9.00 | $69.00 |
| Orchestra | $40.00 | $6.00 | $46.00 |
| Mezzanine | $35.00 | $5.25 | $40.25 |
| Students | $15.00 | $3.25 | $18.25 |
MetroTix sales end at 2:15pm day of show.
Kirkwood Performing Arts Center
210 East Monroe Avenue, Kirkwood, Missouri 63122
Located in the heart of Kirkwood's bustling downtown, the Kirkwood Performing Arts Center (KPAC) features a 529 seat Ross Family Theatre and 150 seat Strauss Black Box Theatre. KPAC is located at the corner of South Taylor Avenue and Monroe Avenue in downtown Kirkwood.
Please note that tickets for Stages and The Rep at the Kirkwood Performing Arts Center are not available through MetroTix. Please visit their websites through the links below:
STAGES Ticketing
THE REP Ticketing