ASSASSINS (CANCELLED)
FLY NORTH THEATRICALS
ASSASSINS (CANCELLED)
FLY NORTH THEATRICALS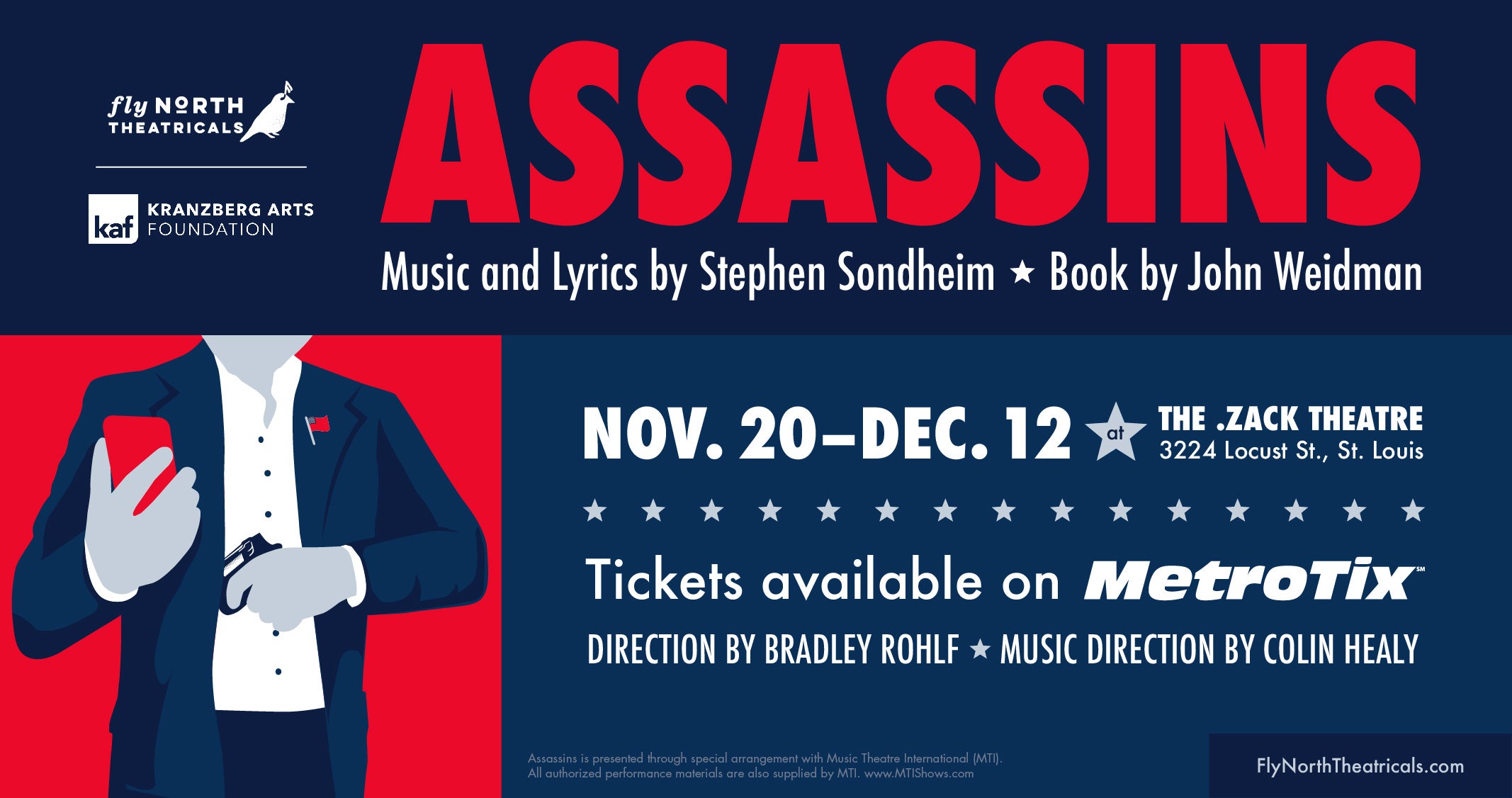 November
20
-
December
12
, 2020
ASSASSINS (CANCELLED)
FLY NORTH THEATRICALS
Date

November

20

-

December

12

, 2020

Venue

.ZACK

Tickets

$20
ASSASSINS (CANCELLED)
FLY NORTH THEATRICALS
This rescheduled run of ASSASSINS has been cancelled. Full refunds will issued automatically to the credit card used in the purchase.
---
Fly North Theatricals presents a new take on Sondheim and Weidman's classic where our nations' most notorious assassins gather on stage to violently pursue a twisted American Dream.

A multiple Tony Award-winning theatrical tour-de-force, Assassins combines Sondheim's signature blend of intelligently stunning lyrics and beautiful music with a panoramic story of our nation's culture of celebrity and the violent means some will use to obtain it, embodied by America's four successful and five would-be presidential assassins. Bold, original, disturbing and alarmingly funny, Assassins is perhaps the most controversial musical ever written.

Assassins lays bare the lives of nine individuals who assassinated or tried to assassinate the President of the United States, in a one-act historical "revusical" that explores the dark side of the American experience. From John Wilkes Booth to Lee Harvey Oswald, writers, Stephen Sondheim and John Weidman, bend the rules of time and space, taking us on a nightmarish roller coaster ride in which assassins and would-be assassins from different historical periods meet, interact and inspire each other to harrowing acts in the name of the American Dream.
Buy Tickets
Fri.
November
20
, 2020
/ 7:30 PM
Sat.
November
21
, 2020
/ 7:30 PM
Sun.
November
22
, 2020
/ 2:00 PM
Fri.
November
27
, 2020
/ 7:30 PM
Sat.
November
28
, 2020
/ 7:30 PM
Sun.
November
29
, 2020
/ 2:00 PM
Thu.
December
3
, 2020
/ 7:30 PM
Fri.
December
4
, 2020
/ 7:30 PM
Sat.
December
5
, 2020
/ 7:30 PM
Sun.
December
6
, 2020
/ 2:00 PM
Thu.
December
10
, 2020
/ 7:30 PM
Fri.
December
11
, 2020
/ 7:30 PM
Sat.
December
12
, 2020
/ 7:30 PM
TICKET PRICE
SERVICE CHARGE
TOTAL PER TICKET
$17.76 - July 4 only
$3.00 + $1 faciliy fee
$21.76
$20.00 - General Admission
$3.00 + $1 facility fee
$24.00
$15.00 - Groups of 10+
$3.00 + $1 facility fee
$19.00
$10.00 - Student Rush
Sunday only, at the door
$1 facility fee
$11.00
METROTIX SALES END:
Phone/Internet: 3 hours prior to show
Fox Box Office: 1 hour prior to show
The venue box office opens 1 hour prior to show.
.ZACK
3224 Locust Street, St. Louis, Missouri 63103
The .ZACK is the Kranzberg Arts Foundation's new four-story, 40,000-square foot property, developed in the historic Cadillac building at 3224 Locust St. housing:

- The .ZACK Theatre, a 202-seat proscenium-style theatre to be shared by .ZACK's resident arts organizations as part of the .ZACK Performing Arts Incubator Program which also includes co-op office space, a community scene shop with separate build and paint rooms, and prop/set storage all located in the .ZACK building.

- A full-service catering company and restaurant, Turn by David Kirkland, owned/operated by award-winning local chef David Kirkland (formerly of Café Osage).

- The Urban Ballroom, a fourth-floor, private event space with full-service catering options by David Kirkland Catering. The Urban Ballroom features panoramic views of downtown St. Louis, a customizable layout, and in-house spa, perfect for any event up to 300 people.

- Second floor retail space, the future home of Sophie's Lounge and Music Record Shop.

- Third floor commercial office space available for rent to a wide range of tenants

.ZACK brings synergy, access, and essential infrastructure for the performing arts community in St. Louis, and will be a venue in which patrons can have a dynamic, 360-degree experience. From theater fans to food and beverage lovers, and those looking to host special events, .ZACK will provide a world class experience for audiences from across the region.
The .ZACK is wheelchair accessible.