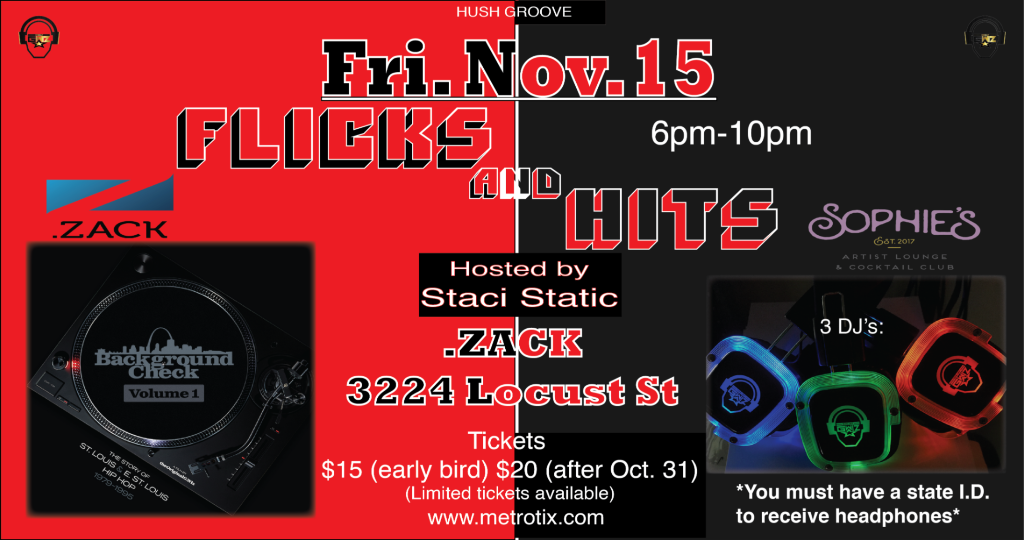 Flicks & Hits is a event series consisting of viewing a feature film in the .ZACK Theater followed by musical grooves at Sophie's Lounge afterward. The twist is, it's a Hush Groove Experience. Meaning, the entire evening will consist of wireless headphones for both events. No more missing dialog from laughter or vocal outbursts while watching the movie. Upstairs you have 3 deejays spinning but you choose who you want to listen to by switching the switch on the headphones! You must have a state I.D. to receive headphones.
Read More
Date Information

Pricing Info

TICKET PRICE
SERVICE CHARGE
TOTAL PER TICKET
$15.00 - General Admission
Early Bird through 10/31
$3.00 + $1 facility fee
$19.00
$20.00 - General Admission
Starting 11/1
$3.00 + $1 facility fee
$24.00

Other Info

METROTIX SALES END:
Phone/Internet: 3 hours prior to show
Fox Box Office: 1 hour prior to show

The .ZACK box office opens 1 hour prior to show.
Venue Information
.ZACK
3224 Locust Street , St. Louis, Missouri 63103
The .ZACK is the Kranzberg Arts Foundation's new four-story, 40,000-square foot property, developed in the historic Cadillac building at 3224 Locust St. housing:

- The .ZACK Theatre, a 202-seat proscenium-style theatre to be shared by .ZACK's resident arts organizations as part of the .ZACK Performing Arts Incubator Program which also includes co-op office space, a community scene shop with separate build and paint rooms, and prop/set storage all located in the .ZACK building.

- A full-service catering company and restaurant, Turn by David Kirkland, owned/operated by award-winning local chef David Kirkland (formerly of Café Osage).

- The Urban Ballroom, a fourth-floor, private event space with full-service catering options by David Kirkland Catering. The Urban Ballroom features panoramic views of downtown St. Louis, a customizable layout, and in-house spa, perfect for any event up to 300 people.

- Second floor retail space, the future home of Sophie's Lounge and Music Record Shop.

- Third floor commercial office space available for rent to a wide range of tenants

.ZACK brings synergy, access, and essential infrastructure for the performing arts community in St. Louis, and will be a venue in which patrons can have a dynamic, 360-degree experience. From theater fans to food and beverage lovers, and those looking to host special events, .ZACK will provide a world class experience for audiences from across the region.
Read More
Website

Accessibility

The .ZACK is wheelchair accessible.