Fabulous Fox Ghost Tours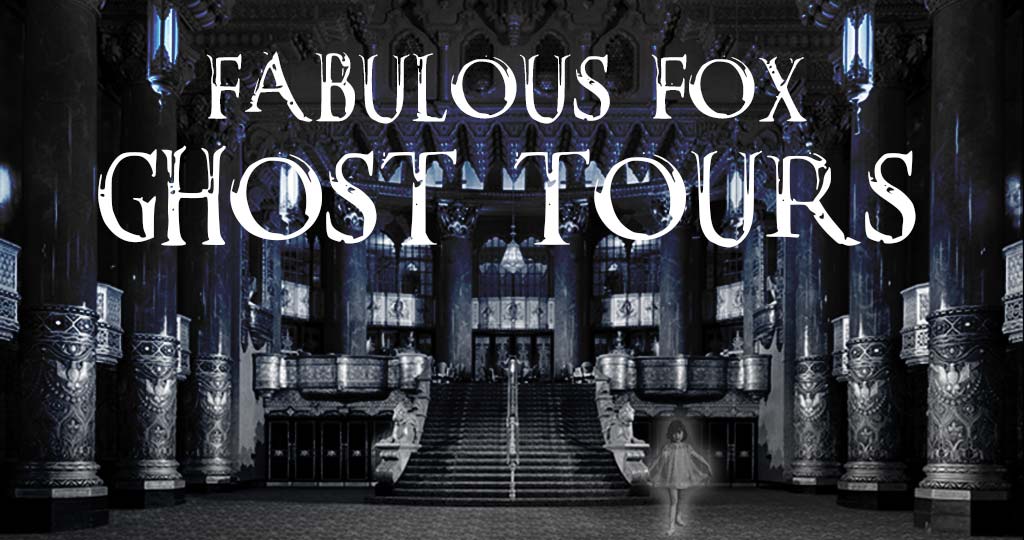 Date

October

4

-

26

, 2020

Venue

Fabulous Fox Theatre

Tickets

$40
SOLD OUT
---
Please note: masks must be worn and social distancing observed at all times during your tour.
---
If you think the Fabulous Fox Theatre has been sitting empty the past few months, think again.
We have quite a few resident ghosts, and we're ready to share their stories with you!
We are pleased to open the Fabulous Fox for Ghost Tours as an avenue for Fox fans to visit us safely as we wait out the COVID-19 pandemic. Working with the city of St. Louis, we have come up with a version of our tour that satisfies all of the COVID-19 safety requirements while giving our guests as much of the past ghost tour experience as we can. Understandably, some elements will need to be left out and we hope to bring those back next year.
Fox Ghost tours are programmed with the assistance of the St. Louis Paranormal Research Society. Tours include both Fox Theatre history provided by Fox tour guides and "ghost" stories from the Paranormal Society following their investigation and analysis of the theatre's "hot spots" of paranormal activity.
Tour tickets are $40 each and include parking. Season Ticket Holders and Fox Club Members will receive their priority purchase opportunity by email this week. Remaining tickets will go on sale to the public Monday, September 28 at 10 a.m. Tarot card readings will be available for an additional charge.
In order to provide the best possible safety measures for Fox guests and to comply with the city health department requirements, see the COVID-19 safety protocols on the drop down below.
Sunday, October 4
2:00pm, 2:30pm, 2:40pm
3:00pm, 3:30pm, 3:40pm
4:00pm, 4:10pm
5:00pm, 5:10pm, 5:20pm, 5:30pm, 5:40pm
Mondays, October 5, 12, 19 & 26
6:00pm, 6:10pm, 6:20pm, 6:30pm, 6:40pm
7:30pm, 7:40pm, 7:50pm, 8:00pm, 8:10pm
9:00pm, 9:10pm, 9:20pm, 9:30pm, 9:40pm
Sundays, October 18 & 25
2:00pm, 2:10pm, 2:20pm, 2:30pm, 2:40pm
3:30pm, 3:40pm, 3:50pm, 4:00pm, 4:10pm
5:00pm, 5:10pm, 5:20pm, 5:30pm, 5:40pm
6:30pm, 6:40pm, 6:50pm
7:00pm, 7:10pm
COVID-19 Safety Protocols
In order to provide the best possible safety measures for Fox guests and to comply with the city health department requirements, the following protocols will be in place.
• Guests will be required to wear a mask, social distancing will be followed and temperatures will be taken. Guests with a temperature of 100.4 F or higher and those in their party will be denied entry.
• Fox tour guides and personnel will wear masks and will have their temperature taken when they check in for duty.
• Tickets are available for purchase online only and may be printed at home or delivered to a mobile device.
• Each departure group is limited to 16 guests.
• Guests should remain in their vehicles until 15 minutes prior to their tour time.
• Once guests approach the front doors with masks on, temperatures will be taken and they will be directed to the waiting area.
• Tours will cover 3 levels of the auditorium and stage but will NOT include the narrow underground tunnels this year.
• Tours will move in one direction and not cross paths with other tour groups.
• Each tour will be accompanied by a Fox tour guide and a monitor to assure adherence to mask-wearing and social distancing
• Hand sanitizer stations will be available throughout the tour.
• Food and beverage service will not be available this year.
$40 each (includes all taxes, fees and parking)
Limit of 4 tickets per account.
Ticket delivery is electronic - either print-at-home or mobile
Garage parking is included with ticket purchase.
Timed entry. Tours will be conducted in small groups of 16.
Not recommended for young children.
Everyone entering the theatre must have a ticket, regardless of age.
While most of the tour is accessible, some locations can only be reached by stairway, and may not be accessible to those with mobility difficulties.
Fabulous Fox Theatre
527 North Grand Boulevard, Saint Louis, Missouri 63103
The Fox Theatre is pleased to offer seating and other accommodations for our patrons with special needs. All special accommodations can be requested through MetroTix at 314-534-1111 or 800-293-5949, 9am to 9pm. Deaf or hard of hearing guests may also use the Relay Missouri service by calling 800-735-2966 (TTY) or 800-735-2466.
Wheelchair seating and companion seats are available for all performances at the Fox for purchase at the Fox Box Office, by phone and at metrotix.com.
The Fox Theatre offers performances interpreted for the deaf and hard of hearing by Communicate Plus as well as audio-description services for the visually-impaired. For a schedule of these performances, click here.
A limited number of infrared assistive hearing head sets for the hearing impaired are available at no charge for all performances at Guest Services & Gifts in the main lobby.
A number of accessible parking spaces are located on the north side the Fox Theatre, near the accessible entrance, on the south side of Washington, between Grand Blvd. and Spring Ave. Patrons with special needs may also be dropped off at the accessible entrance.
The front entrance and lobby are accessible and the elevator to other floors is located on the north side of the lobby. The accessible entrance is located on the north side of the building.