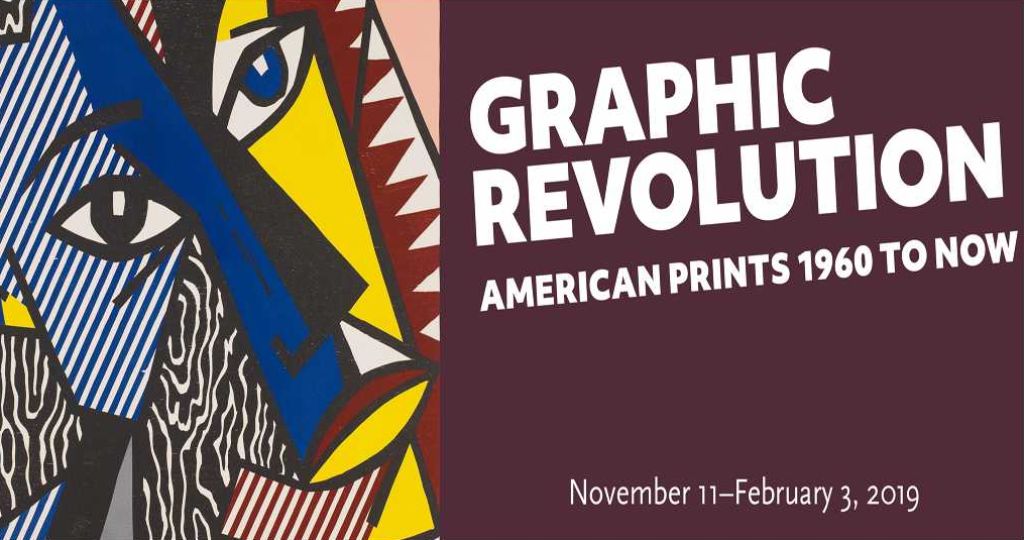 Graphic Revolution: American Prints 1960 to Now
Main Exhibition Galleries, East Building
Graphic Revolution: American Prints 1960 to Now examines the transformational decade of the 1960s through the early 21st century, and the emergence of the creative synergies between the artists, publishers, printers, dealers, and collectors who have been critical to the development of American art during that time.
The explosion of printmaking activity that began in the United States in the 1960s stands out for the radical spirit of exploration and experimentation that amplified the possibilities of contemporary art. Often in collaboration with technically proficient and market-savvy printers and publishers, artists have long been reimagining what a print can be and using printmaking to push the boundaries of historical and popular imagery by engaging with contemporary issues and new technologies. The inventive options an artist has to choose from today range from the hand-made to the digital, from two-dimensional prints to books and multi-media objects.
Drawing from the Saint Louis Art Museum's notable collection of post–World War II American prints and the holdings of private collections in St. Louis, the exhibition features more than 110 works by a diverse group of artists whose visual imagery helped define the spirit of their time. Notable highlights include works by Andy Warhol, Robert Rauschenberg, Louise Bourgeois, Bruce Conner, Barbara Kruger, Luis Jimenez, Edgar Heap Birds, Julie Mehretu, and many more. Together, these individuals established a fertile setting for artists of diverse perspectives to make new work, examples of which are put into dialogue with each other throughout the exhibition.
Graphic Revolution: American Prints 1960 to Now is curated by Elizabeth Wyckoff, curator of prints, drawings, and photographs; and Gretchen L. Wagner, Andrew W. Mellon Fellow for prints, drawings, and photographs. The exhibition is organized by the Saint Louis Art Museum with generous support from the Edward L. Bakewell Jr. Endowment for Special Exhibitions. Financial assistance has been provided by the Missouri Arts Council, a state agency. The project is supported in part by an award from the National Endowment for the Arts.
Roy Lichtenstein, American, 1923–1997; Head, 1980; woodcut with embossing; sheet: 40 × 33 5/8 inches; Saint Louis Art Museum, Gift of Julian and Hope Edison 87:2012.6 © Estate of Roy Lichtenstein
Read More
Date Information

Additional Links

Pricing Info

Adult = $14
Student/Senior 65+ = $12
Child 6-12 = $6
Child under 6 = $0

Friday, all tickets = $0

There is a $3 per ticket service charge.

Other Info

Service charge: $3.00/ticket
Admission is available every 15 minutes during entry hours. For online sales, buyers will be able to select the hour of entry (10am hour, 11am hour) and will be assigned the next available 15-minute entry time that meets the request requirements, starting with the first 15-minute entry time. If you wish to specifically purchase a time on the quarter or half hour (10:15am, 10:30am), and it is not offered by the online seller, you should cancel the shopping cart and purchase that specific time slot by phone.
The specific tour time will be listed on-screen prior to your purchase and in on-screen and email confirmations.
MetroTix sales end at 12:01am day of event. "Day of" sales are only available in person at the Art Museum on a first-come, first-served basis.
Entry on Friday is free, but a ticket is required. Advance ticket purchase is recommended. There is a 6 ticket purchase limit for Fridays.
Venue Information
Saint Louis Art Museum
1 Fine Arts Drive , Saint Louis, Missouri 63110
Website

Farrell Auditorium Seating Chart