Happy Trails Music & Arts Festival
Happy Trails Music & Arts Festival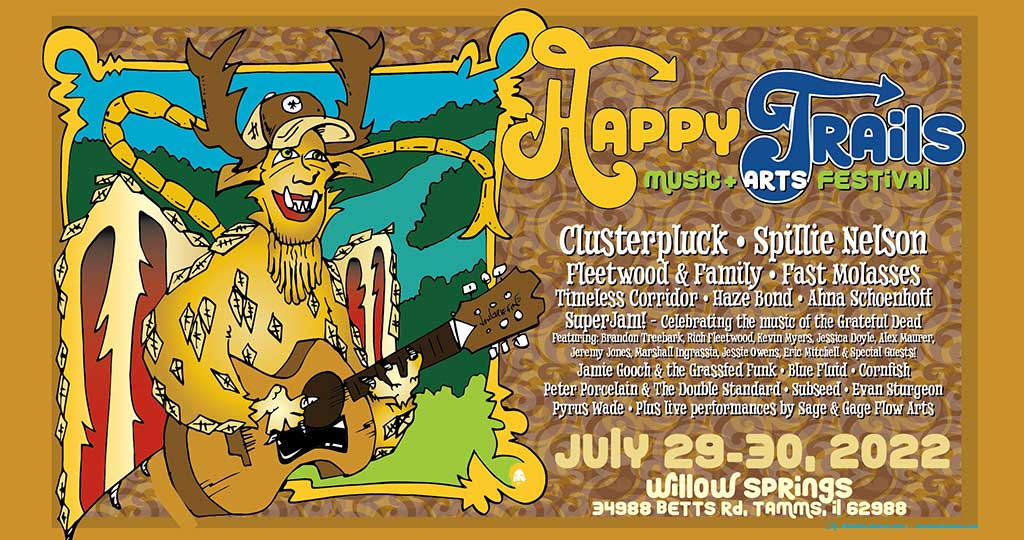 July
29
-
30
, 2022
Happy Trails Music & Arts Festival
Date

July

29

-

30

, 2022

Venue

Happy Trails Music & Arts Festival

On Sale

Buy Tickets Now

Tickets

$40 - $50
Happy Trails Music & Arts Festival
Happy Trails Music & Arts Festival is coming back for our 5th annual event July 29th & 30th!
For this years event, we've been invited to the beautiful Willow Springs campground and music venue in Tamms IL! There's a lake, hiking trails and a cave to explore on the property and we'll have an all night bonfire to drum around!
Per the usual, we are bringing some of the greats music and talents from all over the area, as well as live fire dancers, live painters and many art, handmade goods and food vendors to check out! Full vendor lineup coming soon!
Crystal Waters Productions will be joining us again with the best PA system in the land for your listening pleasure and some real pretty lights to look at!
There will be plenty of parking, camping space and good times to be had by all! If you've attended any of the past 4 Happy Trails events, you already know.
~~~RAIN OR SHINE~~~
2-Day Pass (Friday & Saturday) - $50 (+ $7.50 service charge)
Saturday Only - $40 (+ $6 service charge)
Persons aged 10 and under are admitted free and are the responsibility of the adults who bring them.
Those choosing to arrive on Thursday, July 28 to set up camp will be charged an additional $10 per person upon arrival.
This is an outdoor event at Willow Springs Campground and Venue.
Mail delivery ends 10 days before the event.
Print Your Own delivery will be available through showtime on Saturday.
METROTIX SALES END: Saturday, July 30 at 11pm.
Event Schedule & Protocols
HAPPY TRAILS MUSIC & ARTS FESTIVAL 2022 LINEUP

Clusterpluck
Spillie Nelson
Fleetwood & Family
Superjam! Celebrating the music of the Grateful Dead featuring Brandon Treebark, Rich Fleetwood, Kevin Myers, Jessica Doyle, Alex Maurer, Jeremy Jones, Jesse Owens, Marshall Ingrassia, Eric Mitchell & Special Guests!
Timeless Corridor
Ahna Schoenhoff
Haze Bond
Fast Molasses
Peter Porcelain & The Double Standard
Jamie Gooch & The Grassfed Funk
Cornfish
Blue Fluid
Evan Sturgeon
Subseed
Pyrus Wade
Andy Moondog
Live Performances by Sage & Gage Flow Arts!

Stay tuned for more info including set times and vendors!

ADDITIONAL INFO
Tickets will be available at the gate and also for sale soon online.
There will be No ATM on site, please bring cash.
Parking is free.
Paying attendees will be allowed to come and go from the festival grounds.
Festival and band merchandise, as well as food and Non-Alcoholic drinks will be available on the festival grounds by registered vendors only. For more information on becoming a registered vendor, please use the Contact page or message Marshall Ingrassia.
BYOB - Coolers welcome!
Packing list:
Towels
Food for meals, snacks, charcoal for cooking, pots, pans, utensils, plates, etc.
Firewood
Supplemental sanitizer
Sunscreen & bug spray
Picnic blanket
Closed-toe shoes
Water bottles
Flashlights
Bathing suits & sandals
Toiletries (i.e. dental products, shampoo, soap, etc.)
Rain gear
Cards, games, other fun items
Please enjoy yourselves while at camp!

RULES:
Have a good time, just don't mess up anyone else's good time
Weapons of any kind will not be allowed into the festival
No motorized vehicles will be allowed on the festival grounds
Animals will not be allowed on the festival grounds, with the exception of service animals
No illegal drugs
No glass bottles
No fireworks
By paying admission to Happy Trails Music & Arts Festival you voluntarily assume all risks and dangers incidental to the event, whether occurring prior to, during, or subsequent to the event, even at the negligence of Happy Trails Music & Arts Festival, Willow Springs Campground and Venue, Marshall Ingrassia or owners of Willow Springs Campground and Venue, as well as promoters, agents, participants, and performers, and they are not responsible or liable for any injuries resulting from such causes . Paying admission to this event is a revocable license. All ages are welcome. Persons aged 10 and under are admitted free and are the responsibility of the adults who bring them. While we expect a family-friendly atmosphere, it is a music and arts festival, adult language may be encountered and loud music (close to the stage) will be expected.
Happy Trails Music & Arts Festival
34988 Betts Road, Tamms, Illinois 62988