HEAD OVER HEELS (CANCELLED)
New Line Theatre
HEAD OVER HEELS (CANCELLED)
New Line Theatre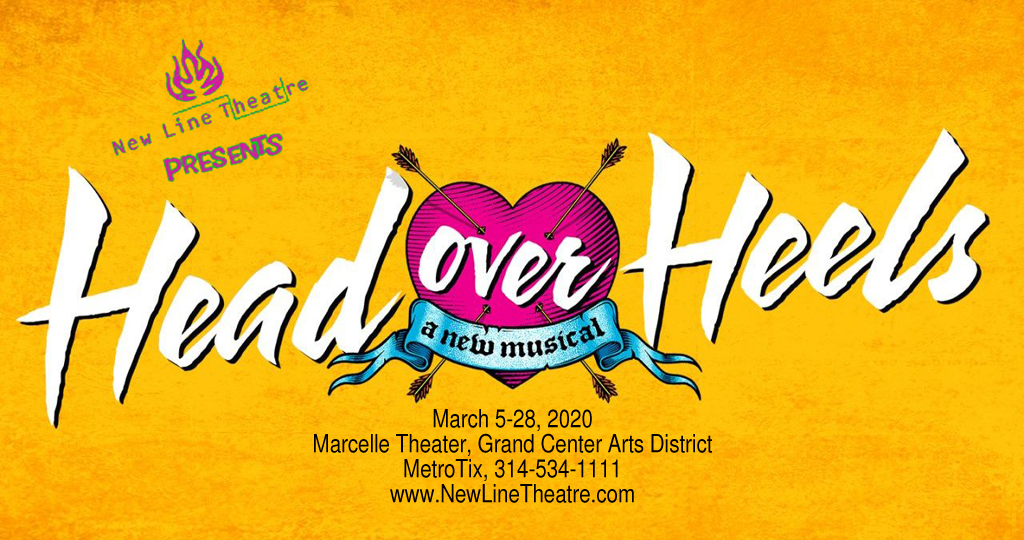 March
5
-
28
, 2020
HEAD OVER HEELS (CANCELLED)
New Line Theatre
Date

March

5

-

28

, 2020

Venue

Marcelle

Tickets

$12.50 - $30.00
HEAD OVER HEELS (CANCELLED)
New Line Theatre
THESE EVENTS HAVE BEEN CANCELLED.
Full refunds are available, but the Kranzberg Arts Foundation is encouraging all ticket holders to donate the value of your ticket to the presenter instead of asking for a refund. Please contact the point of purchase to request a refund or to donate your tickets.
https://www.kranzbergartsfoundation.org/covid-19/
---
"Could this be the greatest show New Line Theatre has ever put on stage? It is, in its brash, tight dance numbers, along with a dozen shimmering vocal solos."
-- Richard Green, TalkinBroadway.com
"Not to be missed, Head Over Heels is one of the best shows you're likely to see all year (and it's only March!)."
-- Steve Allen, StageDoor STL
"It's hard to imagine a more joyful swirl of activity than theatergoers are treated to in Head Over Heels. . . . It's a party you won't want to leave."
-- Calvin Wilson, St. Louis Post-Dispatch
"A triumphant romp of musical theatre."
-- Rob Levy, BroadwayWorld
---
The wild new modern musical fairy tale, set in 1580. And the 1980s. And NOW!

HEAD OVER HEELS is the bold new musical comedy from the visionaries that rocked Broadway with Hedwig and the Angry Inch, Avenue Q and Spring Awakening. Conceived by Jeff Whitty, with an original book by Whitty, adapted by James Magruder, originally directed by Michael Mayer, based on a novel from 1580 (not kidding!) and set to the music of the iconic 1980s all-girl rock band The Go-Go's, this high-octane, laugh-out-loud love story includes hit songs like, "We Got the Beat," "Our Lips Are Sealed," "Vacation," "Heaven is a Place on Earth" and "Mad About You."

The wild story follows the escapades of a royal family who set out on a journey to save their beloved kingdom from extinction -- only to discover the key to their realm's survival lies within each of their own hearts. . . though not always in the way they expect. . . and in their willingness to let go of rigid tradition and change with the times.

Head Over Heels originally premiered at the Oregon Shakespeare Festival in 2015, then opened on Broadway in 2018. The show was nominated for Best Musical by the Drama League and the Outer Critics Circle Awards. The novel it's based on, The Countess of Pembroke's Arcadia by Sir Philip Sidney, also proved fertile source material for certain plot elements of Shakespeare's King Lear, Hamlet, and A Winter's Tale.

The Daily Beast said, "Head Over Heels is a raucously choreographed joy — intelligent, winningly comic, and surprisingly-for-Broadway radical when it comes to its presentation of gender and sexuality, with its central love story a lesbian one." Entertainment Weekly said, "The show is an ode to female independence with the winking spirit of a Shakespearean fairy and the neon edge of a rebellious '80s teenager, teaming up to beckon people into the woods. Forty years after The Go-Go's' formation, Head Over Heels does more than preserve the band's iconic hits in amber. For two hours and 15 minutes, it's enough to pull the world back into sync."

TimeOut NY said, "To enjoy Head Over Heels, which offers quite a lot to enjoy, it is probably best to kick up your heels and put your head on hold. That's not to say that this saucy, boisterous musical doesn't have a brainy side, starting with its ambitious crossbreeding of four time periods: It grafts a 2010s queer sensibility onto songs from the 1980s—by the all-girl pop-punk quintet the Go-Go's (plus two hits from lead singer Belinda Carlisle's solo career)—and fits them into a 16th-century story that is set in ancient Greece. . . Head Over Heels is a fantasy and celebration of nonconformity, and it puts its casting where its mouth is with an ensemble that is diverse in race, gender and size. Honoring the beat, in this merry Arcadia, means making room for different drummers."

The New Line cast includes Grace Langford (Princess Pamela), Melissa Felps (Princess Philoclea), Gabe Beckerle (Musidorus), Jaclyn Amber (Mopsa), Zachary Allen Farmer (King Basilius), Carrie Priesmeyer (Queen Gynecia), Aaron Allen (Dametas), Tielere Cheatem (Pythio), Kevin Corpuz, Andrew Freeland, Chris Moore, Maggie Nold, Michelle Sauer, Abraham Shaw, Alyssa Wolf, and Sara Rae Womack. The New Line production will be directed by Scott Miller and Mike Dowdy-Windsor, with music direction by Nicolas Valdez, choreography by Michelle Sauer and Sara Rae Womack, scenic design by Rob Lippert, costume design by Sarah Porter, lighting design by Kenneth Zinkl, and sound design by Ryan Day.

Produced by arrangement with Broadway Licensing, New York.
Buy Tickets
Thu.
March
5
, 2020
/ 8:00 PM
Fri.
March
6
, 2020
/ 8:00 PM
Sat.
March
7
, 2020
/ 8:00 PM
Thu.
March
12
, 2020
/ 8:00 PM
Fri.
March
13
, 2020
/ 8:00 PM
Sat.
March
14
, 2020
/ 8:00 PM
Thu.
March
19
, 2020
/ 8:00 PM
Fri.
March
20
, 2020
/ 8:00 PM
Sat.
March
21
, 2020
/ 8:00 PM
Thu.
March
26
, 2020
/ 8:00 PM
Fri.
March
27
, 2020
/ 8:00 PM
Sat.
March
28
, 2020
/ 8:00 PM
All seating is General Admission.
Thursday: Adult = $25, Student/Senior = $20, Military/Educator = $12.50 (with ID)
Friday & Saturday: Adult = $30, Student/Senior = $25
| | | | |
| --- | --- | --- | --- |
| TICKET PRICE | SERVICE CHARGE | FACILITY FEE | TOTAL PER TICKET |
| $30.00 | $4.50 | $1.00 | $35.50 |
| $25.00 | $3.75 | $1.00 | $29.75 |
| $20.00 | $3.00 | $1.00 | $24.00 |
| $12.50 | $3.00 | $1.00 | $16.50 |
METROTIX SALES END: 5pm day of show
Marcelle
3310 Samuel Shepard Drive, Saint Louis, Missouri 63103
Located in the Grand Center Arts District in St. Louis, Missouri, The Marcelle features a state of the art black box theater, professional dance studios, and nonprofit office suites. A "home for the arts", The Marcelle welcomes New Line Theatre, Dance St. Louis & Big Muddy Dance Co., as resident arts organizations, and hosts productions from Kranzberg Arts Foundation residents and independent producers.
Photo: Luke Lindberg