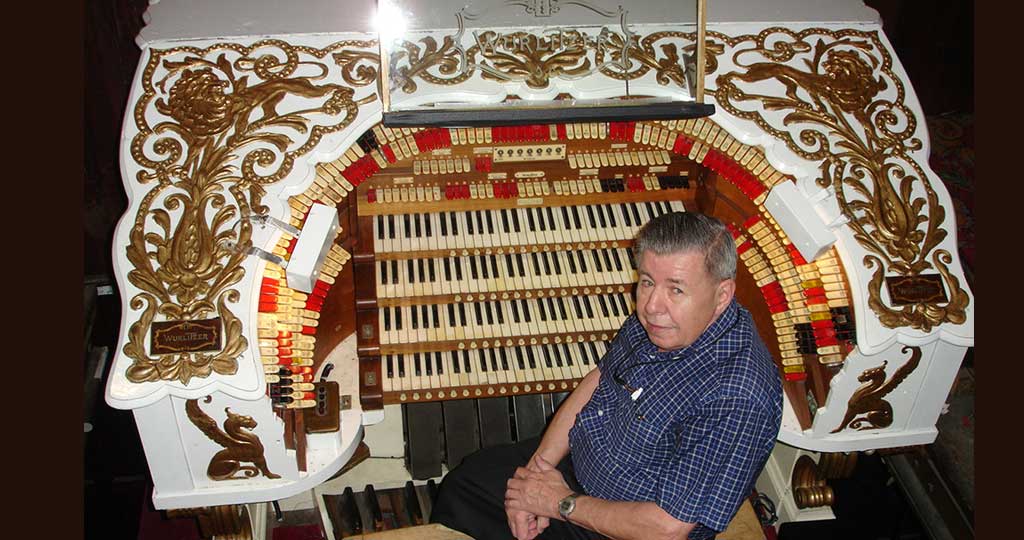 Jack Moelmann & Friends at the Wurlitzer Organ
In his second Those Were the Days concert at the Fabulous Fox Theatre, Jack Moelmann plays the mighty Wurlitzer organ along with guest organists Dave Wickerham and Justin LaVoie.
Read More
Date Information

August 13, 2017

- 2:00 PM

Pricing Info

Everyone must have a ticket, regardless of age.
Prices are subject to change.

A discount is available for groups of 15+ - Save $5 per ticket on Orchestra level tickets. Please contact Fox Group Services.

| TICKET TYPE | TICKET PRICE | SERVICE CHARGE | TOTAL PER TICKET |
| --- | --- | --- | --- |
| Orchestra (General Admission) | $25.00 | $3.75 | $28.75 |
| Mezzanine (General Admission) | $35.00 | $5.25 | $40.25 |

Other Info

METROTIX SALES END: 3 hours prior to performance

Organists Biographies

Jack Moelmann is originally from Oak Park, Illinois (a suburb of Chicago). He received a degree in Electrical Engineering from Bradley University, Peoria, Illinois, in 1965. He retired from the U.S. Air Force as a Colonel in April 1991 after serving on active in the Communications & Electronics field for 26 years. His last assignment was at Scott Air Force Base, Illinois (near St. Louis) near where he currently lives in the town of O'Fallon, Illinois.

In addition to Jack's Air Force career, he also had a career in music and in particular the organ. Jack started in music at age 8, and has pursued this avocation ever since. He has been a member of the American Theatre Organ Society (ATOS) since 1967, served on their Board of Directors, and was the President of ATOS from 1985 until 1988. He was elected as the ATOS Honorary Lifetime Member in May 1994 and inducted into the ATOS Hall of Fame in July 2008. In August 2008, he was inducted into the Theatre Organ Society International (TOSI) Hall of Fame. In July 2009, he was appointed Staff Organist at the Fabulous Fox Theatre in St. Louis, Missouri, although his first appearance at the Fox was in October 1986. He is also a Staff Organist at the Lincoln Theatre, Belleville, Illinois, in addition to being organist at St. Michael's Episcopal Church in O'Fallon, Illinois.

He has performed in such famed places as Westminster Abbey in London and the Pantheon in Rome. He has been featured on the TV programs "CBS Evening News" with Walter Cronkite and "Good Morning America", and "Assignment America", a CBS Evening News feature with Steve Hartman. In addition he has appeared on many of the St. Louis television news programs, as well as many other television and radio programs in support of the American Theatre Organ Society, the theatre organ, and its music. In August 2008 he rented, at his own expense, and was the star attraction at the famed Radio City Music Hall in New York City. He has been listed in Who's Who, the Dictionary of International Biography, and Notable Americans.

---

Dave Wickerham was born in Encino, California in 1962. He began playing the electronic organ at the age of four and had his first pipe organ experience at age10. His musical education started at age 7.

When he moved to Arizona in 1976, he became Associate Organist at the famous Organ Stop Pizza Restaurants in Phoenix, Mesa and Tucson. While in Arizona, he continued his musical studies with Roseamond Crowley, one of the few remaining descendants of the Louis Vierne line of organists. He attended the University of Arizona in Tucson on a full scholarship, pursuing classical organ studies for six years with Dr. Roy Johnson.

In 1984, Dave moved to the Chicago area to become Staff Organist at Pipes and Pizza in Lansing, Illinois. In addition to his performance there, he concertized frequently, as well as ministering musically and serving at various churches.

August of 1990 found the Wickerham family – Dave, his wife and two young children - moving to Wisconsin, where he was one of the featured Staff Organists at the Piper Music Palace in Greenfield, a position he held for 10 years.

In the spring of 2000, Dave ushered in the new millennium with a limited special engagement, as a featured organist at "Roxy's Pipe Organ Pizzeria", part of a $26,000,000 expansion phase at the FIESTA Casino and Hotel in Las Vegas, Nevada. The Wickerham's, Dave, Rhonda, and now three great kids, spent a year and a half there before returning back home to Wisconsin in August of 2001… For the next three years, Dave resumed his position at the Piper Music Palace and was also the Principal Organist at Williams Bay Lutheran Church in Lake Geneva, WI.

He enjoys concertizing frequently to many audiences including various chapters of the American Theatre Organ Society. In April of 1999, he took great pleasure being a feature artist in Melbourne, Australia for the convention of the Theatre Organ Society of Australia for which he received rave reviews. He returned "Down Under" for a six-week concert tour in Australia and New Zealand during the summer of 2003 and very recently has completed a similar tour concluding November of 2012.

Dave also enjoys recording and has recently "sold out" his fourth CD "Sounds of Music" recorded on the famous 5 Manual, 80 Rank Theatre Organ at the Sanfilippo Residence in Barrington, IL. There are two NEW recording projects that are soon to be completed and released.

After seven years as Organist - Curator with the legendary Milhous Collection in South Florida, Dave and his family currently enjoy living in Upper Michigan where he has accepted the position of Co-Manager and Organist in Residence at Crystal Theatre in Crystal Falls. This 1927 theatre is now a regional Performing Arts Center and houses a 3 manual, 21 rank Moller theatre organ that Dave also looks after.

---

Justin LaVoie is a young rising star in the theatre organ world. He won the American Theatre Organ Society's Young Organist Competition in 2013, and since then has played at numerous venues across the United States.

Justin is dedicated to presenting creative and authentic renditions of tunes from the American songbook and light classics, in addition to more contemporary popular music. Tommy Dorsey..., Harry James, David Rose, Frank Sinatra, and Bing Crosby are just a few of Justin's favorite musicians and arrangers. Jesse Crawford and George Wright are his theatre organ idols.

Aside from his musical pursuits, Justin is also interested in the restoration and maintenance of pipe organs. His personal project is Opus 1880, the Wurlitzer organ from the Punch and Judy Theatre in Grosse Pointe, MI. Whether at the console or in the chamber, Justin is passionately dedicated to carrying on the art of fine theatre organ music and sharing it with new audiences.
Venue Information
Fox Theatre
527 North Grand Boulevard , Saint Louis, Missouri 63103
Website

Accessibility

The Fox Theatre is pleased to offer seating and other accommodations for our patrons with special needs. All special accommodations can be requested through MetroTix at 314-534-1111 or 800-293-5949, 9am to 9pm. Deaf or hard of hearing guests may also use the Relay Missouri service by calling 800-735-2966 (TTY) or 800-735-2466.

Wheelchair seating and companion seats are available for all performances at the Fox for purchase at the Fox Box Office, by phone and at metrotix.com.

The Fox Theatre offers performances interpreted for the deaf and hard of hearing by Communicate Plus as well as audio-description services for the visually-impaired. For a schedule of these performances, click here.

A limited number of infrared assistive hearing head sets for the hearing impaired are available at no charge for all performances at Guest Services & Gifts in the main lobby.

A number of accessible parking spaces are located on the north side the Fox Theatre, near the accessible entrance, on the south side of Washington, between Grand Blvd. and Spring Ave. Patrons with special needs may also be dropped off at the accessible entrance.

The front entrance and lobby are accessible and the elevator to other floors is located on the north side of the lobby. The accessible entrance is located on the north side of the building.