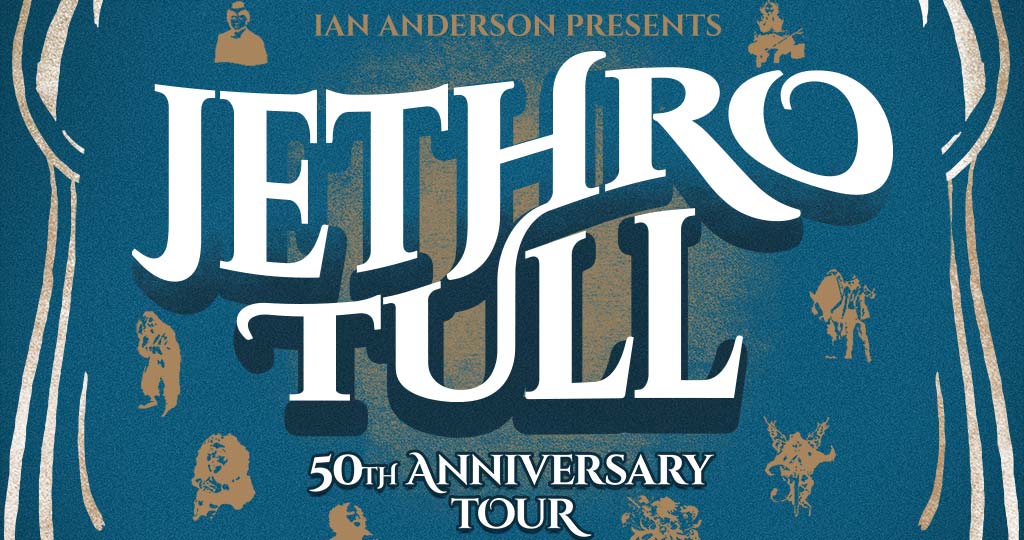 There are currently no tickets available. Please contact MetroTix at 314-534-1111 to check if any additional seats become available.
---
It was on the 2nd of February 1968 at the world-famous Marquee Club in Wardour Street that Jethro Tull first performed under that name. The group would go on to become one of the most successful and enduring bands of their era, selling over 60 million albums worldwide and entering the cultural collective consciousness along the way.
To celebrate this golden anniversary, Ian Anderson will present 50 years of Jethro Tull at the Fabulous Fox Theatre on Friday, June 29 as part of the worldwide touring schedule.
The debut album, This Was, was released later that same year. Founder, front man and flautist, Ian Anderson, is rightly credited with introducing the flute to rock as a front line instrument, not to mention the codpiece!

Jethro Tull are one of the biggest selling Progressive Rock artists of all time, and the group's immense and diverse catalogue of work encompasses folk, blues, classical and heavy rock stylings. The anniversary concerts will feature a broad mix of material, some of it focusing on the earlier formative period through to the "heavy hitters" of the Tull catalogue from the albums This Was, Stand Up, Benefit, Aqualung, Thick As A Brick, Too Old To Rock And Roll: Too Young To Die, Songs From The Wood, Heavy Horses, Crest Of A Knave and even a touch of TAAB2 from 2012.

Anderson says: "I am not usually a birthday or anniversary kind of guy but, just for once, I won't be a party-pooper either! I treasure the memories of the earlier years of Jethro Tull repertoire, associated as it is with the adventures of visiting so many countries for the first time to connect with new fans around the world. And this is a celebration of all the 33 band members who graced our ranks - musicians who brought their talents, skills and styles to bear on the performances live and in the studio. Join me and the current band for a nostalgic evening of varied music, representative of my ever-changing songwriting as our careers progressed through the years."

Ian Anderson is accompanied by Tull band musicians David Goodier (bass), John O'Hara (keyboards), Florian Opahle (guitar), Scott Hammond (drums) and surprise virtual guests.
Read More
Date Information

Sign Language interpreted

Pricing Info

Everyone must have a ticket, regardless of age.
Prices are subject to change.

| TICKET TYPE | TICKET PRICE | SERVICE CHARGE | TOTAL PER TICKET |
| --- | --- | --- | --- |
| Orchestra Pit | $195.00 | $25.00 | $220.00 |
| Premium Orchestra | $145.00 | $20.00 | $165.00 |
| Front Orchestra Aisles | $95.00 | $16.00 | $111.00 |
| Center Mezzanine | $95.00 | $16.00 | $111.00 |
| Front Orchestra | $70.00 | $11.75 | $81.75 |
| Side Mezzanine | $70.00 | $11.75 | $81.75 |
| Lower Balcony | $70.00 | $11.75 | $81.75 |
| Mid Orchestra | $55.00 | $9.25 | $64.25 |
| Middle Balcony | $55.00 | $9.25 | $64.25 |
| Rear/Side Orchestra | $35.00 | $5.75 | $40.75 |
| Orchestra Corners | $35.00 | $5.75 | $40.75 |
| Upper Balcony | $35.00 | $5.75 | $40.75 |

Other Info

PRINT-YOUR-OWN TICKETS will not be delivered until 3 days after the general public on-sale date.

METROTIX SALES END: 1 hour prior to showtime.
Venue Information
Fabulous Fox Theatre
527 North Grand Boulevard , Saint Louis, Missouri 63103
Website

Accessibility

The Fox Theatre is pleased to offer seating and other accommodations for our patrons with special needs. All special accommodations can be requested through MetroTix at 314-534-1111 or 800-293-5949, 9am to 9pm. Deaf or hard of hearing guests may also use the Relay Missouri service by calling 800-735-2966 (TTY) or 800-735-2466.

Wheelchair seating and companion seats are available for all performances at the Fox for purchase at the Fox Box Office, by phone and at metrotix.com.

The Fox Theatre offers performances interpreted for the deaf and hard of hearing by Communicate Plus as well as audio-description services for the visually-impaired. For a schedule of these performances, click here.

A limited number of infrared assistive hearing head sets for the hearing impaired are available at no charge for all performances at Guest Services & Gifts in the main lobby.

A number of accessible parking spaces are located on the north side the Fox Theatre, near the accessible entrance, on the south side of Washington, between Grand Blvd. and Spring Ave. Patrons with special needs may also be dropped off at the accessible entrance.

The front entrance and lobby are accessible and the elevator to other floors is located on the north side of the lobby. The accessible entrance is located on the north side of the building.