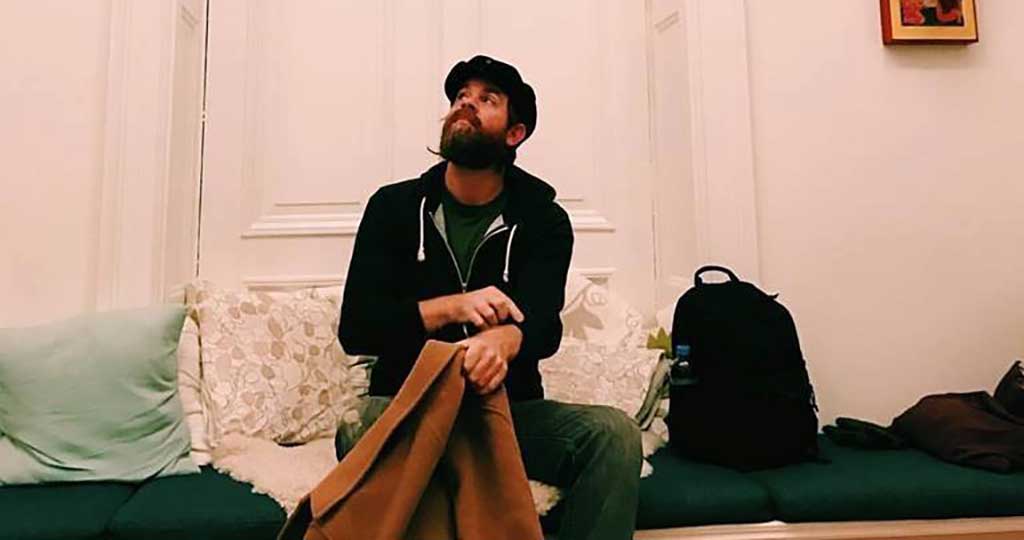 There are no tickets available at this time. Please visit the venue on the night of the show when doors open to inquire about any potential ticket releases.
---
With The Honey Dewdrops and Smokey & The Mirror
A few years back, if someone had started giving him some lip in the middle of a gig, Joe Purdy might have left the stage and beat a little sense into the guy. Nowadays, he's more likely to calm everybody down, assure the loudmouth that he was a welcome and important part of his audience, and through words and warmth talk him into sitting back down and join everyone else in enjoying Purdy's extraordinary music.
What has happened to Joe Purdy? Some might call it growth, although he's already grown a lot in wandering from his Arkansas home state to Los Angeles, and from there toward and beyond further horizons. Along the way he's recorded a baker's dozen worth of albums. His songs have turned up on numerous TV shows and film soundtracks. He even received a special request from Pete Townshend to join him onstage. Purdy said yes.
Even so, in recent years the singer, songwriter and self-described "hillbilly" has come to see the world and his role in it somewhat differently. His new views chart the direction on his latest album, Who Will Be Next?, which plants its feet deep in the tradition of Pete Seeger, Woody Guthrie, Bob Dylan, Phil Ochs, and others while addressing immediate transgressions.
Purdy's determination to honor the giants of American folk while applying his unique skills as writer and passionate vocalist reveal just how much he has achieved and evolved as an observer and participant in our times. In addition to his recording and touring, Joe recently made his acting debut starring in the new feature film, American Folk, which won a Best New Film award at the Cleveland International Film Festival. It will be released nation-wide in 2018.
---
Smokey & The Mirror is husband + wife duo Bryan and Bernice Hembree. Based out of Fayetteville, Arkansas, Smokey & The Mirror has toured nationally and internationally over the past decade. The band has supported tours for Old Crow Medicine Show, The Wood Brothers, I'm With Her, Elephant Revival, John Fullbright, and many of their musical heroes. They tour most often as a duo, but also plays many shows each year as a four-piece band. Whatever the configuration, the interplay of their two unique voices coupled with engaging, accessible songs form the foundation of Smokey & The Mirror.
The Hembrees work tirelessly on many musical and creative pursuits. They are committed to others' music as much as their own. They have found that the most satisfying path to longevity in the music business is to put others' art in the spotlight or to inspire others to find their voice. They believe that the future of music is not winning the "me first" battle, but rather building community. They are founders and co-creators of the Fayetteville Roots Festival. They also spent a year with Austin-based international songwriting collaborative, House of Songs, to pilot House of Songs Ozarks in Bentonville, Arkansas.
Smokey & The Mirror release their 4th record, Here & Now, on March 15th, 2019.
---
Laura Wortman and Kagey Parrish are celebrating a decade of touring full-time as The Honey Dewdrops, having played stages and festivals far and wide in North America and Europe. With tight harmonies and an musical ensemble that includes clawhammer banjo, mandolin and guitars, the effect is to leave listeners with only what matters: the heart of the song and clarity over ornamentation.
After leaving their home base of Virginia and living on the road for 2 years, Laura and Kagey now call Baltimore, Maryland home. In fact, it's where they wrote and recorded their fourth full-length album, Tangled Country, released May 2015. Acoustic Guitar Magazine describes the set of songs as "a handcrafted sound centered on swarming harmonies and acoustic guitars that churn like a paddlewheel and shimmer like heat waves on the highway." And like their stage performance, these songs rock and reel, and then they console you when you come back down.
The Honey Dewdrops have a busy year ahead of them with a winter tour in the U.K. and the release of their 5th full-length album, Anyone Can See, out March 1st.
Read More
Date Information

Additional Links

Pricing Info

$34 = Premium Reserved Table
$32 = Reserved Table
$25 = General Admission

| | | |
| --- | --- | --- |
| TICKET PRICE | SERVICE CHARGE | TOTAL PER TICKET |
| $34.00 | $5.00 | $39.00 |
| $32.00 | $4.75 | $36.75 |
| $25.00 | $3.75 | $28.75 |

Other Info

Becoming a subscriber guarantees the same table for every performance in the series.
Doors open 2 hours prior to each show.
Tickets are available for pickup only on the night of the show when doors open.
The venue does not have an on-site box office. Tickets are only sold via Metrotix, or, on the night of the show when the doors open (if tickets remain.)
Buying a reserved or premium reserved ticket guarantees you that specific seat. Seating at tables and countertops is "family style." If you do not purchase all the seats at your table, you will be seated with other patrons.
General Admission Ticketholders - You may sit at stools at the bar, perimeter chairs not at tables, or you may stand. You are not guaranteed a seat, as seating is limited and only available first-come-first-seated when the doors open. Once all General Admission chairs are taken, there will only be standing room for all other General Admission ticketholders.
South on Main does not take reservations for ticketed concerts.
Food is served before and throughout the concert.
Shows are all ages. Everyone must have a ticket to attend.
Free surface lot parking is available.
Additional Info: http://southonmain.com/pages/faq-ticketing-seating/

METROTIX SALES END: Noon day of show
Venue Information
South on Main
1304 Main Street , Little Rock, Arkansas 72202