JOHN PIZZARELLI (RESCHEDULED)
A Centennial Celebration of Nat King Cole
JOHN PIZZARELLI (RESCHEDULED)
A Centennial Celebration of Nat King Cole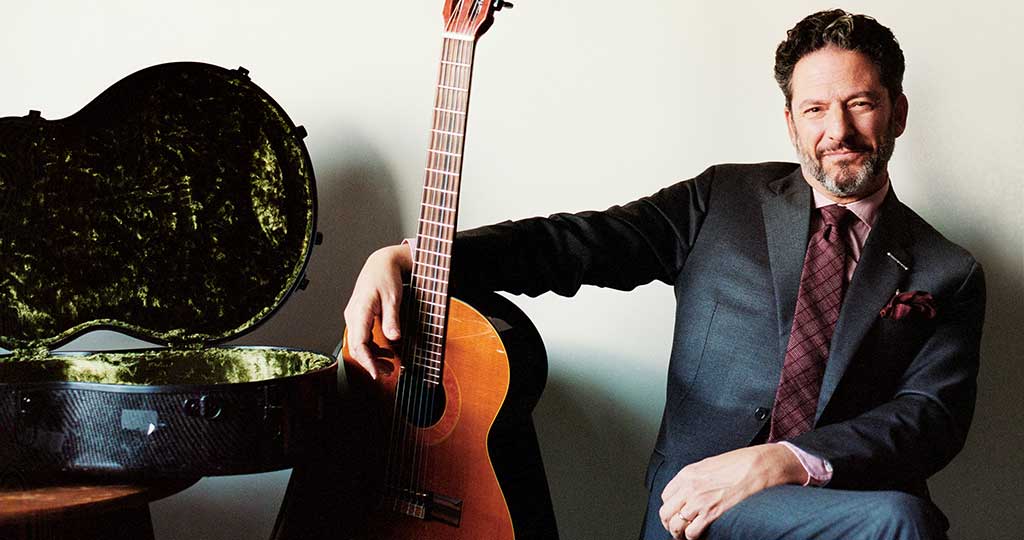 June
19
, 2021
JOHN PIZZARELLI (RESCHEDULED)
A Centennial Celebration of Nat King Cole
Date

June

19

, 2021

Event Starts

7:00 PM

Doors

7pm

Venue

Sheldon
JOHN PIZZARELLI (RESCHEDULED)
A Centennial Celebration of Nat King Cole
John Pizzarelli: "A Centennial Celebration of Nat King Cole," originally rescheduled to February 21, 2021, will convert to an exclusive live streaming event, just for concert ticket holders, on June 19, 2021 at 7 p.m.
Ticket buyers wishing to view the exclusive virtual concert:
If you'd simply like to view the concert, you do not have to do anything at this time! We will e-mail you a streaming link at least an hour before the concert starts on June 19.
Upgrade to a patron level ticket to benefit Sheldon Education Programs:
Join our virtual "Festa Italiana!" For an additional $50 per household, current ticket holders can upgrade to a patron level ticket, which will include the streaming concert link, as well as an Italian Dinner Basket, filled with everything you need to make a perfect Italian meal, including a bottle of wine! To upgrade your order click here or call Chris or Sarah at 314-533-9900.
Those who do not wish to view the concert:
We ask you to consider donating the cost of your tickets to the non-profit Sheldon Arts Foundation, but will gladly issue refunds upon request. If you would like to return your tickets, please e-mail [email protected] with your name, address and phone number, and either DONATE or REFUND. Refunds may also be requested by calling The Sheldon at 314.533.9900 by 11:59 p.m. June 18, 2021.
---
John Pizzarelli has been hailed by The Boston Globe for "reinvigorating the Great American Songbook and re-popularizing jazz," with a repertoire that expands on the traditional to include Paul McCartney, Joni Mitchell, Neil Young, Tom Waits, Antonio Carlos Jobim, and the Beatles. Now, Pizzarelli goes back to his roots, honoring Nat King Cole with a selection of his classics, and paying tribute to the legendary musician whose timeless songs have influenced Pizzarelli's work for more than 25 years.
Proceeds benefit Sheldon Education Programs, which change the lives of over 30,000 young people each year.
This very special evening is chaired by Mike Manchisi.
Underwritten by The Steward Family Foundation and World Wide Technology, Inc.
Sponsored by Edward Jones
Buy Tickets
Sat.
June
19
, 2021
/ 7:00 PM
Sheldon
3648 Washington Boulevard, Saint Louis, Missouri 63108
Concert Hall Seating Chart
A street level entrance is available, with an elevator to the 2nd, 3rd and 4th floors of the building.
Contact The Sheldon in advance to reserve an accessible parking spot on The Sheldon's west parking lot. 314.533.9900
CONCERT HALL: The Sheldon balcony is NOT wheelchair accessible. Accessible seating is located at the rear of the Orchestra level.
For events with General Admission (open) seating, please see an usher or the box office when you arrive at The Sheldon to arrange for a seating location, or call The Sheldon at 314-533-9900 to reserve an accessible location in advance.
Online purchases for wheelchair accessible seating in the Concert Hall are limited to two tickets (wheelchair + companion). Patrons with more specific needs or who need more than two tickets in an accessible area should contact The Sheldon at 314-533-9900.
BALLROOM & LOUIS SPIERING ROOM: These spaces are accessible via elevator and do not generally require special ticketing, unless specifically noted.
Unless otherwise noted:
Senior pricing, if available, is for ages 62+
Doors to the building generally open 1 hour prior to performance time. Will Call is generally available at that time.