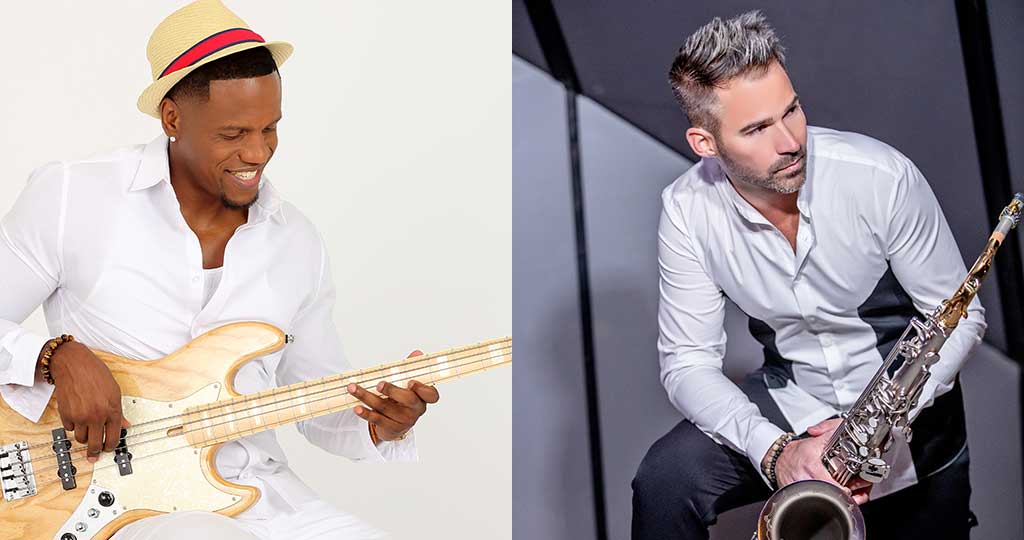 With special guests Phil Denny and Mark Harris II
A dynamic lead bass player from Kansas City, bassist Julian Vaughn has made an international name for himself since 2010 as a bassist in the smooth jazz which is dominated by artists who play sax. Although the bass is often associated with funk, Vaughn plays with finesse, as well as some funk.
Vaughn grew up in the church where his grandfather pastored until turning over the reins to Vaughn's father. Like other kids at the church, he began his music career playing the drums, but says, "Trying to play the drums at church was like ten football players going after a fumble. Everyone wanted to play." Years went by and the fight over the drums got old. At 15 Vaughn decided to try the bass guitar that another man in his church was playing and immediately fell in love. Vaughn taught himself how to play and soon realized he had the ability to play by ear. When Vaughn was 19, his grandfather bought him a 6-string bass guitar. He discovered the art of bass soloing and knew at that point it was more than just a hobby but was his life's passion. "My friends use to get on me because I would stop playing the bass line and start soloing," he remembers.
Julian Vaughn has toured all over the U.S. playing at some of the largest jazz festivals and abroad in places like Dubai, Nairobi, Italy, Spain and Germany. As an artist, he debut on the scene in 2010 with his CD titled The Purpose Project, an album that would later pave the way to his 2012 album Breakthrough. Vaughn has had 2 number ones on the Billboard charts. His hit single "On Your Feet" made head as the #1 most added out of the box on the Jazz Billboard Chart and stayed there for 3 weeks along with the single "Ride Along" which debuted at Number 1 from his CD titled Limitless in 2015. In 2017, Vaughn released his 4th record titled Bona Fide. Bona Fide ended up delivering three top five Billboard singles including "18th & Vine," which was selected as the #8 single out of the top 100 songs of 2018 on Billboard. Vaughn is expecting to release his 5th album in April 2019, which he says, "will be his best!" Vaughn takes pride in being able to write and produce most of his music. "I want to be known as a great writer and producer just as much as I am an artist." As Vaughn's recording catalog continues to grow he wants to continue to redefine the lead bassist role in the smooth jazz genre.
#1 Billboard recording artist, saxophonist Phil Denny, has become a household name in contemporary jazz. Impressive artistry, presence and passion combined with a unique ability to connect with people on and off the stage have earned Denny a resume of notable achievements in just a short time.
Since emerging onto the smooth jazz scene in 2012, Phil Denny has appeared on the Billboard charts six times. He has been described as a passionate and soulful player, often captivating audiences with his smooth, sexy-yet-energetic style. Friends and fans alike often describe him as a people's musician having developed and maintained a very active, loyal and ever-growing fan base even before the release of his internationally recognized 2012 debut CD, Crossover.
The identifiable sound of his silky smooth tenor sax is perhaps most familiar on the hit track "Diggin' On," which scored an impressive #13 position on the Billboard chart in 2017. The overall success of his sophomore release, Upswing (2015) helped to further position Denny among his peers and format listeners, and was motivation to step up yet again. Align, the fourth studio album, released in June 2018, is indeed a best-yet collection of eleven original tracks and features great artist collaborations. The debut single, "Switch Up," earned a career first Billboard #1 as well as the top spot on the Mediabase and Smooth Jazz Network charts.
Performances of note to date include an appearance at the 2012 Dubai International Jazz Festival; headlining Jazz Under the Stars 2013 in Nairobi, Kenya; co-headlining Arizona Jazz Festival, 2013/2014; GrandJazzFest, 2014; Inaugural Shoreline Jazz Festival, 2015/2016; Cabin Fever Jazz Festival, 2016; Hyatt Regency Newport Beach Jazz Festival, 2017; Cancun Jazz Festival; and the 20th Seabreeze Jazz Festival (2018); and frequent performances on the venue/club scene. Additionally, Denny enjoys performing as sideman to guitarist Peter White and more.
Establishing himself as one of the elite pianists of his generation, Mark Harris II is a young jazz powerhouse. His new, cutting edge sound combines smooth jazz, new age and fusion elements, to craft a unique sound that speaks to the soul.
Proceeds benefit the Sol Foundation.
Presented by DOJ Entertainment
Read More
Date Information

Pricing Info

Attendees must be 21+ to attend.

TICKET PRICE
SERVICE CHARGE
TOTAL PER TICKET
$75.00 - VIP Orchestra
(Preferred Seating + Goody Bag)
$7.50
$82.50
$45.00 - Orchestra
$6.25
$51.25
$30.00 - Balcony
$4.25
$34.25

Other Info

Age Restriction: 21+

METROTIX SALES END:
Phone/Internet: 4:00pm day of show
Fox Box Office Outlet: 6:00pm day of show

The Sheldon balcony is NOT wheelchair accessible.

Online purchases for wheelchair accessible seating at The Sheldon are limited to two tickets (wheelchair + companion). Patrons with more specific needs or who need more than two tickets in an accessible area should contact The Sheldon at 314-533-9900. Contact The Sheldon in advance to reserve an accessible parking spot on The Sheldon's west parking lot.
Venue Information
Sheldon
3648 Washington Boulevard , Saint Louis, Missouri 63108
Concert Hall Seating Chart

Website

Accessibility

A street level entrance is available, with an elevator to the 2nd, 3rd and 4th floors of the building.

Contact The Sheldon in advance to reserve an accessible parking spot on The Sheldon's west parking lot. 314.533.9900

CONCERT HALL: The Sheldon balcony is NOT wheelchair accessible. Accessible seating is located at the rear of the Orchestra level.

For events with General Admission (open) seating, please see an usher or the box office when you arrive at The Sheldon to arrange for a seating location, or call The Sheldon at 314-533-9900 to reserve an accessible location in advance.

Online purchases for wheelchair accessible seating in the Concert Hall are limited to two tickets (wheelchair + companion). Patrons with more specific needs or who need more than two tickets in an accessible area should contact The Sheldon at 314-533-9900.

BALLROOM & LOUIS SPIERING ROOM: These spaces are accessible via elevator and do not generally require special ticketing, unless specifically noted.

Other Venue Info

Unless otherwise noted:

Senior pricing, if available, is for ages 62+
Doors to the building generally open 1 hour prior to performance time. Will Call is generally available at that time.