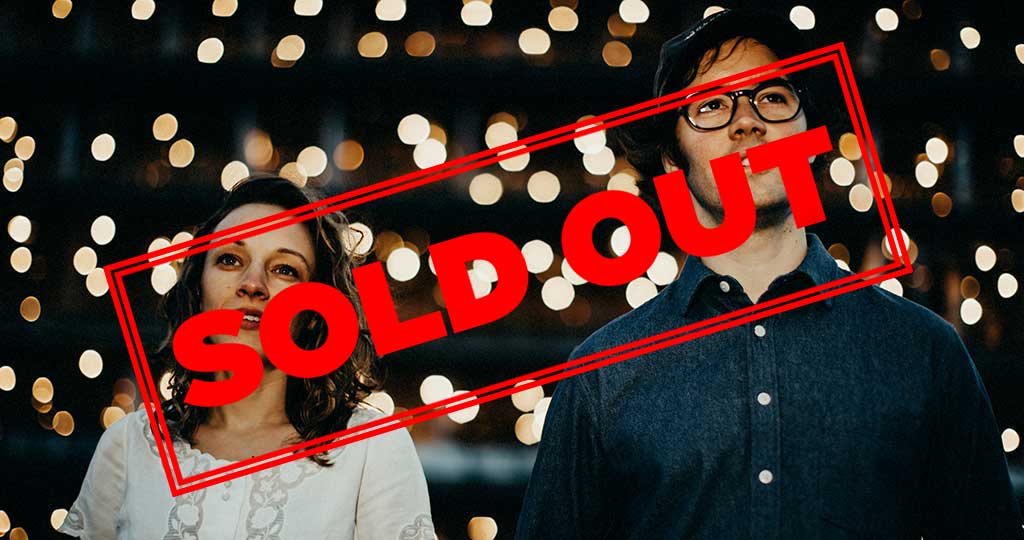 There are no tickets available at this time. Please visit the venue on the night of the show when doors open to inquire about any potential ticket releases.
---
Lean in to Mandolin Orange's recent album, Blindfaller, and it's bound to happen. You'll suddenly pick up on the power and devastation lurking in its quietude, the doom hiding beneath its unvarnished beauty. You'll hear the way it magnifies the intimacy at the heart of the North Carolina duo's music, as if they created their own musical language as they recorded it.
Building on the acclaim of Mandolin Orange's 2013 breakthrough debut on Yep Roc Records This Side of Jordan and its follow-up, last year's Such Jubilee, their new album Blindfaller is already following suit. Upon its September 30 release, the album charted on Billboard's Bluegrass (#3) and Folk/Americana (#16), made Rolling Stone's "40 Best Country Albums of 2016" and was featured on NPR's Heavy Rotation, among others.
"When we finished Such Jubilee, I started writing these songs with a different goal in mind. I thought about how I would write songs for somebody else to record," Marlin explains. "I ended up with a bunch of songs like that, but we chose ones that I still felt personally connected to."
Holed up at the Rubber Room studio in Chapel Hill, NC—with a full band this time around—they laid down the tracks in a week between touring. They've always been keen on the notion that drawn-out recording sessions don't necessarily yield better results. A good song, and just one good take, will always shine through any studio sorcery.
The album title is meant to evoke a sense of wonder, of contemplation. A "faller" is someone who fells trees, and in this case that person is blind to his/her own actions and those of the world. The spectral cover photo, by Scott McCormick, is open to interpretation, too: Either those trees are engulfed in flames or sunlight is pouring through them. It's up to you.
"We wanted different vibes and different intuitions on these tracks," Marlin says, "and I feel like we really captured that."
Read More
Date Information

Additional Links

Pricing Info

$38 = Premium Reserved Table
$36 = Reserved Table
$30 = General Admission

| | | |
| --- | --- | --- |
| TICKET PRICE | SERVICE CHARGE | TOTAL PER TICKET |
| $38.00 | $5.75 | $43.75 |
| $36.00 | $5.25 | $41.25 |
| $30.00 | $4.50 | $34.50 |

Other Info

Becoming a subscriber guarantees the same table for every performance in the series.
Doors open 2 hours prior to each show.
Tickets are available for pickup only on the night of the show when doors open.
The venue does not have an on-site box office. Tickets are only sold via Metrotix, or, on the night of the show when the doors open (if tickets remain.)
Buying a reserved or premium reserved ticket guarantees you that specific seat. Seating at tables and countertops is "family style." If you do not purchase all the seats at your table, you will be seated with other patrons.
General Admission Ticketholders - You may sit at stools at the bar, perimeter chairs not at tables, or you may stand. You are not guaranteed a seat, as seating is limited and only available first-come-first-seated when the doors open. Once all General Admission chairs are taken, there will only be standing room for all other General Admission ticketholders.
South on Main does not take reservations for ticketed concerts.
Food is served before and throughout the concert.
Shows are all ages. Everyone must have a ticket to attend.
Free surface lot parking is available.
Additional Info: http://southonmain.com/pages/faq-ticketing-seating/

METROTIX SALES END: Noon day of show
Venue Information
South on Main
1304 Main Street , Little Rock, Arkansas 72202