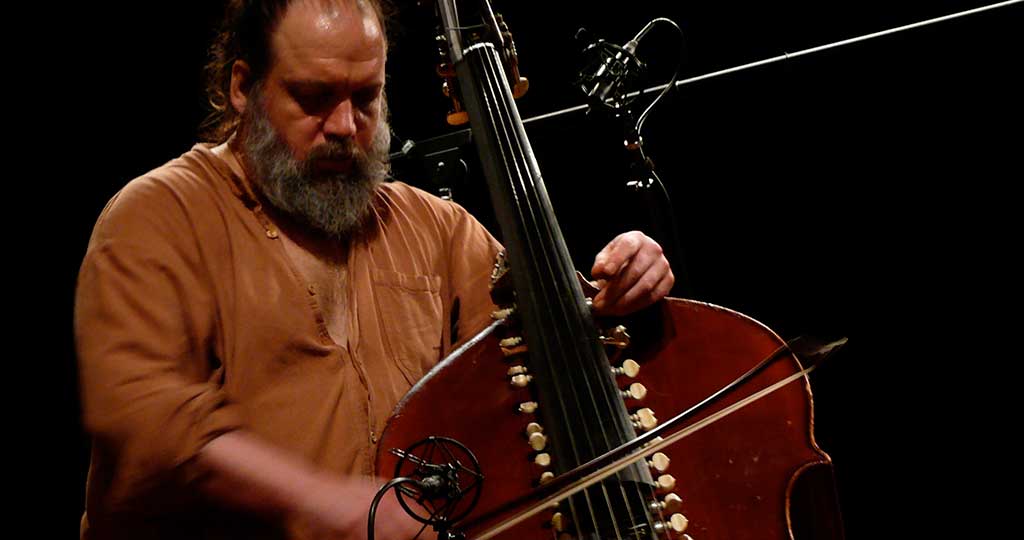 MARK DEUTSCH & THE BAZANTAR
It was almost exactly twenty years ago at the Sheldon Concert Hall on November 18, 1999 that visionary artist and St. Louis native, Mark Deutsch premiered to the world his singular creation, the Bazantar: a 39-string acoustic bass with additional drone and sympathetic strings, for which he received a patent along with worldwide acclaim as a unique musical innovator.

"What Mark has done really expands the horizon of the bass. The sound created on the Bazantar is like nothing ever heard before..."
- Eric Harris, Principal Bassist, St. Louis Symphony

"…a visceral reaction akin to my stunned and delighted response to first hearing a symphony orchestra..."
- David Walter, Instructor at Julliard, Principal Bassist New York Philharmonic

Not long after that performance, Mark moved his base of operation to the West Coast where he has been evolving, further defining and refining his instrument and techniques as well as creating a vast library of original Bazantar compositions, doing film work and recording new music. His latest release is the epic work, "The Picasso Tunings," a four-volume series of compositions (4CD, 7LP vinyl box set) for solo Bazantar that spans a vast landscape of musical styles and traditions.

"Mark's sonic explorations invoke the ancient tradition of trance-ritual and embody a sacred musicality rarely heard in Western cultures."
- Bill Laswell, Producer, Audio Alchemist and Bassist

"Mark Deutsch has created explorations into the depths of sound where the roots of tonality beneath Eastern and Western systems are one. This historic tone poem bridges the dark opulence of tone to the high visionary sounds of the spirit. A must for all sonic adventurers."
- Don Campbell, Author of "The Mozart Effect."

Recently he was the featured artist on the score for the movie Drone, which was nominated for a Leo Award for best music score, and he is currently on tour driving from San Francisco to New York doing solo Bazantar concerts along the way as well as teaching and lecturing about music and vibrations' effects on physiology and consciousness. This will be his first show in St. Louis since leaving almost twenty years ago. Come and see what Mark's been up to and how things have evolved in the interim.

"What has Mark Deutsch done? In the simplest terms, he's spent decades building a new acoustic instrument, the Bazantar, in which more harmonics can interact with each other with clarity than in any other instrument, and then created music with a higher order of resonance than previous music. Listen and know you're one of the early ones, one of the few. You are listening to the future."
- Jaron Lanier, "Founding Father" in virtual reality, Futurist, Computer Scientist, Composer and Author of "You Are Not a Gadget" and "Who Owns the Future?"

Below is a short documentary and other videos about Mark and the Bazantar if you would like to know a bit more about him and the creation of this new acoustic instrument.
Read More
Date Information

Additional Links

Pricing Info

| | | |
| --- | --- | --- |
| TICKET PRICE | SERVICE CHARGE | TOTAL PER TICKET |
| $10.00 - General Admission | $1.50 | $11.50 |

Other Info

METROTIX SALES END:
Phone/Internet: 4:00pm day of event
Fox Outlet: 6:00pm day of event

Accessibility: This event has general admission seating. The Sheldon balcony is not accessible. Please see an usher or the box office when you arrive at The Sheldon to arrange for a seating location, or call The Sheldon at 314-533-9900 to reserve an accessible location in advance. Contact The Sheldon to reserve an accessible parking space on The Sheldon's west parking lot.
Venue Information
Sheldon
3648 Washington Boulevard , Saint Louis, Missouri 63108
Concert Hall Seating Chart

Website

Accessibility

A street level entrance is available, with an elevator to the 2nd, 3rd and 4th floors of the building.

Contact The Sheldon in advance to reserve an accessible parking spot on The Sheldon's west parking lot. 314.533.9900

CONCERT HALL: The Sheldon balcony is NOT wheelchair accessible. Accessible seating is located at the rear of the Orchestra level.

For events with General Admission (open) seating, please see an usher or the box office when you arrive at The Sheldon to arrange for a seating location, or call The Sheldon at 314-533-9900 to reserve an accessible location in advance.

Online purchases for wheelchair accessible seating in the Concert Hall are limited to two tickets (wheelchair + companion). Patrons with more specific needs or who need more than two tickets in an accessible area should contact The Sheldon at 314-533-9900.

BALLROOM & LOUIS SPIERING ROOM: These spaces are accessible via elevator and do not generally require special ticketing, unless specifically noted.

Other Venue Info

Unless otherwise noted:

Senior pricing, if available, is for ages 62+
Doors to the building generally open 1 hour prior to performance time. Will Call is generally available at that time.