SONGS FOR NOBODIES
MAX & LOUIE PRODUCTIONS
SONGS FOR NOBODIES
MAX & LOUIE PRODUCTIONS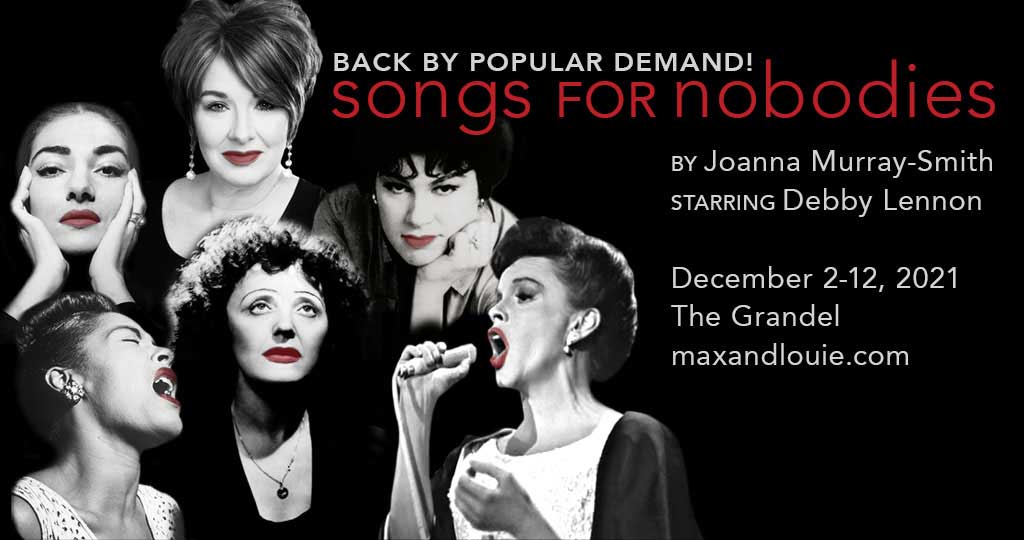 December
2
-
12
, 2021
SONGS FOR NOBODIES
MAX & LOUIE PRODUCTIONS
Date

December

2

-

12

, 2021

Venue

Grandel

On Sale

Buy Tickets Now

Tickets

$25 - $55
SONGS FOR NOBODIES
MAX & LOUIE PRODUCTIONS
This unforgettable one-woman powerhouse performance starring Debby Lennon weaves the music of legendary divas Judy Garland, Patsy Cline, Billie Holiday, Edith Piaf, and Maria Callas throughout a mosaic of stories told by the everyday women who had unexpected life-changing encounters with these musical icons.

Featuring such favorites as "Come Rain or Come Shine," "Crazy," "Non, Je Ne Regrette Rien," "Lady Sings the Blues," and "Vissi d'arte," Songs for Nobodies illuminates the power of song to share a story, heal a heartbreak and inspire a dream.

"…flat out spectacular." - Wall Street Journal

COVID SAFETY PROTOCOLS
When you arrive at The Grandel Theatre, please have your mask, photo ID, and proof of covid vaccination or negative test ready to show at entrance.



Review our Max & Louie Productions Safety Covid guidelines.

Look forward to seeing you at the Grandel!
DECEMBER 2 PREVIEW PERFORMANCE
TICKET PRICE
SERVICE CHARGE
TOTAL PER TICKET
Balcony Box (admits 6)
$320.00
$15.00 + $1 facility fee
$336.00
Orchestra Box (admits 4)
$210.00
$15.00 + $1 facility fee
$226.00
Orchestra Center
$45.00
$6.75 + $1 facility fee
$52.75
Orchestra Side A
$40.00
$6.00 + $1 facility fee
$47.00
Orchestra Side B
$35.00
$5.25 + $1 facility fee
$41.25
Orchestra Far Side
$25.00
$3.75 + $1 facility fee
$29.75
ALL OTHER PERFORMANCES
TICKET PRICE
SERVICE CHARGE
TOTAL PER TICKET
Balcony Box (admits 6)
$330.00
$15.00 + $1 facility fee
$346.00
Orchestra Box (admits 4)
$220.00
$15.00 + $1 facility fee
$236.00
Orchestra Center
$55.00
$8.25 + $1 facility fee
$64.25
Orchestra Side A
$50.00
$7.50 + $1 facility fee
$58.50
Orchestra Side B
$45.00
$6.75 + $1 facility fee
$52.75
Orchestra Far Side
$35.00
$5.25 + $1 facility fee
$41.25
COVID-19 Vaccine / Negative Test Requirement
Effective Sept. 10, all patrons 12 Years or older are required to show proof of their full COVID-19 vaccination or negative COVID-19 test upon entry for all ticketed events at KAF indoor performance venues, including The Grandel, .ZACK Theatre, The Marcelle, Black Box and Studio at The Kranzberg, High Low Listening Room and The Dark Room. Please bring a valid ID and proof of vaccine (card, picture of card, or photocopy) or proof of negative test (PCR test within 72 hours / antigen test within 24 hours of performance start time).
The above policies are in addition to an existing mask policy, which went into effect at the organization's indoor venues in late July (coinciding with the guidance and mandates set forth by public health and local government). Masks are currently required in all Kranzberg Arts Foundation indoor facilities.

Proof of vaccination or negative test is not required in KAF outdoor venues (The Big Top and Open Air Tent).

CANCELED EVENTS
If an event is canceled, no action is required to obtain a refund; MetroTix will issue a refund to the original method of payment used at time of purchase.

RESCHEDULED / POSTPONED EVENTS
If an event is postponed, rescheduled, or moved, your tickets are still valid for the new date and no further action is required. Emails will be sent to ticket holders notifying them of any available refund options for the event.
More details are here: https://www.kranzbergartsfoundation.org/covid-19-mitigation-policies/.
METROTIX SALES END: 4pm for evening shows, 11am for matinees.
The venue box office opens 1 hour prior to show.
Grandel
3610 Grandel Square, St. Louis, Missouri 63108
The Grandel Theatre is a 600-capacity, world-class performing arts venue operated by the Kranzberg Arts Foundation. Concerts, plays, musicals, dance performances, comedy shows, and much more find a home on The Grandel's stage, activated by KAF resident organizations, independent producers, and local, national & internationally touring artists. Please visit www.thegrandel.com for a full event listing and more information.
The Grandel is a fully handicap accessible and ADA compliant venue. Handicap reserved parking and entrance (via ramp) are located on the direct west side of the building. Entrance to the parking lot is accessible from the alleyway on the south side of the building, off of N. Grand Blvd. or N. Spring Ave. Handicap preferred seating is available in the theatre and at The Dark Room upon reservation / request. All three public floors of The Grandel are handicap accessible via elevator.