MICHAEL SMERCONISH
AMERICAN LIFE IN COLUMNS
MICHAEL SMERCONISH
AMERICAN LIFE IN COLUMNS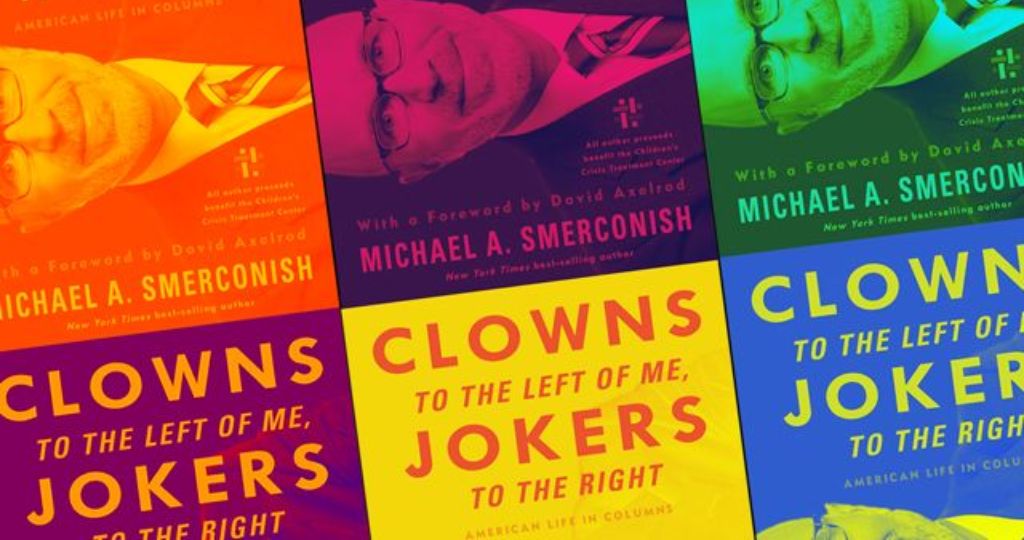 February
17
, 2020
MICHAEL SMERCONISH
AMERICAN LIFE IN COLUMNS
Date

February

17

, 2020

Event Starts

7:00PM

Venue

Playhouse at Westport Plaza

On Sale

Buy Tickets Now

Tickets

$45 - $100
MICHAEL SMERCONISH
AMERICAN LIFE IN COLUMNS
"Clowns to the Left of Me, Jokers to the Right: American Life in Columns" is the title of Michael Smerconish's latest speech and was inspired by his book of the same name.
The SiriusXM radio host, CNN television host, and Sunday Inquirer columnist recently published his seventh manuscript. "Clowns" is a compilation of 100 of Smerconish's more memorable newspaper columns, each with a new afterword, drawn from the 1,047 he published between 2001 and 2016. As characterized by Foreward Reviews: "Michael Smerconish's collection is compelling and entertaining—not as a filtering of daily news through a predictable ideological lens, but as a group of insightful entries into conversations about current events and issues….This sampling of Smerconish's columns exemplifies the kind of discourse, based on reason and evidence, that makes a newspaper, in print or online, indispensable to citizens of democracy."
Readers, listeners, and viewers have come to expect no less from the Independent pundit whose common sense often sets him apart from today's media provocateurs. His optimistic outlook, derived from his political research and unique experiences, is a message for our times: that the American political divide has been greatly exaggerated by those with a motivation to perpetuate polarization.
At ease in front of live audiences, he's a master at telling political stories which include: his meeting President Ronald Reagan as a newly minted 18-year old voter; his appointment at age 29 to a sub-cabinet level position in the administration of President George H.W. Bush; the seven-hour dinner he had with Fidel Castro in Havana; conducting President Barack Obama's first live radio interview from the White House; and his taking a front row seat as a CNN analyst for the totality of the improbable 2016 presidential campaign.
But Smerconish's interests extend far beyond the political realm. He can be equally passionate when discussing such disparate subjects as family pets, lessons learned from yard sales, why he disfavors the tortuous SAT exam, and why he wants to end manufacture of the copper penny. Give him a cigar and a brandy and he might tell you about: the night he hosted Rock and Rock Hall of Fame inductees YES in his back yard for a barbecue; why he once heckled Roger Waters from the front row at Madison Square Garden but later enjoyed drinks with the Pink Floyd co-founder; the night he spent in the company of both Pete Rose and Ted Nugent; how he came to drink champagne from the Stanley Cup; spending an uncomfortable train ride with David Duke; the day he brought the "living legend" Bruno Sammartino to his law office; or the back story of his pre-trial interview with Bill Cosby.
Buy Tickets
Mon.
February
17
, 2020
/ 7:00 PM
| | | |
| --- | --- | --- |
| TICKET PRICE | SERVICE CHARGE | TOTAL PER TICKET |
| $100.00 - VIP Seating + Meet & Greet at 6pm | $14.00 | $114.00 |
| $45.00 - Reserved Seating | $7.75 | $52.75 |
VIP Meet & Greet begins at 6pm.
MetroTix sales end 3 hours prior to the performance.
Playhouse at Westport Plaza
635 West Port Plaza, St. Louis, Missouri 63146