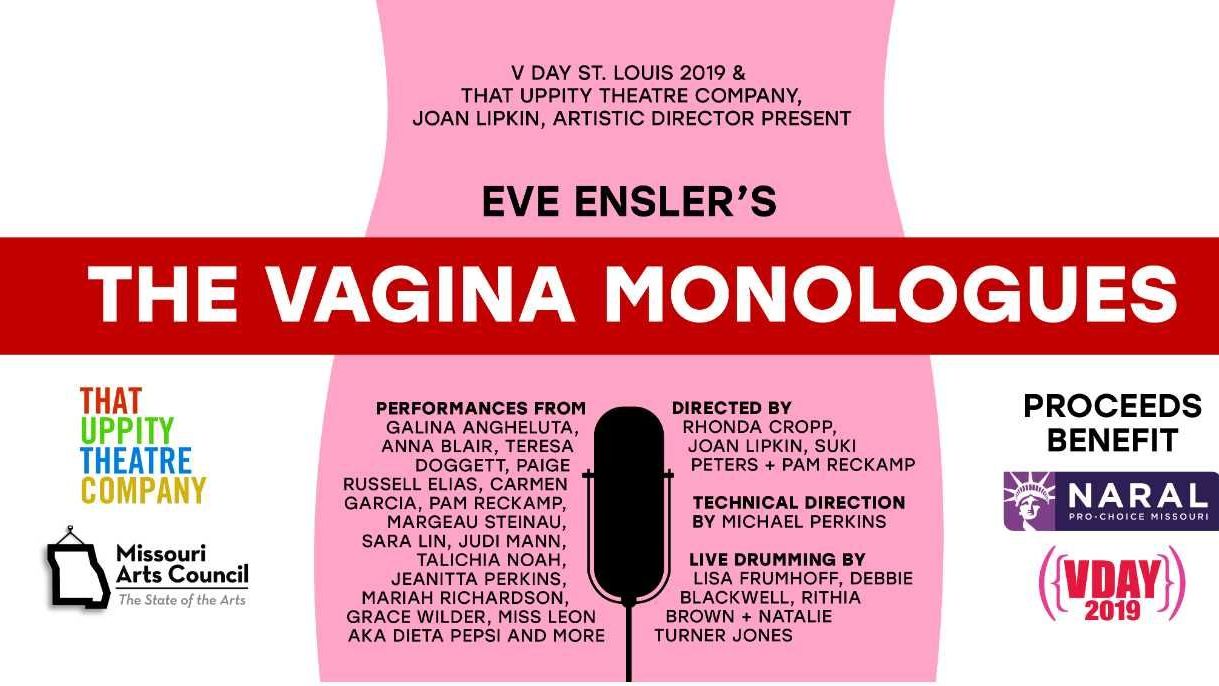 In honor of the 50th anniversary of NARAL Pro-Choice Missouri, the state's largest grassroots pro-choice organization, That Uppity Theatre Company is producing Eve Ensler's iconic "The Vagina Monologues." Ninety percent of the proceeds from this show will benefit NARAL Pro-Choice Missouri and their work to ensure reproductive freedom for all in Missouri.
The event will feature one of the largest and most diverse casts of women seen on stage in St. Louis and will include cisgender, transgender, non-binary, African-American, Asian-American, Latina, white, and immigrant women, spanning several decades. The play explores consensual and non-consensual sexual experiences, body image, genital mutilation, direct and indirect encounters with reproduction, sex work, love, rape, menstruation, birth, orgasm, and many other topics.
The show is directed by Rhonda Cropp, Joan Lipkin, Suki Peters and Pam Reckamp and technical direction is by Michael Perkins. Performers include Galina Angheluta, Anna Blair, Teresa Doggett, Alderwoman Annie Rice, Paige Russell Elias, Carmen Garcia, Pam Reckamp, Gail Smith, Margeau Steinau, Sara Lin, Judi Mann, Talichia Noah, Jeanitta Perkins, Mariah Richardson, Grace Wilder, Miss Leon aka Dieta Pepsi, and others with live drumming by Lisa Frumhoff and Debbie Blackwell, Rithia Brown, and Natalie Turner Jones.
This production is part of the international V-Day movement started by Ensler, which encompasses over 1,000 productions around the globe. The Vagina Monologues is the cornerstone of the V-Day movement, whose participants stage benefit performances of the show and/or host other related events in their communities. The remaining 10% of the proceeds, not only from this production but from every V-Day production worldwide, will go to Ensler's Spotlight campaign.
Read More
Date Information

February 17, 2019

- 2:00 PM

Pricing Info

Sat. February 16, 2019 at 7:30pm
TICKET PRICE
SERVICE CHARGE
TOTAL PER TICKET
$100.00 - Front of House Reserved
n/a
$100.00
$50.00 - General Admission 1
n/a
$50.00
$25.00 - General Admission 2
n/a
$25.00

Sun. February 17, 2019 at 2:00pm
TICKET PRICE
SERVICE CHARGE
TOTAL PER TICKET
$50.00 - Front of House Reserved
n/a
$50.00
$18.00 - General Admission
n/a
$18.00

Other Info

METROTIX SALES END:
Phone/Internet: 3 hours prior to show
Fox Box Office: 1 hour prior to show

The .ZACK Center box office opens 1 hour prior to show.

Have a promo code?
Venue Information
.ZACK
3224 Locust Street , St. Louis, Missouri 63103
The .ZACK is the Kranzberg Arts Foundation's new four-story, 40,000-square foot property, developed in the historic Cadillac building at 3224 Locust St. housing:

- The .ZACK Theatre, a 202-seat proscenium-style theatre to be shared by .ZACK's resident arts organizations as part of the .ZACK Performing Arts Incubator Program which also includes co-op office space, a community scene shop with separate build and paint rooms, and prop/set storage all located in the .ZACK building.

- A full-service catering company and restaurant, Turn by David Kirkland, owned/operated by award-winning local chef David Kirkland (formerly of Café Osage).

- The Urban Ballroom, a fourth-floor, private event space with full-service catering options by David Kirkland Catering. The Urban Ballroom features panoramic views of downtown St. Louis, a customizable layout, and in-house spa, perfect for any event up to 300 people.

- Second floor retail space, the future home of Sophie's Lounge and Music Record Shop.

- Third floor commercial office space available for rent to a wide range of tenants

.ZACK brings synergy, access, and essential infrastructure for the performing arts community in St. Louis, and will be a venue in which patrons can have a dynamic, 360-degree experience. From theater fans to food and beverage lovers, and those looking to host special events, .ZACK will provide a world class experience for audiences from across the region.
Read More
Website

Accessibility

The .ZACK is wheelchair accessible.