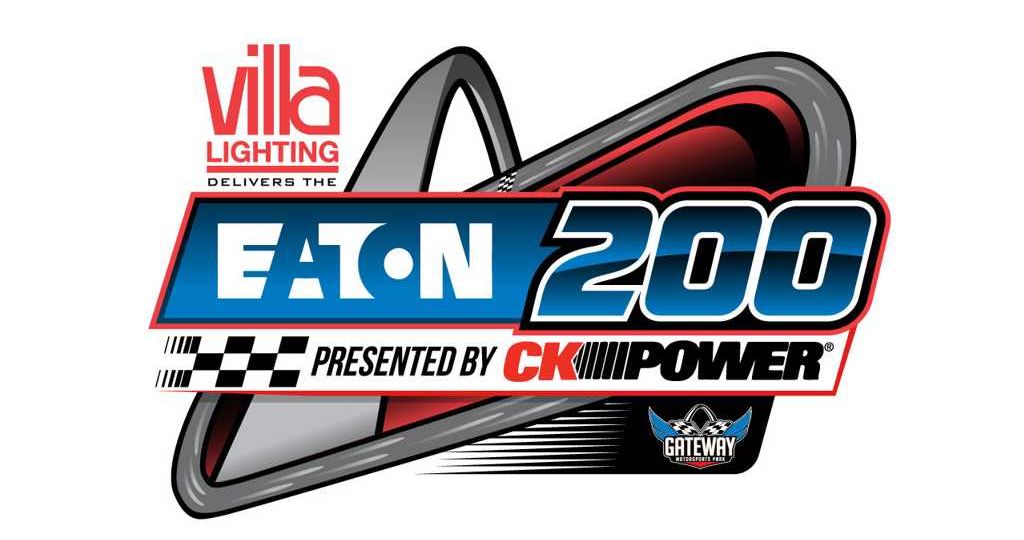 VILLA LIGHTING DELIVERS THE EATON 200 PRESENTED BY CK POWER
Advance sales for Parking and Garage end at 11:59pm on June 19.
Race admission and Rumble Before the Roar tickets are now only via Print-at-Home and Mobile delivery.

Experience the thrills, action and race-winning passes of the future stars of NASCAR at the Eaton 200 Presented by CK Power for the Camping World Truck Series. The sport's brightest new talent mixes it up with the veterans of one of NASCAR's premier series on Gateway's unique egg-shaped oval and a spectacular finish is almost guaranteed.
Read More
Date Information

ARCA Racing Series presented by Menards

NASCAR Camping World Truck Series

Additional Links

Eaton 200 - NASCAR Camping World Truck Series Race Pricing Info

Ticket Pricing
SEATING LEVEL
ADULT ADVANCE
JUNIOR ADVANCE
(15 & under)
MILITARY
Gold
$59.00
$20.00
$47.00
Silver
$45.00
$10.00
$36.00
Lower Gold
$40.00
$5.00
$32.00
Reserved
$40.00
$5.00
$32.00
General Admisison
$35.00
$0.00
$28.00

Service Charges
TICKET PRICE
SERVICE CHARGE
TOTAL PER TICKET
$59.00
$7.75
$66.75
$47.00
$6.25
$53.25
$45.00
$6.00
$51.00
$40.00
$5.50
$45.50
$36.00
$5.50
$41.50
$35.00
$5.25
$40.25
$32.00
$5.25
$37.25
$28.00
$5.25
$33.25
$10.00
$4.50
$14.50
$5.00
$4.50
$9.50
$0.00
$4.25
$4.25

ARCA Racing Series presented by Menards

PapaNicholas Coffee 150

ARCA Racing Series - Race Admission
TICKET PRICE
SERVICE CHARGE
TOTAL PER TICKET
$25.00 - Adult Advance
$30.00 - Adult Gate
$5.00
$5.25
$30.00
$35.25
$0.00 - Junior 15 & Under
$4.25
$4.25

ARCA Racing Series - Adult Pit Pass
TICKET PRICE
SERVICE CHARGE
TOTAL PER TICKET
$40.00 - Adult 14+
$5.50
$45.50
Ages 14+ only. Race admission must be purchased separately.

Add-On Items

PARKING
Parking Type
Price
Service Charge
Additional Information
Orange General Parking
Friday: $10
Saturday: $20
2 Day: $30
$3.25

Orange General Parking access is via Collinsville Road entry gate or Main gate entry to North Drop.

Single Day General Parking is date-specific.
Tier 2 Accessible/ADA Parking
Friday: $10
Saturday: $20
2 Day: $30
$3.25

Single Day Accessible Parking is date-specific.


VIP Brown South Parking

Saturday: $20
2 Day: $40
$3.25
Brown South Parking access is via Main entry gate along with all VIPs. Located behind the Suite Parking.


CLICK HERE TO PURCHASE PARKING ONLY.
Advance sales end on June 19.

CAMPING
Other camping options are available directly through Gateway Motorsports Park: 618-215-8888.

Garage Tour - Saturday, June 23, 2018
PRICE
SERVICE CHARGE
INFO
$25.00
$3.25
You will be contacted to arrange a 30-minute entry time.
CLICK HERE TO PURCHASE THE GARAGE TOUR
Advance sales end on June 19.

Rumble Before the Roar
PRICE
SERVICE CHARGE
INFO
$20.00
$3.25
The Rumble Before the Roar is Gateway Motorsports Park's ultimate pre-race party zone. On Saturday, June 23, kick of the evening's festivities with DJs, special appearances, the Gateway Girls, Bar Olympics and outrageous special activities. The best part? The beer is included! That's right, your $20 admission features a souvenir mug for complimentary beer and soft drinks in the Rumble Zone! The Rumble Before the Roar inlcudes free light snacks, Gateway's all new pavilion cash bar, concession stands, T-shirt giveaways, special displays and food truck specials. This is the ultimate way to party with your friends before a great night of racing under the lights.
P.S. ... that wasn't a typo. Admission to Rumble before the Roar is only $20 and inlcudes a souvenir cup for beer and soft drink refills from 3pm until the start of the race!

18 and over.
Race ticket required for entry.
CLICK HERE TO PURCHASE RUMBLE BEFORE THE ROAR
Advance sales end at 7pm on June 23.

Facility Map

Other Info

Military tickets require a valid military ID to be presented at entry.
Junior = ages 15 & under (NASCAR); Juniors must be accompanied by an adult, and Junior tickets cannot be purchased alone.
Mailed tickets will be shipped starting 1 month prior to the event, and then daily after that.
All guests must have a Grandstand ticket or proper credentials, regardless of age.
There is NO SMOKING in the Grandstands per Illinois state law. There are designated smoking areas on the concourse. Fans that violate this policy will be ejected from the faciliy. This policy also includes e-cigarettes and vape pens.
PERMITTED ITEMS: One soft-sided cooler (max size 14"x14"x14") and one carry-in item (purse/backpack); Plastic bottles and aluminum cans (no alcoholic beverages); Binoculars; Scanners; Cameras; Seat cushions; Strollers (if accompanied by a child) - their use cannot inhibit guest movement or block any aisles. Strollers are not allowed in the Grandstands. Strollers can be left on the concourse underneath the Grandstands and can be secured by the guest to the chain link fence.
All items brought through a Grandstand gate are subject to search by Gateway Security. Gateway Motorsports Park is not responsible for lost or stolen items.
PROHIBITED ITEMS: Alcoholic beverages of any kind; Firearms, knives; fireworks of any kind, and items restricted by Local, State and Federal laws; Bicycles, Scooters, Skateboards, roller skates, roller blades; Glass containers; Umbrellas; Folding chairs; Laser pointers; Pets (only approved service animals will be admitted with proper paperword); Aerosol cans; Balloons & beach balls; Illegal substances; sticks, bats, poles or clubs; Any tiems deemed by Gateway Security to pose a safety hazard or that may diminish other fans' enjoyment of the event
A hand-stamp and a ticket are required for re-entry to the Grandstand area. No in-out privileges for parking.​
Will Call is located outside of the track across from the main entrance. All items held as "will call," including parking, will be held there.

METROTIX SALES END:
* Race Admission: race start time on each day
* Rumble Before the Roar: 7pm June 23
* Add-on Items: 11:59pm June 19

Weekend Event Schedule
Venue Information
Gateway Motorsports Park
700 Raceway Boulevard , Madison, Illinois 62060