KSHE Night of Fire and Thunder Back to School Bash Presented by Travers
(RAIN DATE)
KSHE Night of Fire and Thunder Back to School Bash Presented by Travers
(RAIN DATE)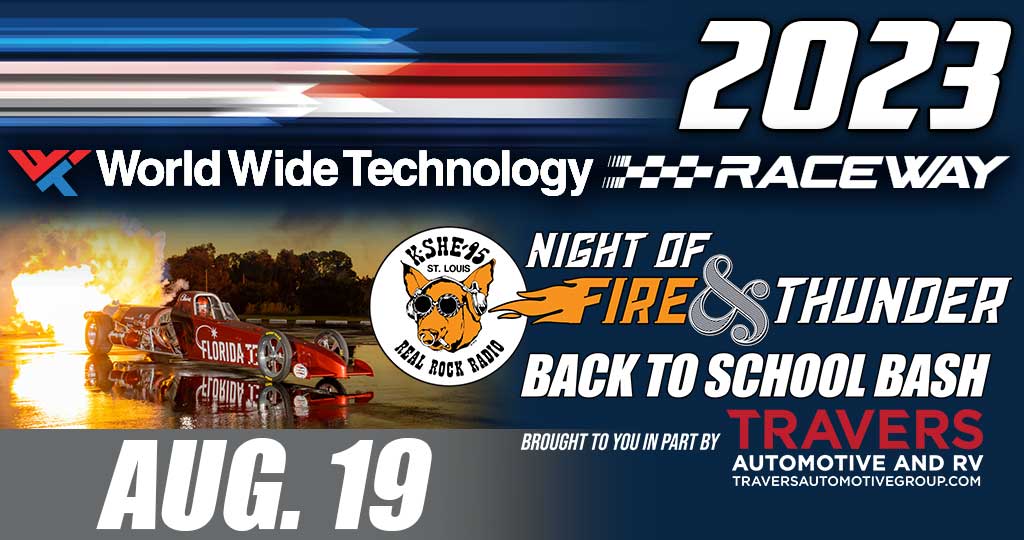 August
19
, 2023
KSHE Night of Fire and Thunder Back to School Bash Presented by Travers
(RAIN DATE)
Date

August

19

, 2023

Event Starts

TBA

Venue

World Wide Technology Raceway

On Sale

Buy Tickets Now

Tickets

Varies by date
KSHE Night of Fire and Thunder Back to School Bash Presented by Travers
(RAIN DATE)
RESCHEDULED EVENT INFORMATION:
July 1, 2023: The Night of Fire and Thunder Speed Spectacular event at World Wide Technology Raceway has been postponed due to weather. The St. Louis Metro region is currently under a severe storm warning and our weather monitoring service is calling for wind guest of 50-60 miles per hour, hail and the possibility of a tornado in the area. For the safety of our fans and participants, we are evacuating the facility at this time and recommending that our attendees seek shelter.
The July 1, 2023 event will now be held in conjunction with the Back-to-School Bash Midwest Drag Racing Series event scheduled for Saturday, August 19, 2023. The Back-to-School Bash will serve as the official kick-off event of St. Louis SpeedFest that showcases a week of racing in the St. Louis region.
Even though a significant portion of today's racing program has been completed, officials from KSHE, the Midwest Pro Mod Series and WWT Raceway will honor spectator tickets from today for full admission to the August 19 event. The August 19 event will include the Midwest Pro Mods, Jet Cars and the fireworks show originally scheduled for tonight along with special classes from the Nostalgia Drag Racing League. Please note: Spectators must hold onto their ticket stub from today's (July 1) event as proof of purchase to enter on August 19. With a significant portion of today's show complete, and a reschedule date available, refunds will not be issued.
---
The Travers RV & Automotive Night of Fire & Thunder Spectacular

World Wide Technology Raceway and KSHE 95 – St. Louis' classic rock station – will kick off the Fourth-of-July holiday weekend on Saturday, July 1, with the KSHE Night of Fire & Thunder Spectacular brought to you in part by Travers Automotive and RV. The two-day holiday spectacular begins on Friday with drag racing and a $20-per carload admission fee – pack everyone into the minivan and spectate for only $20 on Friday.

The July 1 action-packed holiday event includes:
• Spectacular fireworks show at approximately 9:40 p.m.
• Jet Cars – two jet-powered dragsters, blazing the track with earth-shaking passes at 7:30 p.m. and 9:30 p.m.
• Exotic Mid-West Drag Racing Series Pro Modified dragsters – 230 miles per hour in the quarter mile.
• Alcohol Funny Cars – pounding the pavement at more than 260 miles per hour.

It's the perfect way for the family to begin the celebration of the Independence Day Weekend. Students are half-price and kids 12 and under are free. Gates open at 10 a.m. on July 1. The Pro Mod driver autograph session begins at 4 p.m., followed by drag racing at 5 p.m. The Larson Motorsports Jet Cars will rock the property at 7:30 and 9:30 and the fireworks spectacular launches at 9:40.

Friday, June 30 KSHE kick-off:
The two-day show kicks off on Friday evening with Mid-West Drag Racing Series drag racing and qualifying. Spectator admission is $20 per car load. Gates open at 6 p.m. with drag racing until midnight. Trackside tailgate parking spots are $50.

Friday, June 30 schedule:
6 p.m. -- Spectator gates open.
7 p.m. -- Two rounds of qualifying.
Midnight – Track closed.

June 30 racing classes includes Stroud Safety Pro Modified, J&A Service Funny Car, UEM Pistons Top Dragster, Pat Musi Racing Engines Top Sportsman, True Nostalgia Super Stock, 1/8-mile Box, Zimmerman Sportsman Junior, Race Star Wheels Pro Junior, Champion Auto Lifts Pro 4.20, , LJRC Outlaw 330.

Saturday, July 1 schedule:
10 a.m. -- Time trials and qualifying.
9 a.m. -- Spectator gates open.
Noon -- Final Mid-West Drag Racing Series qualifying. Bracket eliminations continue.
3 p.m. -- Pro Mod Autograph Session in the Pavilion on the midway.
4:30 p.m. – First round of Pro Mod eliminations.
7:30 & 9:30 p.m. – Larsen Motorsports Jet Dragsters.
9:35 p.m. – Fireworks show.
Drag racing resumes after fireworks.

While supplies last. Prices subject to change.
Questions? Please call the WWTR ticket office at (618) 215-8888 Option #1.
Buy Tickets
Sat.
August
19
, 2023
TBA
RAIN DATE for events not completed on July 1
Pricing Info - Aug. 19 - Night of Fire & Thunder
Night of Fire & Thunder Speed Spectacular
Gate Admission
Parking is Included
TICKET PRICE
SERVICE CHARGE
Madison Tax
TOTAL PER TICKET
Adult: $30.00
$4.00
$1.00
$35.00
Students 13 - 17: $15.00
$3.00
$1.00
$19.00
Kids 12 & Under: FREE
(On Site ONLY)
n/a
n/a
$0.00
MetroTix sales for these events will have electronic delivery only, either via mobile or print-at-home formats. Delivery will be delayed for purchases more than 1 month prior to the event. Tickets will be sent 1 month out, and then immediate after that time.
Please refer to https://www.wwtraceway.com/ and Know Before You Go information for new health department standards to follow.
All guests must have a Grandstand ticket or proper credentials, regardless of age.
There is NO SMOKING in the Grandstands per Illinois state law. There are designated smoking areas on the concourse. Fans that violate this policy will be ejected from the faciliy. This policy also includes e-cigarettes and vape pens.
PERMITTED ITEMS: One soft-sided cooler (max size 14"x14"x14") and one carry-in item (purse/backpack); Plastic bottles and aluminum cans (no alcoholic beverages); Binoculars; Scanners; Cameras; Seat cushions; Strollers (if accompanied by a child) - their use cannot inhibit guest movement or block any aisles. Strollers are not allowed in the Grandstands. Strollers can be left on the concourse underneath the Grandstands and can be secured by the guest to the chain link fence.
All items brought through a Grandstand gate are subject to search by Gateway Security. Gateway Motorsports Park is not responsible for lost or stolen items.
PROHIBITED ITEMS: Alcoholic beverages of any kind; Firearms, knives; fireworks of any kind, and items restricted by Local, State and Federal laws; Bicycles, Scooters, Skateboards, roller skates, roller blades; Glass containers; Umbrellas; Folding chairs; Laser pointers; Pets (only approved service animals will be admitted with proper paperwork); Aerosol cans; Balloons & beach balls; Illegal substances; sticks, bats, poles or clubs; Any tiems deemed by Gateway Security to pose a safety hazard or that may diminish other fans' enjoyment of the event
World Wide Technology Raceway
700 Raceway Boulevard, Madison, Illinois 62060