PAINTINGS ON STONE: SCIENCE AND THE SACRED 1530 - 1800
PAINTINGS ON STONE: SCIENCE AND THE SACRED 1530 - 1800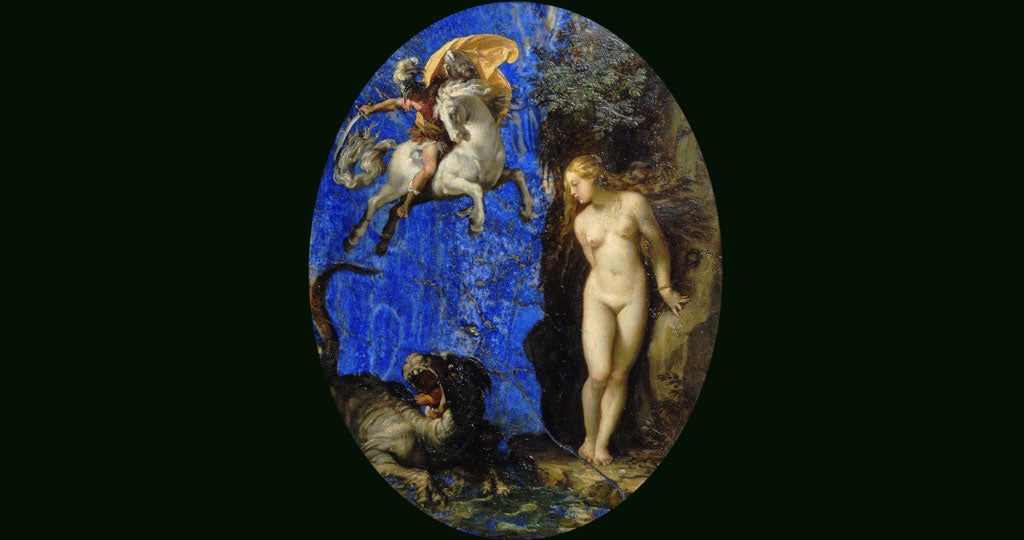 February
20
-
May
15
, 2022
PAINTINGS ON STONE: SCIENCE AND THE SACRED 1530 - 1800
Date

February

20

-

May

15

, 2022

Venue

Saint Louis Art Museum

Tickets

$0 - $12
PAINTINGS ON STONE: SCIENCE AND THE SACRED 1530 - 1800
Due to the Saint Louis Art Museum's temporary closure, advance tickets for Painting on Stone: Science and the Sacred 1530-1800 will be available at a later date. For more information on the exhibition and the Museum's safety protocols, please visit slam.org.
---
Main Exhibition Galleries, East Building

In 2000 the Saint Louis Art Museum purchased Cavaliere d'Arpino's Perseus Rescuing Andromeda, an exceptional painting on lapis lazuli. The acquisition of the small, stunning work of art spurred extensive research that culminates in Paintings on Stone: Science and the Sacred 1530–1800, the first systematic examination of the pan-European practice of this unusual and little-studied artistic tradition.
By 1530 Italian artists had begun to paint portraits and sacred images on stone. At first artists used slate and marble. By the last decades of the 16th century, the repertoire expanded, eventually including alabaster, lapis lazuli, onyx, jasper, agate, and amethyst. In addition to demonstrating the beauty of these works, Paintings on Stone explains why artists began using stone supports and the role that stone played in the meaning of these endeavors.
Bringing together more than 90 examples by 58 artists, Paintings on Stone represents major centers of stone painting and features 34 different stones, nearly the full range that were used.
The exhibition is curated by Judith W. Mann, curator of European art to 1800.
Image Caption: Cavaliere D'Arpino (Giuseppe Cesari), Italian, 1568–1640; Perseus Rescuing Andromeda, c.1593–94; oil on lapis lazuli; 7 15/16 × 6 1/8 × 1/4 inches; Saint Louis Art Museum, Museum Purchase 1:2000
Buy Tickets
Sun.
February
20
, 2022
TBA
Tue.
February
22
, 2022
TBA
Wed.
February
23
, 2022
TBA
Thu.
February
24
, 2022
TBA
Fri.
February
25
, 2022
TBA
Sat.
February
26
, 2022
TBA
Sun.
February
27
, 2022
TBA
Adult = $12
Student/Senior 65+ = $10
Child 6-12 = $6
Child under 6 = $0
Friday, all tickets = $0


There is a $3 per ticket service charge on all tickets.
Service charge: $3.00/ticket
Admission is available every 15 minutes during entry hours.
The specific tour time will be listed as the "Section" on-screen prior to your purchase and in on-screen and email confirmations.
MetroTix.com sales end 1 hour prior to each tour hour. (All 10am times - 10:00am, 10:15am, 10:30am, 10:45am - will end sales at 9am on the day of event, etc.) Day of event sales will be delivered electronically, either via print-at-home or mobile ticketing.
Entry on Friday is free, but a ticket is required. Advance ticket purchase is recommended. There is a SIX ticket purchase limit for Fridays.
Saint Louis Art Museum
1 Fine Arts Drive, Saint Louis, Missouri 63110
Farrell Auditorium Seating Chart