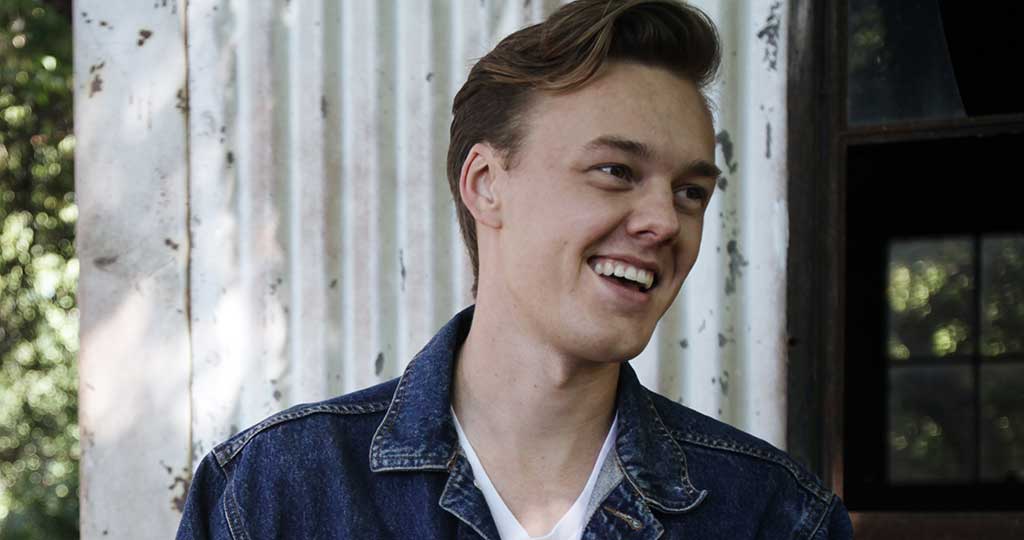 THIS EVENT IS SOLD OUT.
"Witnessing Parker Millsap sing for the first time is a jarring experience, because the sights and sounds just don't seem to match up: the slightly built [Oklahoman] has a bluesy, powerful rasp of a howl that sounds equally suited for juke joints or church tents." —Rolling Stone
The Oxford American magazine is excited to welcome Parker Millsap to Little Rock! This is the second show in their 2017-18 Americana Series. Doors open at 6:00 PM, with dinner and drinks available for purchase at that time. The series is made possible in part by presenting sponsor Acura.
---
Parker Millsap didn't know not to sing like this. Listening to old albums as a kid alone in his room, he didn't realize howling like a Delta blues ghost readying the world for rock-and-roll isn't how skinny white boy from Purcell, Oklahoma usually sounds.
"I was listening to records from the '20s and '40s, and the voices that came out were otherworldly," Millsap says. "I was really attracted to that. At the same time, I grew up doing congregational singing in church—you know, everybody stands up, grabs a hymnal, turns to number 162, and sings 'I'll Fly Away' at the top of their lungs. I learned to sing in that context, where nobody's listening to you. We are all just singing."
People not listening to Millsap could only last so long—not just because the arresting power of his voice cuts through any crowd, but also because the twenty-two year-old is always reaching for something worth saying.
Parker Millsap's new album The Very Last Day (Okrahoma Records/Thirty Tigers) proves an ideal vehicle for Millsap's message, delivered via gospel-tinged rock-and-roll poetry. In the midst of a world so fond of condemnation as entertainment, Millsap offers open-armed love of people and their stories. Whether he's singing about the experience of a gay friend, longing for his evangelical father's acceptance, or as the King of the Underworld wild with passion, his character-driven songs mine deep wells of joy and despair to create gut-punching narratives that are sometimes hellish, sometimes heavenly, and always human.
Read More
Date Information

Pricing Info

$30 = Premium Reserved Table
$28 = Reserved Table
$22 = General Admission

GROUP DISCOUNT: Save 15% when you purchase 15 or more General Admission tickets! (Not valid on reserved table seating)

| | | |
| --- | --- | --- |
| TICKET PRICE | SERVICE CHARGE | TOTAL PER TICKET |
| $30.00 | $3.75 | $33.75 |
| $28.00 | $3.50 | $31.50 |
| $22.00 | $3.00 | $25.00 |

Other Info

Becoming a subscriber guarantees the same table for every performance in the series.
Doors open 2 hours prior to each show.
Tickets are available for pickup only on the night of the show when doors open.
The venue does not have an on-site box office. Tickets are only sold via Metrotix, or, on the night of the show when the doors open (if tickets remain.)
Buying a reserved or premium reserved ticket guarantees you that specific seat. Seating at tables and countertops is "family style." If you do not purchase all the seats at your table, you will be seated with other patrons.
General Admission Ticketholders - You may sit at stools at the bar, perimeter chairs not at tables, or you may stand. You are not guaranteed a seat, as seating is limited and only available first-come-first-seated when the doors open. Once all General Admission chairs are taken, there will only be standing room for all other General Admission ticketholders.
South on Main does not take reservations for ticketed concerts.
Food is served before and throughout the concert.
Shows are all ages. Everyone must have a ticket to attend.
Free surface lot parking is available.
Additional Info: http://southonmain.com/pages/faq-ticketing-seating/

METROTIX SALES END: Noon day of show
Venue Information
South on Main
1304 Main Street , Little Rock, Arkansas 72202