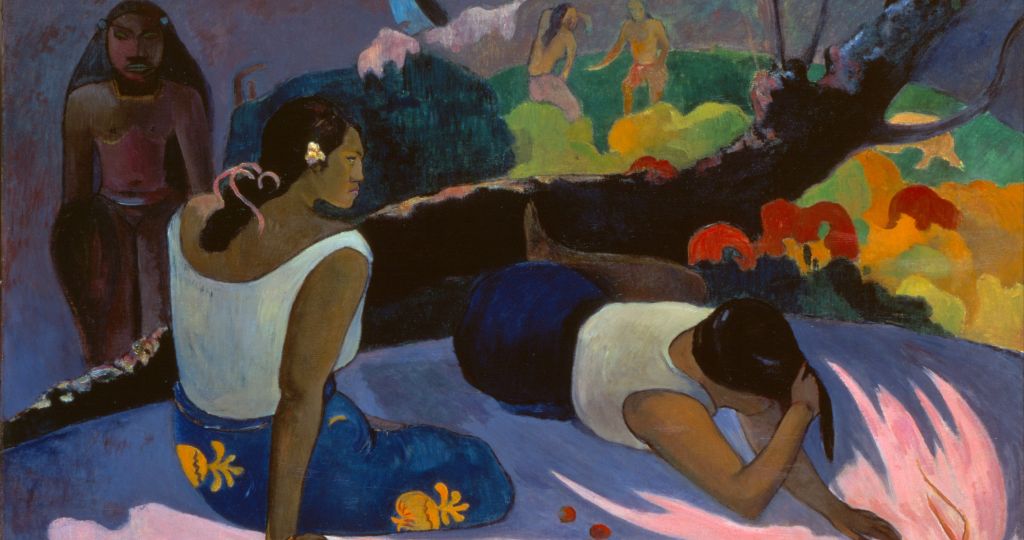 Paul Gauguin: The Art of Invention
Main Exhibition Galleries, East Building

Paul Gauguin: The Art of Invention will feature an exceptional display of ninety paintings, wood carvings, ceramics, prints, and writings that showcase the artist's fascination with experimentation in various media. The exhibition is grounded in an exceptional loan of fifty-five works by Gauguin from the distinguished collection of Copenhagen's Ny Carlsberg Glyptotek. The works in this exhibition will take visitors on a journey through Gauguin's artistic output, from early Impressionist paintings to iconic works from Brittany and Tahiti to fascinating three-dimensional objects.
Presented alongside the Glyptotek works are pieces from the Saint Louis Art Museum's collection, including Polynesian sculptures and Peruvian ceramics. There is also an unusual object—Gauguin's manuscript, Catholicism and the Modern Mind, which was given to the Museum in 1948 by film star and St. Louis native Vincent Price.
Paul Gauguin, French, 1848–1903; Reclining Tahitian Women, 1894; oil on canvas; 23 5/8 × 38 9/16 inches; Ny Carlsberg Glyptotek, Copenhagen EXH36.8
Read More
Date Information

Additional Links

Pricing Info

Adult = $15
Student/Senior 65+ = $12
Child 6-12 = $6
Child under 6 = $0

Friday, all tickets = $0

There is a $3 per ticket service charge.

Other Info

Service charge: $3.00/ticket
Admission is available every 15 minutes during entry hours. For online sales, buyers will be able to select the hour of entry (10am hour, 11am hour) and will be assigned the next available 15-minute entry time that meets the request requirements, starting with the first 15-minute entry time. If you wish to specifically purchase a time on the quarter or half hour (10:15am, 10:30am), and it is not offered by the online seller, you should cancel the shopping cart and purchase that specific time slot by phone.
The specific tour time will be listed on-screen prior to your purchase and in on-screen and email confirmations.
MetroTix sales end at 12:01am day of event. "Day of" sales are only available in person at the Art Museum on a first-come, first-served basis.
Entry on Friday is free, but a ticket is required. Advance ticket purchase is recommended. There is a 6 ticket purchase limit for Fridays.
Venue Information
Saint Louis Art Museum
1 Fine Arts Drive , Saint Louis, Missouri 63110
Website

Farrell Auditorium Seating Chart