RACHEL WHITEREAD
EXHIBITION
RACHEL WHITEREAD
EXHIBITION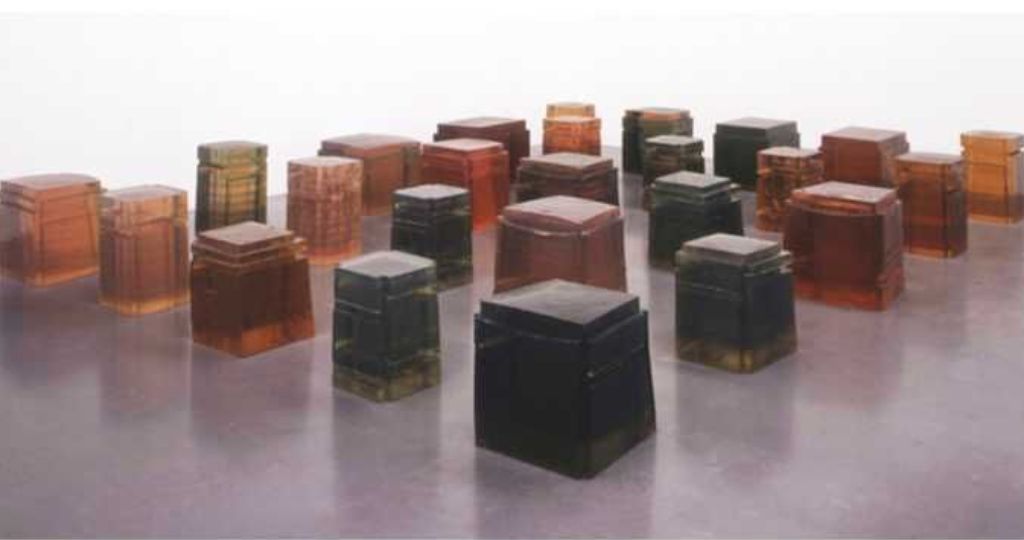 March
17
-
June
9
, 2019
RACHEL WHITEREAD
EXHIBITION
Date

March

17

-

June

9

, 2019

Venue

Saint Louis Art Museum

On Sale

Buy Tickets Now

Tickets

$0 - $12
RACHEL WHITEREAD
EXHIBITION
Main Exhibition Galleries, East Building

The British sculptor Rachel Whiteread is one of the world's leading contemporary artists. Whiteread casts the interiors of buildings, household objects, and furniture, capturing familiar but often overlooked areas of the home—the underside of a chair, the contents of a medicine cabinet, or the inside of a garden shed. Over the course of her 30-year career, she has changed the way that the world thinks about sculpture. Her reverse casts of negative spaces, made of industrial materials such as concrete, plaster, and resin, transform the ordinary and unseen into something enduring, striking, and impossible to ignore.
The exhibition Rachel Whiteread is the first comprehensive survey of the artist's practice, bringing together over 90 artworks that chart a course from her early career to the present. The works range in scale from the diminutive to the monumental, from casts of hot water bottles and toilet-paper rolls to doors, windows, and staircases. A selection of drawings and photographs provides a view into Whiteread's artistic practice and illuminates her complicated casting process. Whiteread memorializes the rich, human histories that are contained within modest objects: she compels us to reconsider our relationship to the material world.
In 1993, Whiteread became the first woman to win the prestigious Turner Prize, an annual prize awarded to a British artist. Since then she has received numerous awards and commissions and her works can be found in the collections of renowned museums around the world, including at the National Gallery of Art in Washington, D.C. and the Tate Britain in London. In 2017, the Saint Louis Art Museum acquired Whiteread's sculpture, Detached III, a cast of a garden shed, which is on view on the southwest lawn.
The exhibition is curated for St. Louis by Simon Kelly, curator of modern and contemporary art, and Hannah Klemm, assistant curator of modern and contemporary art.


Rachel Whiteread, English, born 1963; Untitled (Twenty-Five Spaces), 1995; resin; variable dimensions, smallest: 16 ½ x 11 x 11 ¼ inches, largest: 16 ½ x 18 1/8 x 20 1/8 inches; Private Collection; Image courtesy the artist/ Gagosian, London/ Luhring Augustine, New York/ Galleria Lorcan O'Neill
Adult = $12
Student/Senior 65+ = $8
Child 6-12 = $6
Child under 6 = $0
Friday, all tickets = $0
There is a $3 per ticket service charge.
Service charge: $3.00/ticket
Admission is available every 15 minutes during entry hours. For online sales, buyers will be able to select the hour of entry (10am hour, 11am hour) and will be assigned the next available 15-minute entry time that meets the request requirements, starting with the first 15-minute entry time. If you wish to specifically purchase a time on the quarter or half hour (10:15am, 10:30am), and it is not offered by the online seller, you should cancel the shopping cart and purchase that specific time slot by phone.
The specific tour time will be listed on-screen prior to your purchase and in on-screen and email confirmations.
MetroTix sales end at 12:01am day of event. "Day of" sales are only available in person at the Art Museum on a first-come, first-served basis.
Entry on Friday is free, but a ticket is required. Advance ticket purchase is recommended. There is a 6 ticket purchase limit for Fridays.
Saint Louis Art Museum
1 Fine Arts Drive, Saint Louis, Missouri 63110
Farrell Auditorium Seating Chart