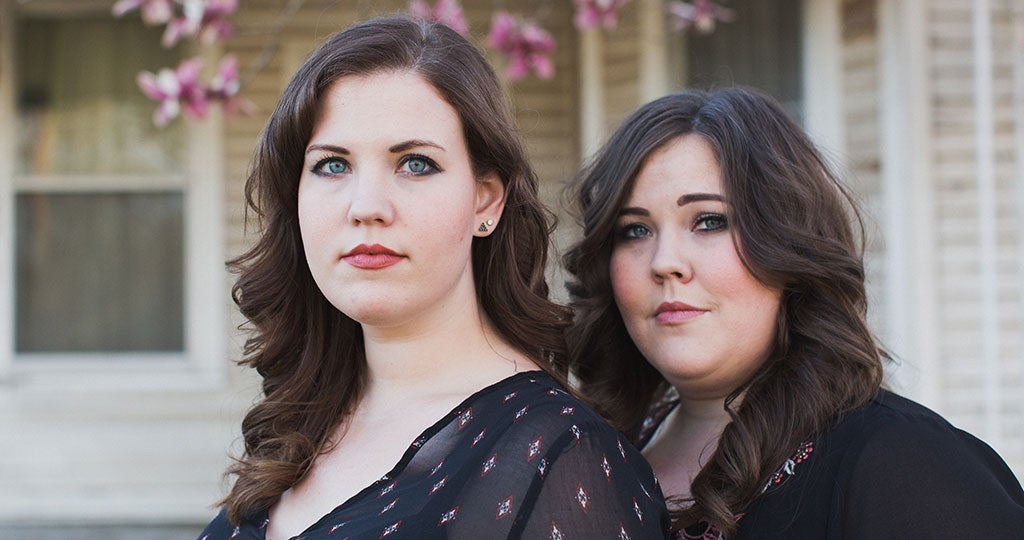 "The Secret Sisters, who developed their enchanting harmonies singing country and church music in their home town of Muscle Shoals, brought Alabama's humid sense of wonder to the world in [their first] two albums blending Southern gospel, bluegrass, barbershop and swing influences, all with a contemporary, poetic twist." —NPR
The Oxford American magazine is excited to welcome The Secret Sisters to Little Rock! This is the first show in their 2017-18 Archetypes & Troubadours Series. Doors open at 6:00 PM, with dinner and drinks available for purchase at that time. The series is made possible in part by presenting sponsors Chris Harkins of Raymond James and J. Mark & Christy Davis.
---
About a twenty-minute drive is all that separated The Secret Sisters from being born in historic Muscle Shoals, Alabama, though its sheer proximity to their hometown of Happy Valley practically foretold that Laura and Lydia Rogers were destined for lives as recording and performing artists.
Growing up surrounded by the sounds of the South and the powerful timeless music emanating from Muscle Shoals, The Secret Sisters were heavily influenced by a range of uniquely American musical styles, including country, bluegrass and gospel, as well as classic rock and pop. They were raised on a rich tapestry of music, listening to everything from George Jones and Loretta Lynn, to The Eagles, Fleetwood Mac, The Ramones, Fiona Apple and Rufus Wainwright. But it was their father, a musician himself, who introduced Laura and Lydia to bluegrass at an early age and spent many weekends bringing his daughters to local bluegrass festivals.
While The Secret Sisters' 2010 eponymous debut was comprised mostly of traditional country songs the sisters grew up loving, although two standouts were Laura and Lydia originals "Tennessee Me" and "Waste The Day." That album introduced the world to the sisters' stunning and seemingly magical ability to blend vocals which developed from singing together in church on Sundays and listening to some of the world's most iconic musicians throughout their upbringing. With that album lauded by critics and adored by their rapidly growing legion of fans, the stage was set for the sisters to advance as artists and further establish themselves as songwriters with Put Your Needle Down (released in 2014). "This record was a long time coming," said Laura. "Most artists don't wait three years or so in between records, but we felt it was important to spend a lot of time on our songs and also broaden our sound."
There is still an aura of mystery that surrounds The Secret Sisters, and they certainly like to keep their fans wondering where they'll head next on their musical journey. But with Laura and Lydia, one thing is for certain: integrity and honesty will guide every note.
Read More
Date Information

September 21, 2017

- 8:00 PM

Pricing Info

$34 = Premium Reserved Table
$32 = Reserved Table
$25 = General Admission

GROUP DISCOUNT: Save 15% when you purchase 15 or more General Admission tickets! (Not valid on reserved table seating)

| | | |
| --- | --- | --- |
| TICKET PRICE | SERVICE CHARGE | TOTAL PER TICKET |
| $34.00 | $4.00 | $38.00 |
| $32.00 | $3.75 | $35.75 |
| $25.00 | $3.00 | $28.00 |

Other Info

Becoming a subscriber guarantees the same table for every performance in the series.
Doors open 2 hours prior to each show.
Tickets are available for pickup only on the night of the show when doors open.
The venue does not have an on-site box office. Tickets are only sold via Metrotix, or, on the night of the show when the doors open (if tickets remain.)
Buying a reserved or premium reserved ticket guarantees you that specific seat. Seating at tables and countertops is "family style." If you do not purchase all the seats at your table, you will be seated with other patrons.
General Admission Ticketholders - You may sit at stools at the bar, perimeter chairs not at tables, or you may stand. You are not guaranteed a seat, as seating is limited and only available first-come-first-seated when the doors open. Once all General Admission chairs are taken, there will only be standing room for all other General Admission ticketholders.
South on Main does not take reservations for ticketed concerts.
Food is served before and throughout the concert.
Shows are all ages. Everyone must have a ticket to attend.
Free surface lot parking is available.
Additional Info: http://southonmain.com/pages/faq-ticketing-seating/

METROTIX SALES END: Noon day of show
Venue Information
South on Main
1304 Main Street , Little Rock, Arkansas 72202