CLUE: THE MUSICAL
SAINT LOUIS UNIVERSITY U THEATRE & DANCE
CLUE: THE MUSICAL
SAINT LOUIS UNIVERSITY U THEATRE & DANCE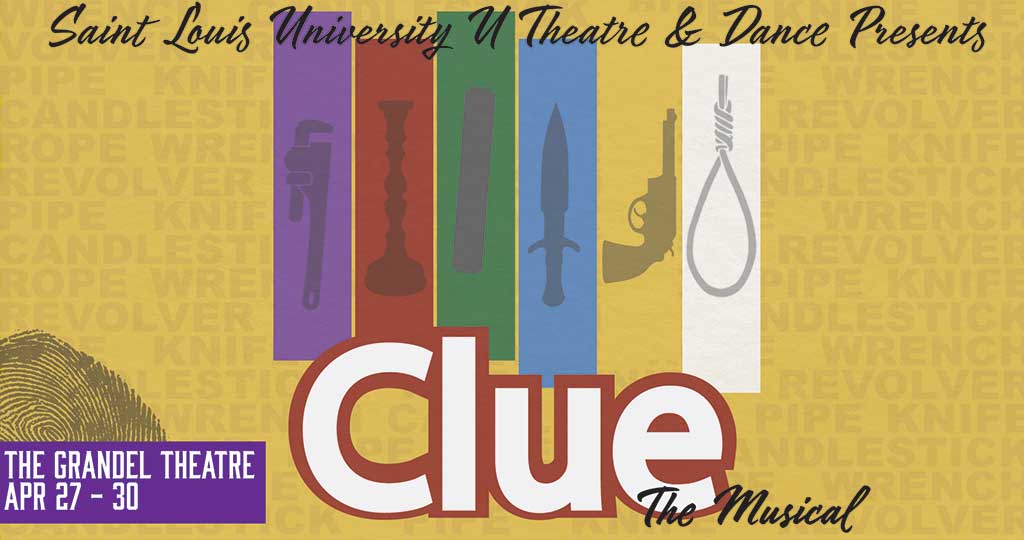 April
27
-
30
, 2023
CLUE: THE MUSICAL
SAINT LOUIS UNIVERSITY U THEATRE & DANCE
CLUE: THE MUSICAL
SAINT LOUIS UNIVERSITY U THEATRE & DANCE
The internationally popular game is now a fun-filled musical that brings the world's best-known suspects to life and invites the audience to help solve the mystery: who killed Mr. Boddy, in what room, and with what weapon. The audience receives forms to help them deduce the solution from clues given throughout the fun-filled evening. Three audience members choose from cards representing the potential murderers, weapons, and rooms; there are 216 possible solutions! Only one hard-nosed female detective is qualified to unravel the merry mayhem. Comic antics, witty lyrics, and a beguiling score carry the investigation from room to room. Even after the culprit confesses, a surprise twist delights the audience. This colorful crowd-pleaser was devised by the authors of Murder at Rutherford House and other popular interactive entertainments.

TICKET PRICE
SERVICE CHARGE
TOTAL PER TICKET
$10.00 - Gen Adm
$10.00 - Reserved Booths (per seat)
$3.00
$13.00
Orchestra Booths seat 4 people. The full 4-seat booth must be purchased in one order.
Balcony Booths seat 6 people. The full 6-seat booth must be purchased in one order.
METROTIX SALES END: performance time
Tickets will be delivered via email, to either print at home or display on your mobile device.
SLU Theatre Season Ticket
The season ticket package includes one ticket for each of the four shows.
Select the performances you wish to attend for a discounted price!
Adult = $30

The Government Inspector @ U Theatre Mainstage / Xavier Hall: October 6 - 9, 2022

Everybody @ U Theatre Mainstage / Xavier Hall: November 17 - 20, 2022
The Wolves @ Kranzberg Arts Center: Feb. 23 - 26, 2023

CLUE: The Musical @ The Grandel: April 27 - 30, 2023
Grandel
3610 Grandel Square, St. Louis, Missouri 63108
The Grandel Theatre is a 600-capacity, world-class performing arts venue operated by the Kranzberg Arts Foundation. Concerts, plays, musicals, dance performances, comedy shows, and much more find a home on The Grandel's stage, activated by KAF resident organizations, independent producers, and local, national & internationally touring artists. Please visit www.thegrandel.com for a full event listing and more information.
The Grandel is a fully handicap accessible and ADA compliant venue. Handicap reserved parking and entrance (via ramp) are located on the direct west side of the building. Entrance to the parking lot is accessible from the alleyway on the south side of the building, off of N. Grand Blvd. or N. Spring Ave. Handicap preferred seating is available in the theatre and at The Dark Room upon reservation / request. All three public floors of The Grandel are handicap accessible via elevator.