Fiddler on the Roof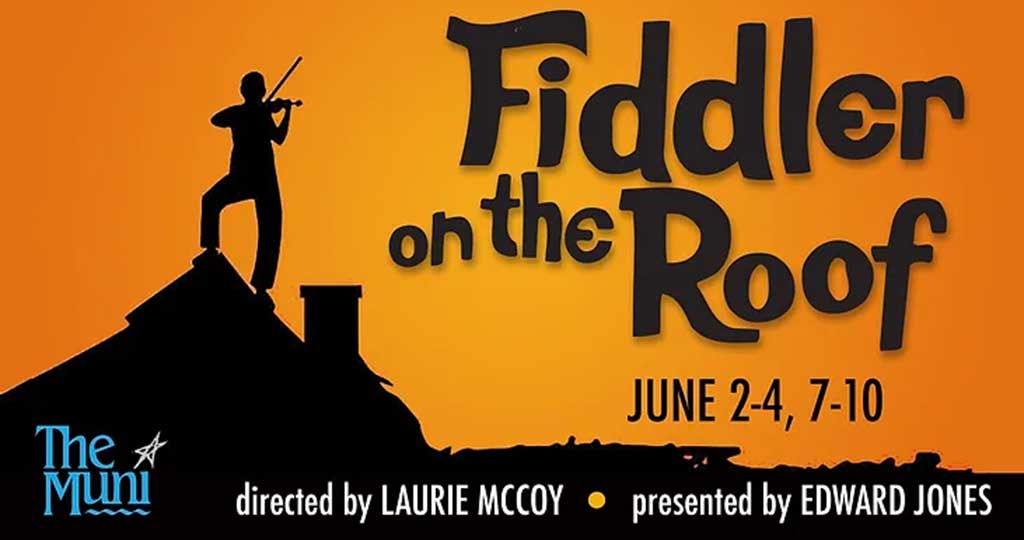 Date

June

2

-

10

, 2023

Venue

Springfield Muni Opera

On Sale

Buy Tickets Now

Tickets

$12 - $22
Season Pass Subscriptions are available now - get four vouchers to redeem for four reserved seat tickets (good only for Muni Opera productions). Seating location is based on availability at the time of redemption.
---
Winner of nine Tony Awards when it debuted in 1964, Fiddler on the Roof is the brainchild of Broadway legends, Jerome Robbins and Harold Prince; songwriters, Jerry Bock and Sheldon Harnick; and bookwriter, Joseph Stein. Touching audiences worldwide with its humor, warmth and honesty, this universal show is a staple of the musical theatre canon.

Set in the little village of Anatevka, the story centers on Tevye, a poor milkman, and his five daughters. With the help of a colorful and tight-knit Jewish community, Tevye tries to protect his daughters and instill them with traditional values in the face of changing social mores and the growing anti-Semitism of Czarist Russia. Rich in historical and ethnic detail, Fiddler on the Roof's universal theme of tradition cuts across barriers of race, class, nationality and religion, leaving audiences crying tears of laughter, joy and sadness.
Book by JOSEPH STEIN
Music by JERRY BOCK
Lyrics by SHELDON HARNICK
DIRECTOR: Laurie McCoy
PRODUCER: Michelle McLaughlin
ASST. DIRECTOR: Marj Berchtold
VOCAL DIRECTOR: Teri Benz
CHOREOGRAPHER: Jamie Impson
APPRENTICE DIRECTOR: Kim Shafer
---
SPONSORED BY:

Springfield Muni Opera
815 East Lake Shore Drive, Springfield, Illinois 62712
Originally conceived on April 21, 1950, as a not-for-profit theatrical organization, the Springfield Municipal Opera Association transformed a 55-acre wheat field into an outdoor amphitheater. On June 17, 1950, thousands of people viewed the opening night performance of our first production, The Merry Widow.
The Muni produces four shows a season, and each summer the Muni audience continues to grow. With support from our sponsors, enthusiastic audiences, and a dedicated and talented corps of volunteers onstage and backstage, the Muni has become one of the largest community theaters in the Midwest. We believe that we are the largest organization of our type in the country that is completely self-supporting, dependent on neither grants, nor tax dollars.
For more than 60 years, we have entertained thousands of people each summer with the best in musical theatre. The Muni is a unique jewel in Springfield's landscape – a beautiful site tucked away at the lake that offers families and friends a venue to spend time together, volunteer, perform, direct and enjoy quality entertainment.
Each year, great thought and consideration are given to developing the season. It is our goal not only to provide you with shows that are familiar but also new productions. We are proud to be part of this community and grateful for your continued support.
When weather is threatening, the Muni consults with the National Weather Service to determine whether or not a show should be canceled for the safety of our patrons, volunteers, and our cast and crew members.
In the event of inclement weather, the Muni reserves the right to hold the start of a performance for a maximum of one hour. The Muni may interrupt a show for a maximum of 30 minutes before cancellation. If a show has played for a total of one hour, rain checks will not be issued. If a show is cancelled and has not played for a total of one hour or to intermission, retain your ticket stub. Your reserved-seat ticket stub may be exchanged for a seat at a subsequent performance. However, the same seat location is not guaranteed. Patrons holding general admission tickets may retain their ticket stub or obtain rain checks before leaving the theater. A performance has not been cancelled until an announcement has been made from the speaker system.