Stone Sea Guided Experience
Stone Sea Guided Experience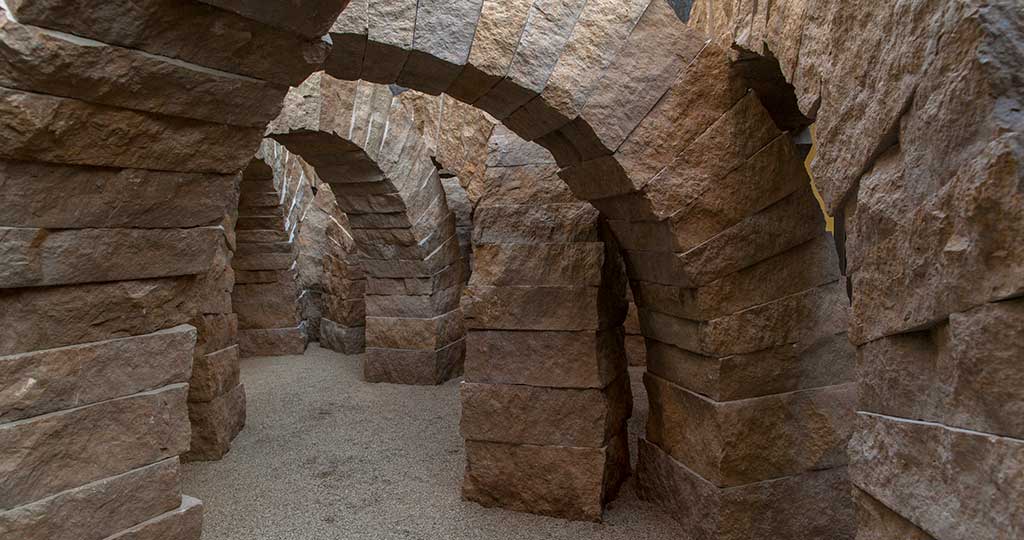 September
24
-
November
17
, 2022
Stone Sea Guided Experience
Date

September

24

-

November

17

, 2022

Venue

Saint Louis Art Museum

On Sale

Buy Tickets Now

Tickets

$10 general public, $5 Members
Stone Sea Guided Experience
Level 1, Concourse

Gain new perspectives on Andy Goldsworthy's Stone Sea as you walk throughout this large-scale sculpture. During this 20-minute guided experience, a Saint Louis Art Museum docent will provide insights into this work of art, commissioned by the Museum and designed by the artist for the space it occupies, while you explore the sculpture. We invite you to take photos for personal use.
This experience involves walking on uneven surfaces. Please wear flat shoes (no high heels). This event is weather-dependent; if the Museum cancels due to inclement weather, tickets will be refunded.
Capacity for each entry time is limited. Tickets are required and advance booking is strongly encouraged.
Andy Goldsworthy, English, born 1956; Stone Sea, 2012; Missouri limestone; courtyard: 12 feet x 73 feet x 20 feet; Saint Louis Art Museum, Commissioned by the Saint Louis Art Museum, Director's Discretionary Fund, and funds given by Mr. and Mrs. Andrew C. Taylor, Paul M. Arenberg Family, James G. and Catherine B. Berges, Mr. and Mrs. F. Gilbert Bickel III, Alison and John Ferring, Roxanne H. Frank, Nancy and Kenneth Kranzberg, Mr. and Mrs. John Peters MacCarthy, Pam and Greg Trapp, Anabeth and John Weil, Mr. and Mrs. Gary Wolff, an anonymous donor, Mr. and Mrs. William C. Rusnack, Mr. and Mrs. David C. Farrell, Jane S. Shapleigh, Hope and Julian Edison, Eleanor J. Moore, Terry Moore Shepley, the Paul and Elissa Cahn Foundation, Mrs. Barbara S. Eagleton, Marcia Jeanne Hart, Bettie S. Johnson, Kodner Gallery, Jim and Dorte Probstein, Emily Rauh Pulitzer, Judge and Mrs. Charles A. Shaw, Susan and David Sherman III, Mary Ann and Andrew Srenco, the Third Wednesday Group, Keith H. Williamson, Jerome F. and Judith Weiss Levy, Helen Kornblum; and gift of Paul and Elissa Cahn and bequest of Guy A. Thompson, by exchange 30:2012; © Andy Goldsworthy 2012, Courtesy Galerie Lelong & Co., Photography by Scott Smith
General Public: $10.00
Museum Members: $5.00

There is a $3 per ticket service charge on all tickets.

2 ticket purchase limit
Service charge: $3.00/ticket
Admission is available every 30 minutes during entry hours.
The specific tour time will be listed as the "Section" on-screen prior to your purchase and in on-screen and email confirmations.
MetroTix.com sales end 1 hour prior to each tour hour. (All 10am times - 10:00am, 10:30am - will end sales at 9am on the day of event, etc.) Day of event sales will be delivered electronically, either via print-at-home or mobile ticketing.
Saint Louis Art Museum Members: Click Here to Enter Your Promo Code
Saint Louis Art Museum
1 Fine Arts Drive, Saint Louis, Missouri 63110
Farrell Auditorium Seating Chart
As of March 15, 2022, proof of vaccination against COVID-19 or proof of a medically supervised negative test will no longer be required for events in The Farrell Auditorium. The health and safety of our Members, patrons, and staff are important to us. Due to the evolving nature of safety protocols and updated CDC guidance please review our health and safety guidelines before attending any program or event at the Saint Louis Art Museum.
We highly recommend all patrons, especially those who are unvaccinated, wear a face mask in The Farrell Auditorium and while visiting the Museum's galleries.
For full details of this policy and the most up-to-date information about the Museum's safety protocols, visit slam.org/covid-19-response.