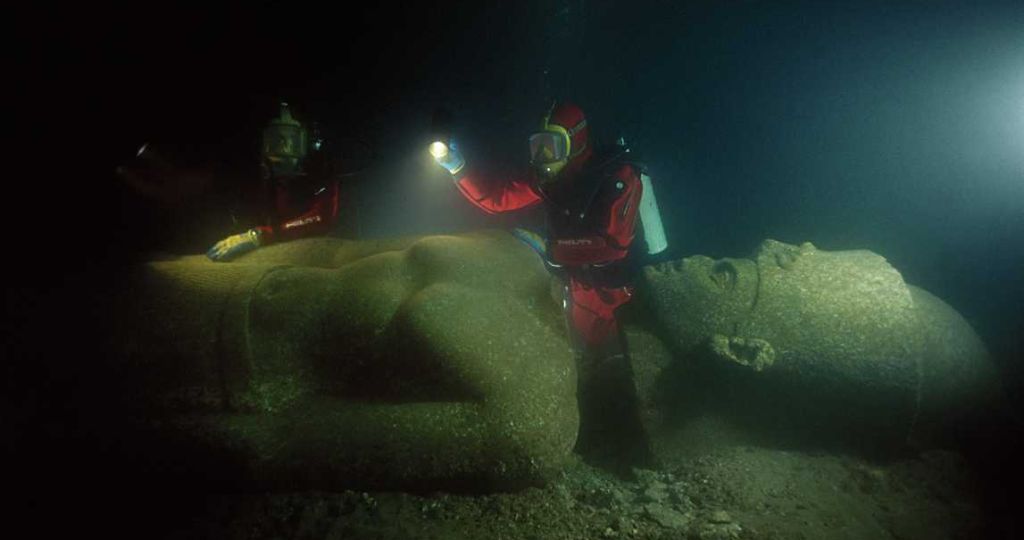 SUNKEN CITIES: EGYPT'S LOST WORLDS
The Saint Louis Art Museum will be the first North American art museum to tell the epic story of one of the greatest finds in the history of underwater archaeology, a story that revealed two lost cities of ancient Egypt submerged under the Mediterranean Sea for over a thousand years. World-renowned underwater archaeologist Franck Goddio and his team discovered these submerged worlds uncovering stunning ancient religious, ceremonial, and commercial artifacts, which has led to a greater understanding of life during the age of pharaohs.
More than 200 of these authentic artifacts, including three colossal 16-foot sculptures of a pharaoh, a queen, and a god will be on view. Objects range from the colossal sculptures to precious gold coins and jewelry, bronze vessels, objects inscribed in the ancient Egyptian or Greek languages, and statues from the sunken and forgotten ancient cities of Thonis-Heracleion and Canopus. They will be seen alongside ancient Egyptian artifacts from museums in Cairo and Alexandria, many of which have never been on view in the United States.
Colossal statue of a Ptolemaic king reassembled underwater after excavation and preliminary cleaning, Thonis-Heracleion, Egypt; red granite; Maritime Museum, Alexandria (SCA 279); IEASM Excavations; Photo: Christoph Gerigk © Franck Goddio / Hilti Foundation
Read More
Date Information

Additional Links

Pricing Info

Adult = $20
Student/Senior = $18
Child 6-12 = $8
Child under 6 = $0

Friday, all tickets = $0

There is a $3 per ticket service charge.

Other Info

Service charge: $3.00/ticket
Admission is available every 15 minutes during entry hours. For online sales, buyers will be able to select the hour of entry (10am hour, 11am hour) and will be assigned the next available 15-minute entry time that meets the request requirements, starting with the first 15-minute entry time. If you wish to specifically purchase a time on the quarter or half hour (10:15am, 10:30am), and it is not offered by the online seller, you should cancel the shopping cart and purchase that specific time slot by phone.
The specific tour time will be listed on-screen prior to your purchase and in on-screen and email confirmations.
MetroTix sales end at 12:01am day of event. "Day of" sales are only available in person at the Art Museum on a first-come, first-served basis.
Entry on Friday is free, but a ticket is required. Advance ticket purchase is recommended. There is a 6 ticket purchase limit for Fridays.
Venue Information
Saint Louis Art Museum
1 Fine Arts Drive , Saint Louis, Missouri 63110