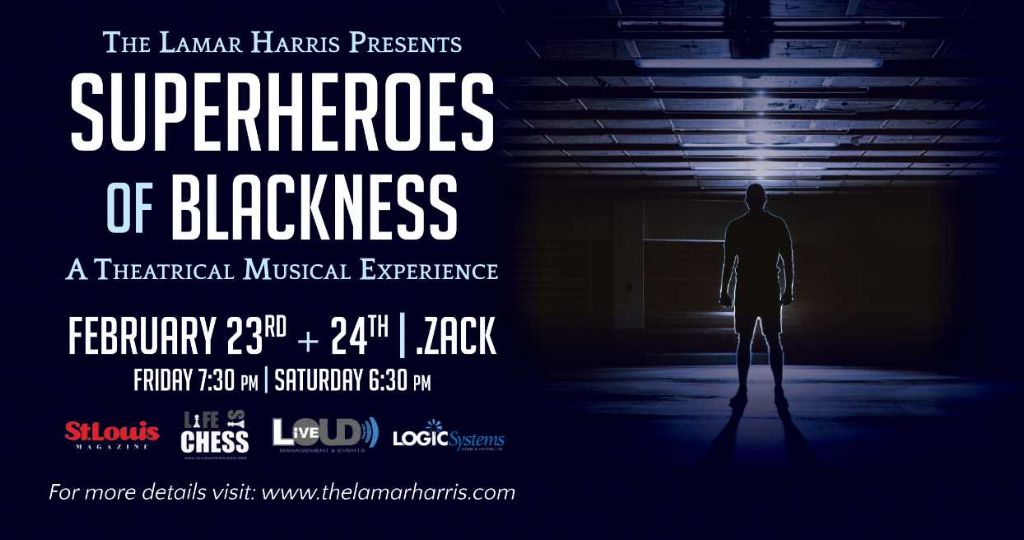 THE LAMAR HARRIS PRESENTS "SUPERHEROES OF BLACKNESS"
Just in time for Black History Month, comes the premiere of creative producer Lamar Harris' ground-breaking original theatrical production, "Superheroes of Blackness" at Zack on Friday February 23, 2018 at 7:30pm with an encore presentation on Saturday February 24, 2018 at 6:30pm.

Written by playwright Lois Hicks with musical compositions by contributors Jason "Dirtylynt" Moore, Paige Alysia, Alphonso Harried and Harris, "Superheroes of Blackness" main character "LJay" will explore the implications of our world's future in the year 2609 by examining the problems we face at present in 2018.
"LJay", an artificial intelligent being from the future, embarks on a quest to her past and our present to save the St. Louis urban community by assembling a task force of "superheroes" to tackle the issues that threaten the resilience and ultimate survival of St. Louis.
The vision of cartoonist/animator David Gordon and voiced by Jacqueline Thompson, 16 African-American comic book "Superheroes" and "LJay" will take the audience on a live computer-animated journey of epic proportions to face and overcome societal threats ranging from homicide, homelessness, to black empowerment. Producer Harris proudly proclaims "this is the first time in St. Louis that you have a lead character in a theater production that is animated. Combine that with the live band soundtrack with the amazing visuals and it becomes a unique experience."
A technological and musical spectacle, "Superheroes of Blackness" will transport the audience members through the sounds of Lamar Harris and an eight-piece live ensemble, the visionary digital set designs of Geordy Van Es. L Jay and costume designs of Nyla Coleman, all combined to bring this story of hope and inspiration to all.

"Superheroes of Blackness" will tap into the superhero and superpowers within us all while promoting a provocative dialogue about the greatness our city has within itself. In a time when our community's survival and our society's next evolutionary steps leave more questions than answers, this is not an experience to be missed. Make plans to attend and be a part of the conversation and the solution.
Read More
Date Information

February 23, 2018

- 7:30 PM

February 24, 2018

- 6:30 PM

Additional Links

Pricing Info

| | | |
| --- | --- | --- |
| TICKET PRICE | SERVICE CHARGE | TOTAL PER TICKET |
| $20.00 - general admission | $3.50 + $1 facility fee | $24.50 |

Other Info

METROTIX SALES END:
Phone/Internet: 3 hours prior to show
Fox Box Office: 1 hour prior to show

The .ZACK box office opens 1 hour prior to show.
Venue Information
.ZACK
3224 Locust Street , St. Louis, Missouri 63103
The .ZACK is the Kranzberg Arts Foundation's new four-story, 40,000-square foot property, developed in the historic Cadillac building at 3224 Locust St. housing:

- The .ZACK Theatre, a 202-seat proscenium-style theatre to be shared by .ZACK's resident arts organizations as part of the .ZACK Performing Arts Incubator Program which also includes co-op office space, a community scene shop with separate build and paint rooms, and prop/set storage all located in the .ZACK building.

- A full-service catering company and restaurant, Turn by David Kirkland, owned/operated by award-winning local chef David Kirkland (formerly of Café Osage).

- The Urban Ballroom, a fourth-floor, private event space with full-service catering options by David Kirkland Catering. The Urban Ballroom features panoramic views of downtown St. Louis, a customizable layout, and in-house spa, perfect for any event up to 300 people.

- Second floor retail space, the future home of Sophie's Lounge and Music Record Shop.

- Third floor commercial office space available for rent to a wide range of tenants

.ZACK brings synergy, access, and essential infrastructure for the performing arts community in St. Louis, and will be a venue in which patrons can have a dynamic, 360-degree experience. From theater fans to food and beverage lovers, and those looking to host special events, .ZACK will provide a world class experience for audiences from across the region.
Read More
Website

Accessibility

The .ZACK is wheelchair accessible.