THE TRIUMPH OF LOVE (CANCELLED)
WASHINGTON UNIVERSITY PERFORMING ARTS DEPARTMENT
THE TRIUMPH OF LOVE (CANCELLED)
WASHINGTON UNIVERSITY PERFORMING ARTS DEPARTMENT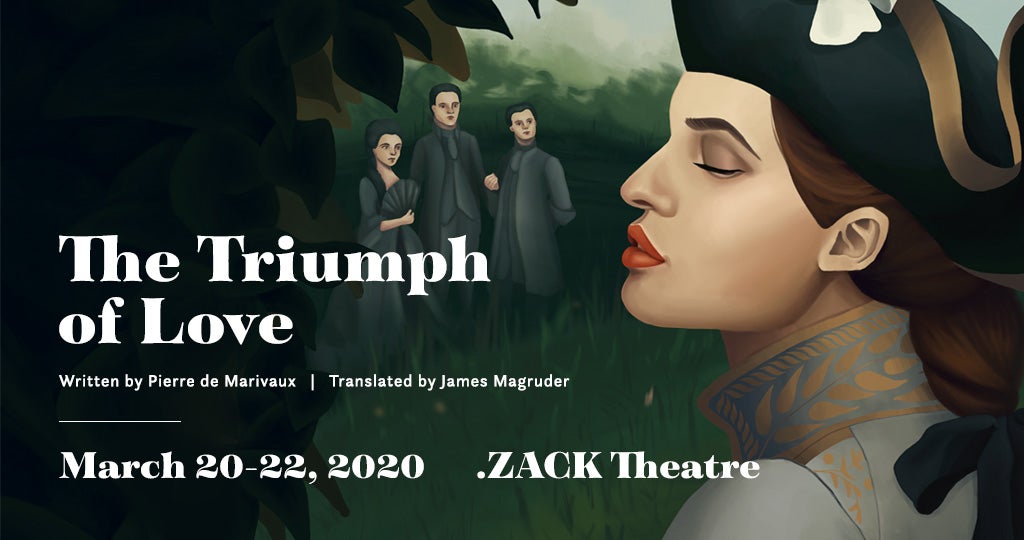 March
21
-
22
, 2020
THE TRIUMPH OF LOVE (CANCELLED)
WASHINGTON UNIVERSITY PERFORMING ARTS DEPARTMENT
Date

March

21

-

22

, 2020

Venue

.ZACK

Tickets

$0 - $20
THE TRIUMPH OF LOVE (CANCELLED)
WASHINGTON UNIVERSITY PERFORMING ARTS DEPARTMENT
THIS EVENT HAS BEEN CANCELLED.
Full refunds will be issued at the point of purchase. MetroTix charge-by-phone and internet orders will be refunded automatically.
---
Marivaux's The Triumph of Love is a brilliant comedic study on the machinations of the human heart. What measures will we take in order to win the beloved? How many hearts will we break to secure our one true love?
First presented at the Comédie-Italienne in Paris in 1732, The Triumph of Love recounts the intrusion of Princess Léonide into the scholarly and "enlightened" retreat of Hermocrate the philosopher and his dutiful sister Léontine. The Princess has disguised herself as a young man (Phocion) in search of learning, but she really seeks the love of Agis, a stunning young man of princely pedigree living on Hermocrate's estate.
Hemocrate and Leontine, middle aged and following life-long commitments to reason over passion, are forced to confront the startling possibility of falling madly in love later in life. Is it possible? Isn't it really just too late? What does it cost to abandon philosophical principles for the volatility of love? In contrast to this, we witness the dazzlingly selfish tactics of young lovers determined to have all that their hearts desire.
The Triumph of Love delivers in subtle and sophisticated ways; it is an eighteenth-century comedic gem that speaks with a wise and contemporary voice.


*Presented in collaboration with the Performing Arts Department of Washington University and the American Society for Eighteenth-Century Studies.
Buy Tickets
Sat.
March
21
, 2020
/ 8:00 PM
Sun.
March
22
, 2020
/ 2:00 PM
TICKET PRICE
SERVICE CHARGE
TOTAL PER TICKET
$20.00 - General Admission
$3.00 + $1 facility fee
$24.00
$0.00 - Wash U Students with ID
(at the door only)
n/a
$0.00
METROTIX SALES END:
Phone/Internet: 3 hours prior to show
Fox Box Office: 1 hour prior to show
The .ZACK box office opens 1 hour prior to show.
.ZACK
3224 Locust Street, St. Louis, Missouri 63103
The .ZACK is the Kranzberg Arts Foundation's new four-story, 40,000-square foot property, developed in the historic Cadillac building at 3224 Locust St. housing:

- The .ZACK Theatre, a 202-seat proscenium-style theatre to be shared by .ZACK's resident arts organizations as part of the .ZACK Performing Arts Incubator Program which also includes co-op office space, a community scene shop with separate build and paint rooms, and prop/set storage all located in the .ZACK building.

- A full-service catering company and restaurant, Turn by David Kirkland, owned/operated by award-winning local chef David Kirkland (formerly of Café Osage).

- The Urban Ballroom, a fourth-floor, private event space with full-service catering options by David Kirkland Catering. The Urban Ballroom features panoramic views of downtown St. Louis, a customizable layout, and in-house spa, perfect for any event up to 300 people.

- Second floor retail space, the future home of Sophie's Lounge and Music Record Shop.

- Third floor commercial office space available for rent to a wide range of tenants

.ZACK brings synergy, access, and essential infrastructure for the performing arts community in St. Louis, and will be a venue in which patrons can have a dynamic, 360-degree experience. From theater fans to food and beverage lovers, and those looking to host special events, .ZACK will provide a world class experience for audiences from across the region.
The .ZACK is wheelchair accessible.