TJ MULLER TRIO
PNC PICNICS ON THE PLAZA
TJ MULLER TRIO
PNC PICNICS ON THE PLAZA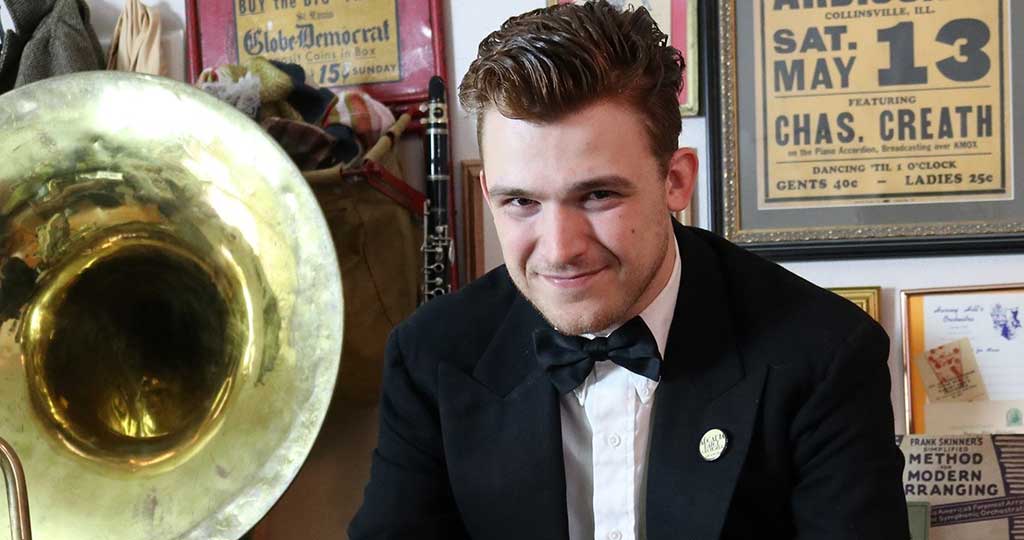 June
18
, 2021
TJ MULLER TRIO
PNC PICNICS ON THE PLAZA
Date

June

18

, 2021

Event Starts

8:00 PM

Venue

Sheldon

On Sale

Buy Tickets Now

Tickets

$20 - $40 per table
TJ MULLER TRIO
PNC PICNICS ON THE PLAZA
Due to the predicted high temperatures on Friday, this event will now start at 8 p.m., with "doors" and seating beginning at 7:30 p.m.
---
Join us for these casual, outdoor concerts on The Sheldon's elegant Steward Family Plaza! Enjoy live music by some of St. Louis' best musicians, while enjoying a boxed picnic dinner and drinks at socially-distanced tables of 2-4 people.
Tables will be sold for up to 2 or 4 guests from the same family or quarantine group and capacity is limited. An optional picnic dinner and bottles of wine may be purchased along with your concert ticket. Picnics must be ordered by 11am on Wednesday, June 16. Place picnic orders here.
Drinks may also be purchased on-site. No outside food or beverages, please. Advance registration is required. No tables will be sold on the night of the event. Guests ages 9 and above are required wearing face masks at all times except when seated at their reserved tables.
Sharing his passion for music and history in every performance, T.J Muller performs authentic 1920s- and '30s-era jazz music with gusto and charisma, leading various ensembles throughout the St. Louis-area, ranging from duos to a full 12 piece dance orchestra. Muller has dynamic style of ragtime and a variety of jazz and blues.

Picnics on the Plaza are sponsored by PNC.
Rain date: June 20
Buy Tickets
Fri.
June
18
, 2021
/ 8:00 PM
| | | |
| --- | --- | --- |
| TABLE PRICE | SERVICE CHARGE | TOTAL PER TABLE |
| $20.00 - Up to 2 People | $4.00 | $24.00 |
| $40.00 - Up to 4 People | $8.00 | $48.00 |
Tables will be assigned upon arrival.
Visitor Arrival and Experience
​​​​The events will take place outdoors on The Sheldon's Steward Family Plaza. Capacity for the events will be capped at 18 seated tables at 6′ apart, for 2-4 guests each, for a total of 48 people.
Guests ages 9 and above are required wearing face masks at all times except when seated at their reserved tables. Masks will be provided for those who do not have one. Face shields will also be available for those who are unable to wear masks.

Guests will be allowed to remove or lower their masks/face coverings when drinking or eating at their tables.

Tables will be assigned. Groupings must be from the same household or quarantine group.
Tables will be spaced at least 6 feet apart, and musicians will be distanced at least 12 feet from the nearest table.
Advanced reservations are required.
Guests will check in with Sheldon staff at an outdoor table, fitted with a plexiglass barrier. Guests who ordered dinners will pick up their meals at the registration table upon check in. All food will be pre-paid, boxed meals provided by a licensed caterer and distributed upon check in by Sheldon staff wearing clean gloves and masks, and in a "no-contact" transfer, ie. placing items down on a table for guest to pick up.
A bar will be situated just inside The Sheldon's Emerson Entrance. A plexiglass barrier will separate guests from staff, and all bar sales will be limited to credit card payments only. No cash or check payments will be accepted.
For restroom access, guests will be directed to dedicated entrance and exit routes at the street level entrance of The Sheldon's Emerson Galleries building.
Elevator capacity is 3 persons for our large freight elevator and 2 for our regular sized elevator. Capacity signs are listed both inside and outside of each. Guests will also be encouraged to bypass the elevators and take stairs if they are able.
Guests will affirm basic wellness on the day of their visit, including confirmation that:

They have not come into contact with, been exposed to, or been quarantined with anyone or is suspected of being exposed to COVID-19 in the past two weeks.
They are not experiencing symptoms of cough, shortness of breath or difficulty breathing, fever, chills, repeated shaking with chills, muscle pain, headache, sore throat or loss of taste of smell.

Visitors who express to us that they do not feel well on the day of their visit will be isolated in a dressing room and have their temperature taken. If they register 100.4 degrees or higher during the temperature check, will be asked to leave and consult with their physician on next steps.
All interior doors will be propped open, including restrooms where able.
Social distancing will be encouraged with signage throughout The Sheldon and plaza. Floor markings will be used at high traffic areas such as restrooms and bar.
Catering/Bar Service:
All food will be pre-paid, boxed meals provided by a licensed caterer and distributed upon check in by Sheldon staff wearing clean gloves and masks, and in a "no-contact" transfer, ie. placing items down on a table for guest to pick up.
All service ware for food or beverage will be disposable/one-time use.
Plexiglass will be mounted at each bar between guests and bar/serving staff.
All beverage items will be served in individual portions by a Sheldon employee. All garnishes and stirring straws will be discontinued.
No plate, vessel or glass will be reused or refilled.
Cleaning and Sanitation:
Enhanced cleaning and sanitation procedures will be in place throughout the evening in public areas, including frequent sanitation of credit card terminals, hard surfaces such as table tops and counters, light switches, elevator buttons, bathroom faucets, sinks, toilets, door handles and push/pull bars, etc.
Hand sanitizing stations with at least 70% alcohol formulas will be located throughout The Sheldon, including at arrival sign-in, at the bar and in staff work areas.
Increased cleaning during all events using CDC approved cleansers.
Water fountains will be closed and public spaces not in use will be cordoned off from public access.
Staff will be trained in safety and sanitation procedures.
Ticket sales will end at 6pm on the night of the event.
Food sales will end at 11am on the Wednesday prior to the event. Bottle wine advance sales will end at 6pm on the night of the event.
Ticket delivery will be via email. Guests can print their tickets at home or download the mobile ticket.
Rain date: June 20
Sheldon
3648 Washington Boulevard, Saint Louis, Missouri 63108
Beginning April 22, 2022, The Sheldon will no longer require proof of vaccination or negative COVID-19 test to enter. Masks are also no longer required for entry. For the health and safety of patrons, volunteers, staff and artists, The Sheldon recommends masking at all times, unless eating or drinking, especially for those who are unvaccinated.
Mask and vaccination policies are subject to change at the request of the performer or event organizer. Please check the website for information about individual events.
Ticket holders will be contacted directly if the policy for their event differs from general Sheldon policies.
Please note that these policies are also subject to change in accordance with any local mandates. The Sheldon will continue to follow the guidance and mandates set forth by public health and our local government, and will be reevaluated as vaccination and transmission rates change over the coming months.
All public facing staff, including ushers, bartenders, security personnel and box office staff will remain masked.
The Sheldon will also maintain a flexible ticket exchange policy throughout the season to accommodate any health and safetyrelated concerns
Concert Hall Seating Chart
A street level entrance is available, with an elevator to the 2nd, 3rd and 4th floors of the building.
Contact The Sheldon in advance to reserve an accessible parking spot on The Sheldon's west parking lot. 314.533.9900
CONCERT HALL: The Sheldon balcony is NOT wheelchair accessible. Accessible seating is located at the rear of the Orchestra level.
For events with General Admission (open) seating, please see an usher or the box office when you arrive at The Sheldon to arrange for a seating location, or call The Sheldon at 314-533-9900 to reserve an accessible location in advance.
Online purchases for wheelchair accessible seating in the Concert Hall are limited to two tickets (wheelchair + companion). Patrons with more specific needs or who need more than two tickets in an accessible area should contact The Sheldon at 314-533-9900.
BALLROOM & LOUIS SPIERING ROOM: These spaces are accessible via elevator and do not generally require special ticketing, unless specifically noted.
Unless otherwise noted:
Senior pricing, if available, is for ages 62+
Doors to the building generally open 1 hour prior to performance time. Will Call is generally available at that time.