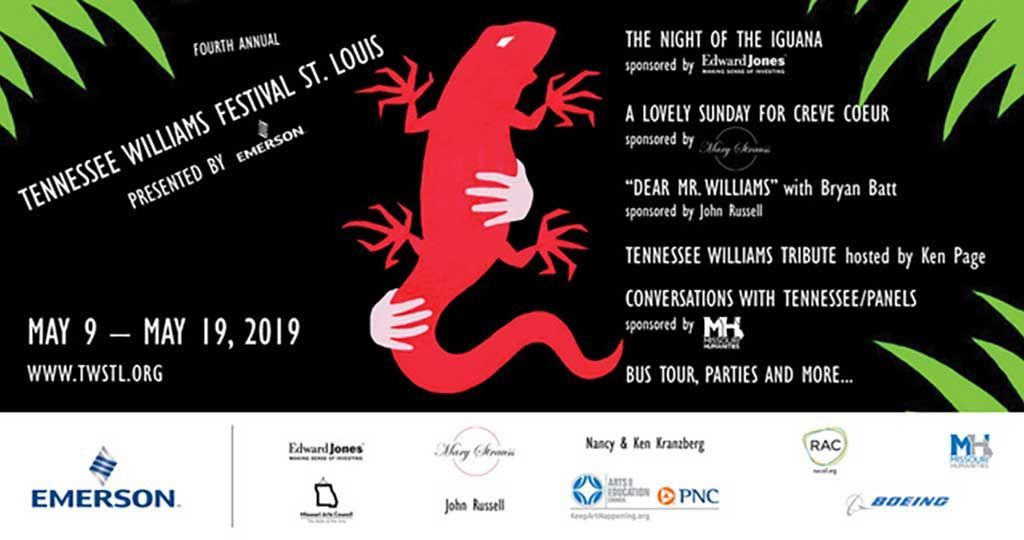 CONVERSATIONS WITH TENNESSEE - PANEL DISCUSSIONS
Conversations with Tennessee: Panel Discussions curated by Tennessee Williams expert Thomas Mitchell

Four panels address aspects of the author's life and work. Each will begin with a brief performance of material from Tennessee Williams's letters, journals, or other writing, followed by a discussion between artists and scholars.

9am: Progressive Politics in Tennessee Williams' St. Louis – Greg Carr, Melissa Wolfe
Williams came of age in the politically, socially, and racially radical 1930s. What can be learned from understanding the artists, writers, and activists who were centered at Franklin and Grand 80 years ago? In The Dark Room

10am: Tennessee in Mexico: The Playwright as Tourist – Michael Wilson, Nisi Sturgis, Tim Ocel
From the early years of his career, Williams travelled to Mexico as a retreat from the pressures of his professional life. What does his writing tell us about the influence of Mexican culture in work like "The Night of the Iguana?" In The Dark Room
11am: Why Tennessee? Why Now?
David Kaplan, Michael Wilson (Moderated by Tom Mitchell)
Tennessee Williams lived in St. Louis 85 years ago, but his work offers a springboard to consider issues of gender, race, and national identity today. A group of artistic leaders discuss how and why Williams merits a festival in the city he once called home. In The Dark Room
3pm: An Open Discussion on Respect and Representation
At a time when society has become extremely divided and distrustful, issues of representation are demanding the attention of theatre producers. How can we be respectful of cultural differences and also explore aspects of human experience that transcend them? Williams situated Night of the Iguana in 1940s Mexico where displaced Americans, Baptist schoolteachers, and Nazis crowd out native youths. Can we get to the truths Williams was after amidst the cultural collision? In Grandel Theatre
All panels sponsored by : Missouri Humanities Council
Read More
Date Information

Additional Links

Pricing Info

TICKET PRICE
SERVICE CHARGE
TOTAL PER TICKET
$10.00 - General Admission, per panel
$3.00 + $1 facility fee
$14.00
$25.00 - 3-Panel Combo Ticket
(Dark Room panels only)
CLICK HERE TO PURCHASE
$3.75 + $3 facility fee
$31.75

Other Info

METROTIX SALES END:
Phone/Internet: 3 hours prior to show
Fox Box Office: 1 hour prior to show

The venue box office opens 1 hour prior to show.

Main festival box office will be located at The Grandel and open at least 1 hour prior to/ & following the start of each production in The Grandel Theatre, Grand Hall, or The Dark Room.

Have a promo code?
Venue Information
Grandel
3610 Grandel Square , St. Louis, Missouri 63108
The Grandel Theatre is a 600-capacity, world-class performing arts venue operated by the Kranzberg Arts Foundation. Concerts, plays, musicals, dance performances, comedy shows, and much more find a home on The Grandel's stage, activated by KAF resident organizations, independent producers, and local, national & internationally touring artists. Please visit www.thegrandel.com for a full event listing and more information.
Read More
Seating Chart

Accessibility

The Grandel is a fully handicap accessible and ADA compliant venue. Handicap reserved parking and entrance (via ramp) are located on the direct west side of the building. Entrance to the parking lot is accessible from the alleyway on the south side of the building, off of N. Grand Blvd. or N. Spring Ave. Handicap preferred seating is available in the theatre and at The Dark Room upon reservation / request. All three public floors of The Grandel are handicap accessible via elevator.