URINETOWN (CANCELLED)
New Line Theatre
URINETOWN (CANCELLED)
New Line Theatre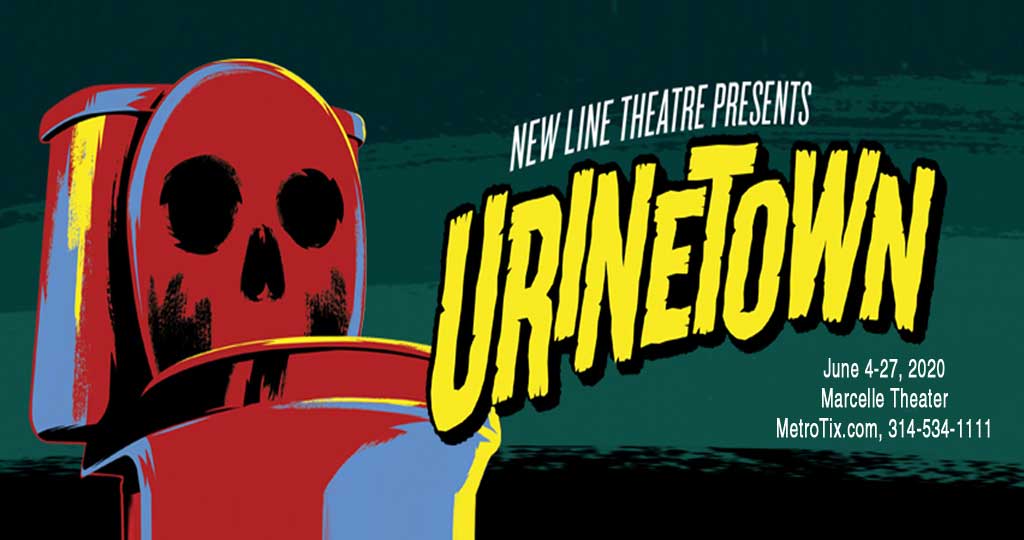 June
4
-
27
, 2020
URINETOWN (CANCELLED)
New Line Theatre
Date

June

4

-

27

, 2020

Venue

Marcelle

Tickets

$12.50 - $30.00
URINETOWN (CANCELLED)
New Line Theatre
THESE EVENTS HAVE BEEN CANCELLED.
Full refunds are available, but the Kranzberg Arts Foundation is encouraging all ticket holders to donate the value of your ticket to the presenter instead of asking for a refund. Please contact the point of purchase to request a refund or to donate your tickets.
---
Before Yeast Nation, there was Urinetown. God only knows what'll be next.

Mark Hollmann and Greg Kotis' URINETOWN is an hilariously subversive fable of greed, corruption, love, revolution, and urination, in a time when water is worth its weight in gold and there's no such thing as a free pee. Set in a near-future dystopian Gotham, a severe 20-year drought has led to a government-enforced ban on private toilets. The citizens are forced to use public "amenities" now, regulated by a single malevolent company that profits by charging admission for one of humanity's most basic needs. In this nightmare world, the punishment for an unauthorized pee is a trip to the dreaded URINETOWN. But from the ruins of Democracy and courtesy flushes, there rises an unlikely hero who decides he's held it long enough, and he launches a People's Revolution to lead them all to urinary freedom!

Inspired by the outrageous political theatre of Bertolt Brecht and Kurt Weill, and (very) loosely based on the writings of late eighteenth-century political and economic theorist Thomas Malthus, URINETOWN is a gloriously silly, irreverently truthful satire from which no target is safe. This is a show that catapults musical comedy into the new millennium with its rule-shattering tear through the traditions and conventions of musical theatre, leaving nothing but uncontrollable laughter and a great big puddle in its wake.

And that's just Act I.

Cardiff Giant, a theatre company in Chicago, had been known for its outrageous, irreverent social satire, some scripted, some improvised. Two members of the (now defunct) group, Greg Kotis and Mark Hollmann, began working in 1995 on what would become Urinetown. Kotis was also a member of the alternative theatre group the Neo-Futurists, who specialized in evenings of brilliant one- and two-minute plays. During a trip to Europe with the Neo-Futurists, the nearly broke Kotis discovered to his dismay that most public toilets in Europe are pay-to-use. And the idea for Urinetown was born – a musical about a city in the not too distant future where toilets are all "pay-to-pee" and private toilets are outlawed, where all toilets are controlled by a large, malevolent, monopolizing corporation, the Urine Good Company.

When it opened in New York, the official slogan on the Urinetown T-shirts was "An appalling idea, fully realized." Actor Daniel Marcus, who played Officer Barrel, said in an interview, "I call it a love letter to the American musical in the form of a grenade."

In fact, Urinetown is a double satire, laughing at the sappy, happy conventions of old-fashioned musical comedy, but also laughing at shows like Les Miz or Passion which reject those conventions and perhaps go too far the other way. Urinetown raises questions about what we expect from musicals, whether or not "issue musicals" are satisfying entertainment, why certain stories or topics are musicalized, and whether or not serious musicals are too serious.

Bruce Weber in The New York Times said, "There simply is no show I've seen that gives such a sense that the creators and performers are always on the same page of an elaborate, high-spirited joke, that they are the proud members of a cabal that knows what it takes to make the world a better place and that they are thrilled to share what they know." He also called the show "a sensational piece of performance art, one that acknowledges theater tradition and pushes it forward as well." The show was nominated for 9 Tony Awards (winning Best Book and Best Score), 9 Drama Desk Awards, 7 Obie Awards (winning Best Musical), 5 Outer Critics Circle Awards (winning Best Musical), and a Drama League Award for Best Musical.

The New Line cast includes Dominic Dowdy-Windsor (Lockstock), Jennelle Gilreath (Little Sally), Kevin Corpuz (Bobby Strong), Melissa Felps (Hope Cladwell), Kimi Short (Pennywise), Todd Schaefer (Mr. Cladwell), Marshall Jennings (Officer Barrel), Clayton Humburg, Sarah Porter, Zachary Allen Farmer, Ian McCreary, Brian Carles, Kellen Green, Jessica Winingham, Grace Langford, and Carrie Preismeyer. The New Line production will be directed by Scott Miller and Mike Dowdy-Windsor, with music direction by Nicolas Valdez, choreography by Michelle Sauer and Sara Rae Womack, costume design by Sarah Porter, scenic design by Todd Schaefer, and sound design by Ryan Day.

Produced by arrangement with Music Theatre International, New York.
Buy Tickets
Thu.
June
4
, 2020
/ 8:00 PM
Fri.
June
5
, 2020
/ 8:00 PM
Sat.
June
6
, 2020
/ 8:00 PM
Thu.
June
11
, 2020
/ 8:00 PM
Fri.
June
12
, 2020
/ 8:00 PM
Sat.
June
13
, 2020
/ 8:00 PM
Thu.
June
18
, 2020
/ 8:00 PM
Fri.
June
19
, 2020
/ 8:00 PM
Sat.
June
20
, 2020
/ 8:00 PM
Thu.
June
25
, 2020
/ 8:00 PM
Fri.
June
26
, 2020
/ 8:00 PM
Sat.
June
27
, 2020
/ 8:00 PM
All seating is General Admission.
Thursday: Adult = $25, Student/Senior = $20, Military/Educator = $12.50 (with ID)
Friday & Saturday: Adult = $30, Student/Senior = $25
| | | | |
| --- | --- | --- | --- |
| TICKET PRICE | SERVICE CHARGE | FACILITY FEE | TOTAL PER TICKET |
| $30.00 | $4.50 | $1.00 | $35.50 |
| $25.00 | $3.75 | $1.00 | $29.75 |
| $20.00 | $3.00 | $1.00 | $24.00 |
| $12.50 | $3.00 | $1.00 | $16.50 |
METROTIX SALES END: 5pm day of show
Marcelle
3310 Samuel Shepard Drive, Saint Louis, Missouri 63103
Located in the Grand Center Arts District in St. Louis, Missouri, The Marcelle features a state of the art black box theater, professional dance studios, and nonprofit office suites. A "home for the arts", The Marcelle welcomes New Line Theatre, Dance St. Louis & Big Muddy Dance Co., as resident arts organizations, and hosts productions from Kranzberg Arts Foundation residents and independent producers.
Photo: Luke Lindberg