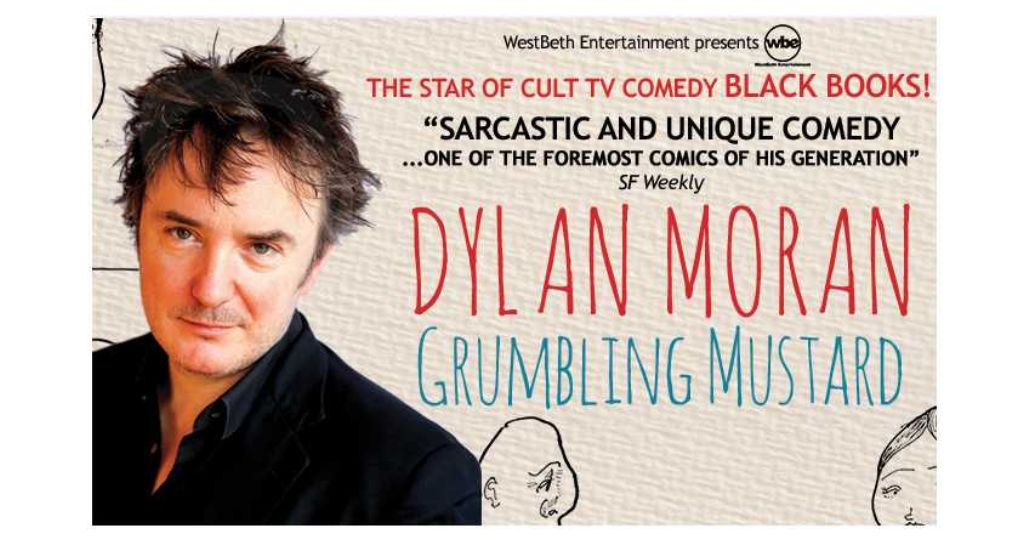 DYLAN MORAN: GRUMBLING MUSTARD
Expect A Master Class In Comedy!
Dylan Moran Returns to the U.S. New Show 'GRUMBLING MUSTARD'
Dylan Moran - The star & co-writer of cult TV comedy Black Books lives up to his reputation as one of the top names in British comedy!
Regarded internationally as the premier comedian of his generation, Moran's searing observations and sumptuous imagery, painted across a large fraying canvas with curmudgeonly 'Moranesque' brush strokes - all delivered with Dylan's renowned, shambolic charm……

"Moran is thoughtful, debonair and erudite, ambivalent and mildly embarrassed by all the attention. His comedy has the rambling feel of a free-associated yarn, but there's a sturdy structure that keeps him moving from topic to topic. There's more on his mind than laughs, or at least, that's the image he projects before the punch lines fly." NY Times
"The greatest comedian, living or dead" Le Monde

"Go enjoy the reflections of one of the masters of stand-up comedy. The star of 'Black Books' and 'Shaun of the Dead', never fails to deliver with his shambolic charm and curmudgeonly manner." Time Out London

Editors Pick! "Irish comedian Dylan Moran is a huge hit in his native UK, notably for his brilliant role as a cantankerous and drunk, yet lovable book shop owner in the series "Black Books." His live stand-up is where he's really making his name now though— consider yourself lucky and don't miss your chance to see one of the funniest comics on either side of the pond." SF Bay Guardian
Critics Pick! "Known for his deadpan delivery, misanthropic tendencies and the unkempt black hair that seems to serve as an emblem for how little of a shit he gives. Moran's observational comedy is some of the cleverest around, tossed off with a winning casualness. Moran isn't huge here yet—but you may recognize him from the cult sitcom Black Books." Time Out NY

"He's glorious - with his keen intelligence and perfectly worded witticisms he'll have you clutching your sides, begging for more." LA Weekly
Read More
Date Information

Additional Links

Pricing Info

| | | |
| --- | --- | --- |
| TICKET PRICE | SERVICE CHARGE | TOTAL PER TICKET |
| $35.00 - Reserved Orchestra | $5.00 + $1 facility fee | $41.00 |
| $35.00 - Reserved Balcony | $5.00 + $1 facility fee | $41.00 |
| $140.00 - Orchestra Booth, seats up to 4 | $15.00 + $1 facility fee | $156.00 per booth |
| $210.00 - Balcony Booth, seats up to 6 | $15.00 + $1 facility fee | $226.00 per booth |

Other Info

PARKING at the lot across the street from The Grandel is available as an add-on item during the transaction for $10.

METROTIX SALES END:
Phone/Internet: 3 hours prior to show
Fox Box Office: 1 hour prior to show

The Grandel box office opens 1 hour prior to show.
Venue Information
Grandel
3610 Grandel Square , St. Louis, Missouri 63108
The Grandel Theatre is a 600-capacity, world-class performing arts venue operated by the Kranzberg Arts Foundation. Concerts, plays, musicals, dance performances, comedy shows, and much more find a home on The Grandel's stage, activated by KAF resident organizations, independent producers, and local, national & internationally touring artists. Please visit www.thegrandel.com for a full event listing and more information.
Read More