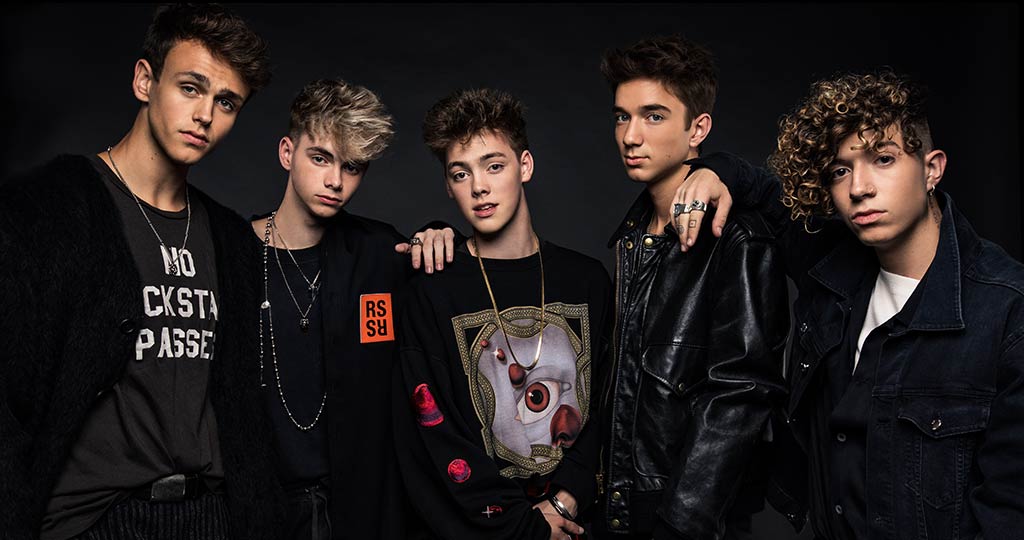 Presented by NOW 96.3
Since their formation in 2016, Why Don't We haven't stopped…Instead, these five young men—Jonah Marais, Corbyn Besson, Daniel Seavey, Jack Avery, and Zach Herron—have forged ahead at warp speed. In under two years, they innovatively amassed a diehard fan base through grassroots engagement in the digital arena fueled by a prolific outpouring of new music, constant social media engagement, and sold-out cross country tours where online "likes" materialized I.R.L. into millions of screaming fans worldwide.
Prior to coming together, each member stood out as a performer in his own right. Jonah and Corbyn often livestreamed in-home performances to massive audience as Zach served up viral covers that generated tens of millions of views. Jack built a growing a subscriber base on YouTube, and Daniel etched a space in the hearts of viewers everywhere on American Idol. They crossed paths during tours and fan engagements in the midst of these burgeoning solo careers.
Soon, they found themselves on a group text where the idea of joining forces came up. Their collective response: "Why don't we?"
Read More
Date Information

Additional Links

Pricing Info

Everyone must have a ticket, regardless of age.
Prices are subject to change.

Print-Your-Own tickets will not be delivered until 3 days after the general on-sale date.

TICKET LIMIT: 6

PLEASE NOTE: Persons who exceed the ticket limit may have any or all of their orders and tickets cancelled without notice by MetroTix in its discretion. This includes orders associated with the same name, e-mail address, billing address, credit card number, or other information. The Fox Theatre and MetroTix reserve the right to revoke tickets that end up on the secondary market.

| TICKET TYPE | TICKET PRICE | SERVICE CHARGE | TOTAL PER TICKET |
| --- | --- | --- | --- |
| Orchestra Pit | $89.50 | $15.25 | $104.75 |
| Premium Orchestra | $89.50 | $15.25 | $104.75 |
| Front Orchestra | $69.50 | $11.75 | $81.25 |
| Center Mezzanine | $69.50 | $11.75 | $81.25 |
| Mid-Orchestra I | $59.50 | 10.25 | $69.75 |
| Side Mezzanine | $59.50 | 10.25 | $69.75 |
| Mid Orchestra II | $49.50 | $8.50 | $58.00 |
| Rear/Side Orchestra | $49.50 | $8.50 | $58.00 |
| Lower Balcony | $49.50 | $8.50 | $58.00 |
| Middle Balcony | $49.50 | $8.50 | $58.00 |
| Upper Balcony | $49.50 | $8.50 | $58.00 |
| Orchestra Corners | $39.50 | $6.75 | $46.25 |

Other Info

METROTIX SALES END: 1 hour prior to performance
Venue Information
Fabulous Fox Theatre
527 North Grand Boulevard , Saint Louis, Missouri 63103
Website

Accessibility

The Fox Theatre is pleased to offer seating and other accommodations for our patrons with special needs. All special accommodations can be requested through MetroTix at 314-534-1111 or 800-293-5949, 9am to 9pm. Deaf or hard of hearing guests may also use the Relay Missouri service by calling 800-735-2966 (TTY) or 800-735-2466.

Wheelchair seating and companion seats are available for all performances at the Fox for purchase at the Fox Box Office, by phone and at metrotix.com.

The Fox Theatre offers performances interpreted for the deaf and hard of hearing by Communicate Plus as well as audio-description services for the visually-impaired. For a schedule of these performances, click here.

A limited number of infrared assistive hearing head sets for the hearing impaired are available at no charge for all performances at Guest Services & Gifts in the main lobby.

A number of accessible parking spaces are located on the north side the Fox Theatre, near the accessible entrance, on the south side of Washington, between Grand Blvd. and Spring Ave. Patrons with special needs may also be dropped off at the accessible entrance.

The front entrance and lobby are accessible and the elevator to other floors is located on the north side of the lobby. The accessible entrance is located on the north side of the building.