Kendrick Smith Quartet
Live @ The Strauss Studio
Kendrick Smith Quartet
Live @ The Strauss Studio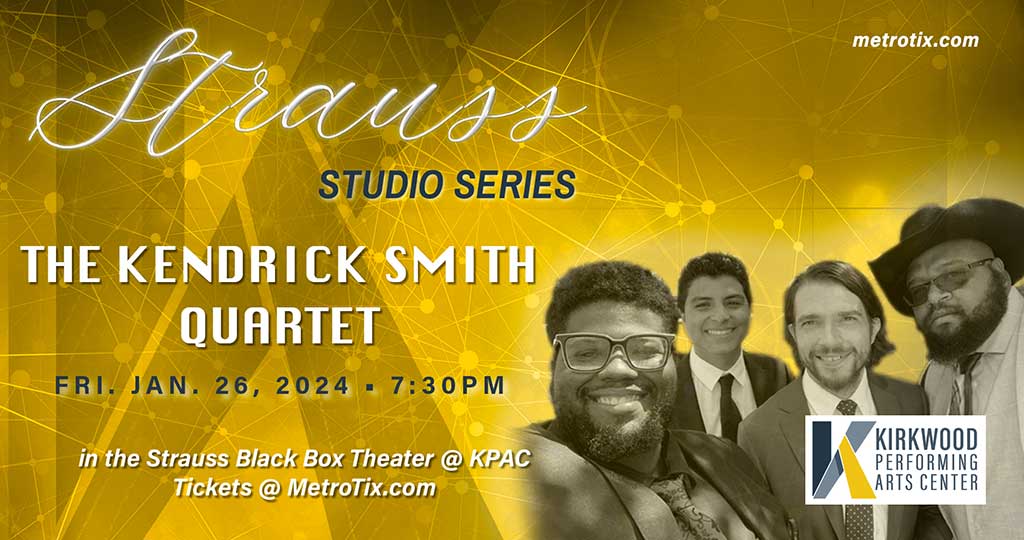 January
26
, 2024
Kendrick Smith Quartet
Live @ The Strauss Studio
Date

January

26

, 2024

Event Starts

7:30 PM

Doors

6:30pm

Venue

Kirkwood Performing Arts Center

On Sale

Buy Tickets Now

Tickets

$25 - $100
Kendrick Smith Quartet
Live @ The Strauss Studio
In the Strauss Black Box Theatre at the Kirkwood Performing Arts Center
---
Prepare to embark on a musical journey like no other as the Strauss Studio Series transports you into the heart of artistic excellence. This captivating series showcases a handpicked selection of the world's most accomplished and visionary artists, delivering performances that are nothing short of extraordinary. At the heart of the Strauss Studio Series lies a commitment to celebrating the diversity and beauty of music from across the globe. Our stage is a canvas, and our artists, virtuosos in their own right, paint breathtaking soundscapes that transcend boundaries and captivate the soul.
Unparalleled Artistry: Each performance in the Strauss Studio Series features artists who have graced the world's most prestigious stages, earning accolades and acclaim for their unrivaled talent. From classical maestros to contemporary trailblazers, our lineup is a testament to the sheer depth and breadth of musical artistry.
Intimate Settings: The Strauss Studio Series is designed to offer an intimate and immersive experience like no other. Our state-of-the-art studio provides the perfect backdrop for artists to connect with their audience on a profound level, forging a bond that transcends the stage.
Diverse Repertoire: Prepare to be mesmerized by a rich tapestry of musical genres, from classical symphonies and jazz ensembles to world music fusion and contemporary masterpieces. We believe that music has no boundaries, and our series reflects this by presenting a kaleidoscope of sonic experiences.
Innovation and Collaboration: We take pride in fostering an environment where innovation and collaboration flourish. Many of our performances feature groundbreaking collaborations between artists from different genres, pushing the boundaries of musical expression and creativity.
Accessible and Inclusive: The Strauss Studio Series is committed to making the world of music accessible to all. Our events are designed to be inclusive, welcoming audiences of all backgrounds and ages. We believe that music is a universal language that unites us all.
Unforgettable Experiences: Prepare to be transported to a realm of unparalleled beauty and emotion. The Strauss Studio Series promises to create unforgettable experiences that will leave you inspired, uplifted, and profoundly moved.
Performance and Artist Bio coming soon!

Buy Tickets
Fri.
January
26
, 2024
/ 7:30 PM
VIP ticket includes a cabaret-style table for two, VIP parking, and wine or beer.
| | | | |
| --- | --- | --- | --- |
| TICKET TYPE | TICKET PRICE | SERVICE CHARGE | TOTAL PER TICKET |
| VIP Table for 2 | $100.00 | $15.00 | $115.00 |
| General Admission | $25.00 | $3.75 | $28.75 |
MetroTix sales end at showtime.
Kirkwood Performing Arts Center
210 East Monroe Avenue, Kirkwood, Missouri 63122
Located in the heart of Kirkwood's bustling downtown, the Kirkwood Performing Arts Center (KPAC) features a 529 seat Ross Family Theatre and 150 seat Strauss Black Box Theatre. KPAC is located at the corner of South Taylor Avenue and Monroe Avenue in downtown Kirkwood.
Please note that tickets for Stages and The Rep at the Kirkwood Performing Arts Center are not available through MetroTix. Please visit their websites through the links below:
STAGES Ticketing
THE REP Ticketing